Five years ago, outside of a game reserve in northern Benin, I got a cut on my shin that became badly infected. From knee to foot, my leg was like a piece of rotting fruit. I became immobile, bearded, and completely pathetic. After a regimen of IVs, oral antibiotics, injections in my ass twice a day, and three weeks of bed rest, I was able to walk again.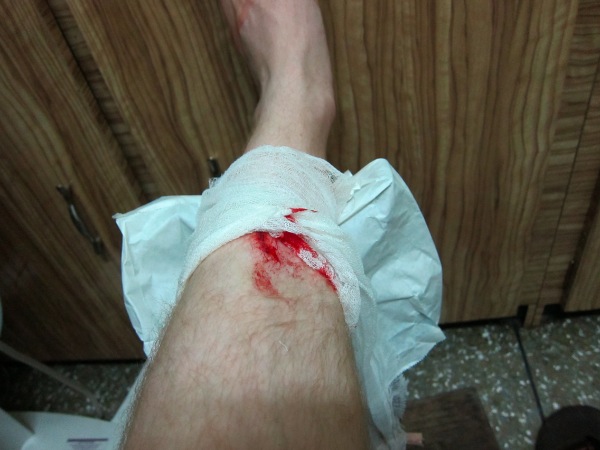 My leg five days ago
Given my run of recent injuries (broken nose from a flying elbow, broken toe from kicking a stump), I was not surprised when I sliced my leg open on a piece of concrete while walking around Accra this past weekend (this may or may not have involved falling into an open sewer). My friend Afia deftly created a tourniquet with her scarf and we immediately went to a clinic.
At the clinic, the nurse cleans and bandages the wound. The doctor takes a look and prescribes antiobiotics I already have. I pay $10 for the consultation and wound dressing. I get back to the guesthouse and promptly take enough Cipro to treat an elephant with anthrax poisoning. For the next several days, I continue taking Cipro and I frequently re-dress the wound.
When I cut my leg at the waterfall five years ago, I did not treat it, topically or otherwise. A day later, when the area around the cut was turning red and swollen, I assumed it was bruising in a strange way (yeah, I am an idiot). I waited an additional day before I asked for someone else's opinion. At this point, the infection had doubled in size. It was another day until I was back in Accra and I did not start receiving treatment until the following morning. By this time, the infection had spread from my knee to my foot.
This introduction to cellulitis was instructive. The lesson learned? Don't sleep on a cut in Africa. This time around, I acted immediately. After five days the wound is an eyesore, but it's not infected. If it's true that things come in threes, I should be in the clear for a bit (nose, toe, leg). Unfortunately, I don't believe in shit like that, so I will just have to be more careful.
Bits and Pieces
Water has been restored in Newtown. How did I have electricity and internet, but no water? I have electricity all the time. When it cuts out in the neighborhood, the guesthouse has a generator. I don't have internet. There are a couple internet cafes close by and I will occasionally sneak around hotels in Osu (somewhat of an expat neighborhood) that have wireless. The Black Stars had their time in the spotlight, now all eyes are on the Black Princesses, Ghana's under-20 women's team. Or they were, anyways. The Princesses were eliminated from group stage yesterday. Ghanaians gathered around TVs in bars and chophouses on the roadside to support them. In Newtown, you heard cheers going up from every direction following a Ghana goal. If you didn't know it, you would think the Black Stars were playing. I have never watched a women's under-20 game in the U.S. In Ghana, I have seen a couple games each day. Football is serious here.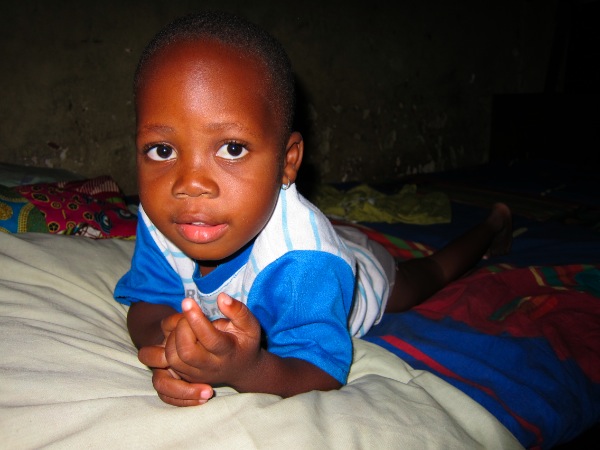 I have lost count of my planned adoptions, but here is another to add to the list. Her name is Felicity. She is from Togo, but is now being cared for by a family in Ghana because her mother had a stroke. This was the first day I saw something close to a smile from her. Her story is heartbreaking, but she is in good hands.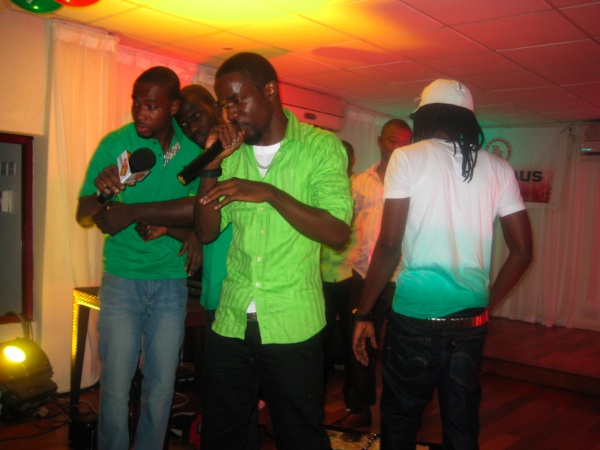 Sarkodie, widely proclaimed the fastest rapper in Ghana.
I inadvertently ended up at hiplife star Nana Boroo's birthday party on Saturday. In the U.S., costs for attending a musician or actor's birthday party are typically prohibitive. Or, you simply might not be invited. I paid $7 to attend Nana Boroo's party and I definitely was not invited. Sarkodie performed a few tracks and for those in attendance, including the four Ghanaians I was with, this was a big deal.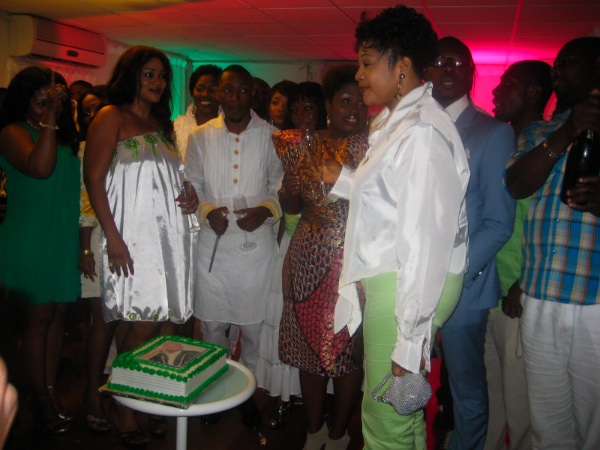 Nana Boroo about to eat his cake.
Internet's cutting out so that will have to do it. Appreciate the comments and emails, will try to get better at responding to them.
If you enjoyed this post, consider sharing it with the buttons below or subscribing to the blog by RSS or Email Thanks for reading 🙂