Leaving Takoradi, I took a tro-tro to Agona Junction, a traffic circle that has become a small village. From there I needed to find a car to Akwidaa, the fishing village closest to where I was headed. The tro-tro (there is only one that goes to Akwidaa) had left minutes before I arrived. It would be another 2-3 hours before it returned. Once it returned I would have to wait for it to fill up with passengers – another hour or so. A tro-tro does not leave until all seats – including those that are improvised and imaginary – are occupied. In the meantime I sussed out the taxicrab situation. I played a few drivers off each other and then let them fight over the fare. The cash in my pocket had to last me until Abidjan. I had a target price for the crabs and I was either going to pay that amount or wait for the tro-tro. It didn't really matter. I knew where I was going and I wasn't pressed to get there. After thirty minutes, I was snatched up by a crab driver who agreed to my price. He would later cite poor road conditions and try to extort more money out of me.
The washed-out, rutted road to Green Turtle Lodge is indeed terrible. The day before, a driver from Elmina, unfamiliar with this road, had his muffler torn off by one of the the road's many tank trap- worthy craters. When we arrived, however, I knew the journey was worth it.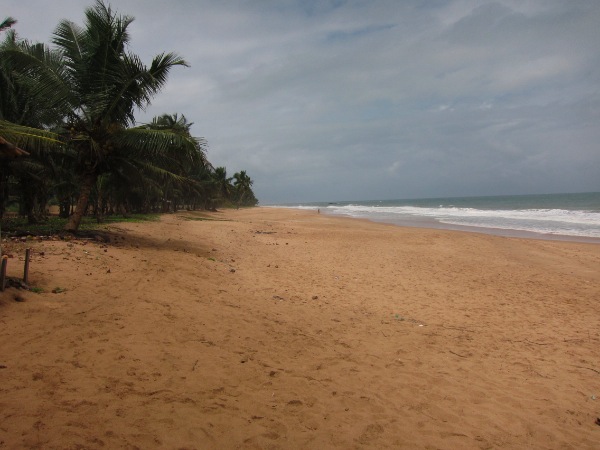 Palm tree lined beach, sizeable waves, salt sprayed air, no one in sight. The lodge itself is incredible. Started by a British couple and now run almost entirely by an exceptionally friendly staff from the nearby fishing village of Akwidaa, Green Turtle can easily seduce you into a long-term stay. Delicious food, daily happy hours, hammocks, pool table, ping-pong, book swap, interesting, diverse guests. I shared great conversation with German volunteers, an American freelance journalist, a Peace Corps volunteer traveling from Niger (Green Turtle has become the mecca for West Africa Peace Corps volunteers), and an Indian tomato paste tycoon among others.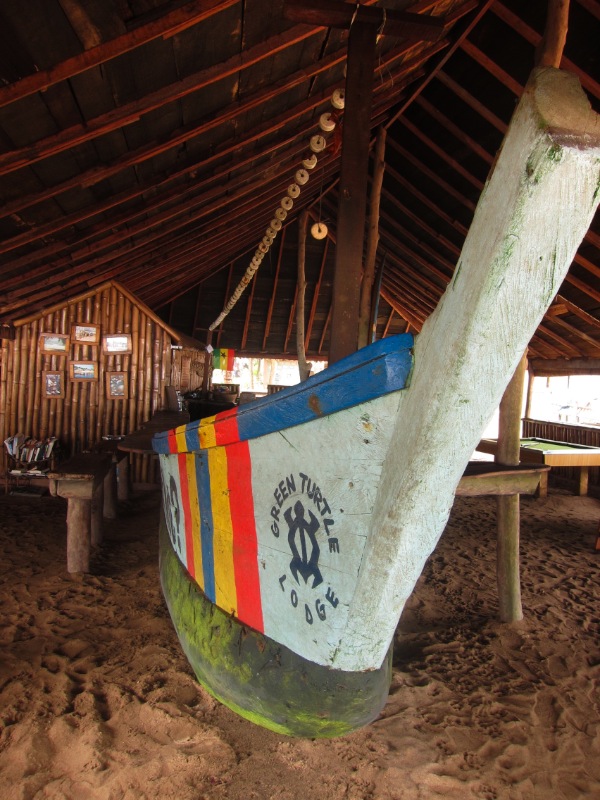 The bar has been fashioned from a discarded fishing boat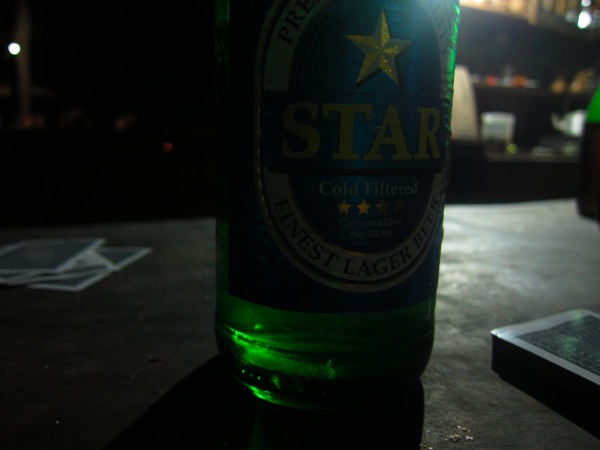 Large star beers and late night cards, cool breeze, waves in rhythm, new friends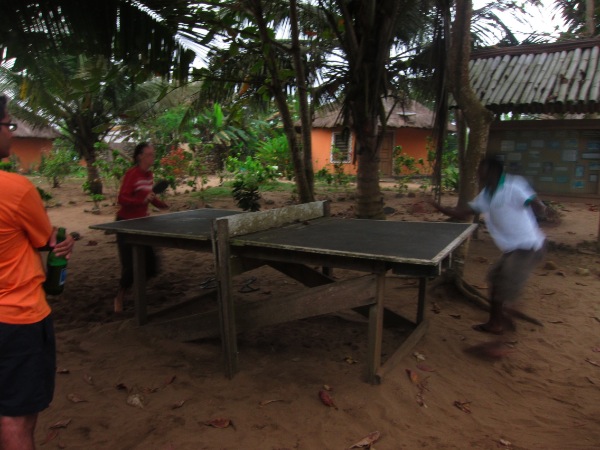 The ping-pong table is not exactly regulation, but who cares? You're on a beach!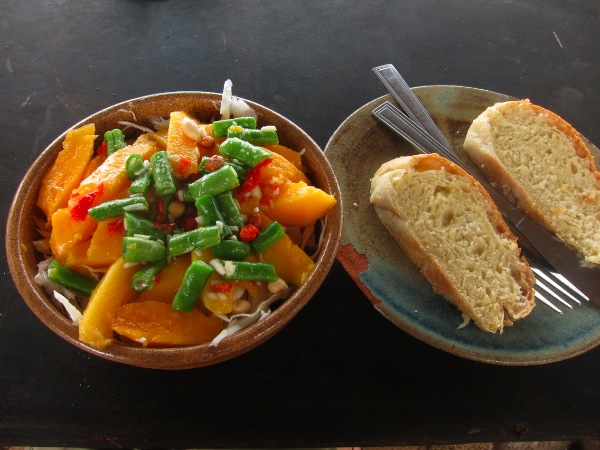 Spicy papaya salad for lunch. Papaya, cabbage, peanuts, green beans, chili, lime. Incredible.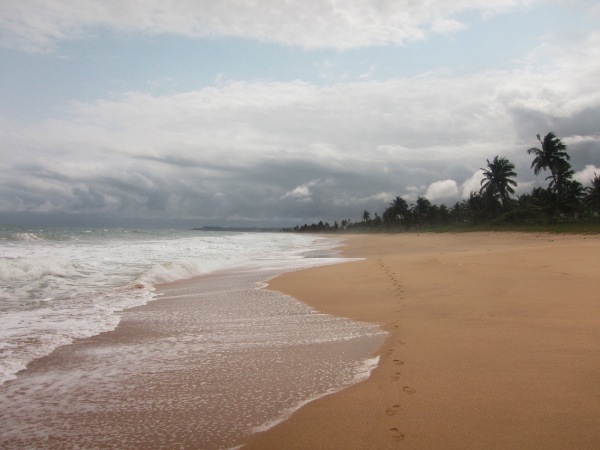 An afternoon storm.
During the day I took three hour walks down the beach. One afternoon I saw no one except for a lone man carrying a bucket and a machete. He approached with a smile and said "you are welcome" – the simple and beautiful greeting you hear throughout Africa. I knew a few words of Ahanta, the local language, and tried using them. He didn't understand. Twi, Hausa, or Fanti? Not getting through. I tried Ewe as a long-shot. He lost his breath with laughter then told me he was from eastern Ghana, the Volta Region bordering Togo. An Ewe fisherman living in the Western Region. This was unusual. For him, it was presumably unusual to hear a white man speaking Ewe on this deserted stretch of beach between two small fishing villages. Limited by language, we smiled at each other and continued our separate ways.
I could have stayed months at Green Turtle, but my Ghanaian visa was expiring. I was planning to leave Ghana on the last day it was still valid. That day began at 6AM with a plate of eggs and toast and then a shared taxi from Green Turtle to Takoradi. During the car ride I would begin to feel ill.
Next time I will tell you about roadside vomiting, a seedy hotel in Takoradi, crossing the border with an already expired visa, and one of the worst overland journeys I have ever taken.
Briefly, about Abidjan. Things are good. I am staying in a posh hotel with hot water and wireless internet. I was planning on only staying one night (because of the price), but after getting stuck in one of their elevators yesterday, I have been given a free stay through Sunday. Yesterday, I got wonderfully lost walking around the city, met some interesting folks, practiced my French, and ate some good food, but I am going to withhold judgment on Abidjan until I get to know it better.
If you enjoyed this post, consider sharing it with the buttons below or subscribing to the blog by RSS or Email Thanks for reading 🙂