If you asked me two days ago what I thought of Abidjan, I would have said it's a city of idle soldiers on cratered sidewalks telling market women to give them peanuts for free. I was not feeling it.
Behold the power of incredible Couchsurfing hosts. Faty, her boyfriend David, and brother Bless, have adopted me indefinitely. I am being treated to incredible meals and great conversation, not to mention an inside look at Abidjan. My French is in full effect and my stools have firmed up. What more could I ask for?
This internet connection is not worth my time and I need to go party like a Muslim at the end of Ramadan, so I will cut this a bit short and leave you with two photos.
This is David, one third of my couchsurfing hosts, wearing his favorite shirt: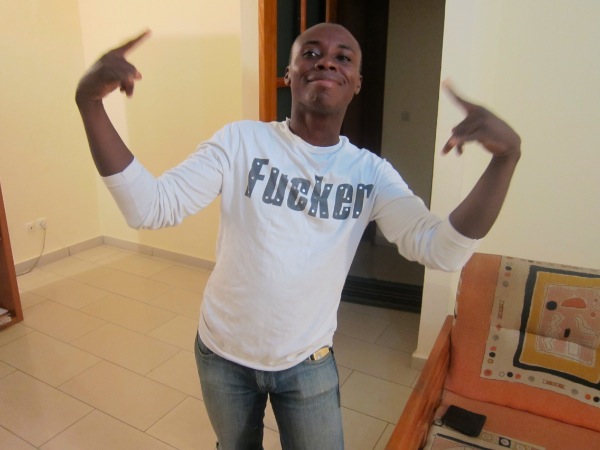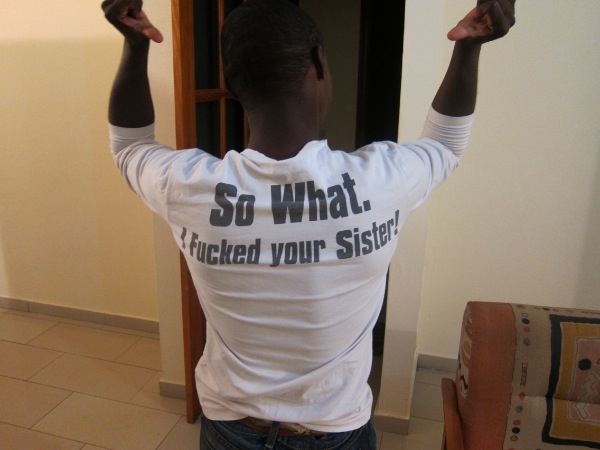 Fucker. So What. I Fucked your sister!
Pure silliness in Cote d'Ivoire
If you enjoyed this post, consider sharing it with the buttons below or subscribing to the blog by RSS or Email Thanks for reading 🙂