Sun-scorched, 80-90% humidity, if you are sensitive to heat you might find West Africa to be a giant torture chamber. The rainy season provides a few months of relief, and right now it lives on in Abidjan. Moderate humidity, cloud cover more often than not, temperatures in the upper 70's. The rainy season was supposed to end in the beginning of September but over the past several years it has become increasingly difficult to predict its start and finish. In any case, I am enjoying its persistence because I know what awaits in Mali.
Earlier I wrote about my difficulties obtaining a visa for Cote D'Ivoire. I expected more of the same from the Malian embassy. On Monday, I went to the embassy to find out what was required for the application. I ran out of passport photos in Ghana. I would definitely need more of those. Hotel reservations and itinerary? Hopefully not.
At the embassy I was taken to the office of the secretary to the ambassador. According to the hours on the door the office was already closed. The secretary was a round woman with a carp face. She was smiling. This was reassuring. Smiling people can be charmed and manipulated. "I'm a huge Oumou Sangare fan and I want to learn Bambara. By the way do I really need these hotel reservations?"
Actually this woman was smiling because she planned on extorting money from me. When she handed me the visa application, I told her I didn't have passport photos. "Ce n'est pas grave" – it's not serious. Really? According to the application two photos were required. As I'm filling out the paperwork I ask her how much the visa would cost. She tells me there are different prices depending on whether I wanted one-month, two or three. I told her two months and she began counting fingers and writing numbers on a scrap of paper. This was troubling. She quotes me 75,000 CFA, about $150 USD, one of the most expensive visas in West Africa. I was under the impression that Mali's visa was exceptionally costly and I was prepared to pay this amount (turns out, it's not. It costs 15,000 CFA and is actually one of the more affordable visas in the region. This lady played me.) I hand her 80,000 CFA. She tells me she doesn't have change. Of course. No one has change in Cote D'Ivoire. I fish out 5,000 CFA. She leaves the room before giving me the 10,000 CFA that she now owes me.
When she returns she is prattling on about hotel reservations. I have no idea what she is saying, but I tell her I don't have reservations. She then tells me she is giving me a "cadeau" – a gift – and I will be able to get my visa without reservations or photos. What the hell? She stamps my passport and writes in the visa information: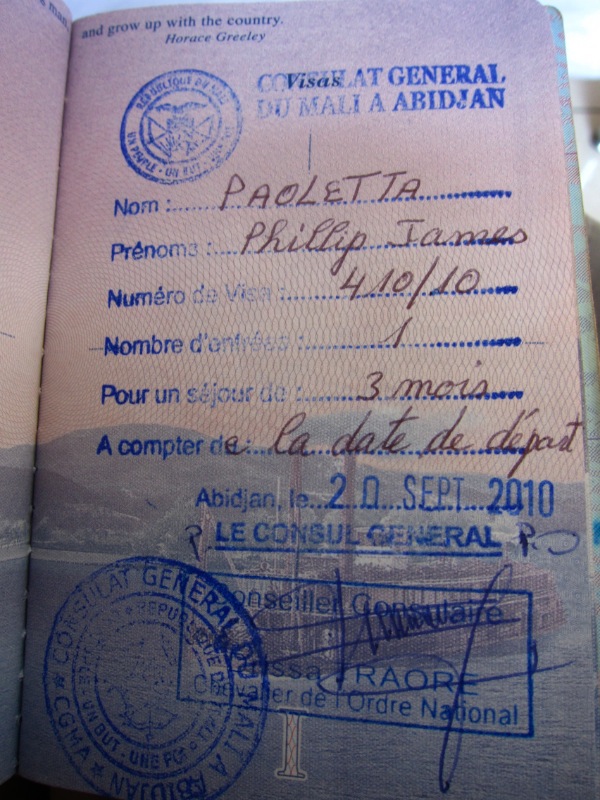 I immediately notice that she has written 3 months instead of two. I also notice that she did not put a starting date for the visa. Instead, she wrote that the visa would become valid upon my departure from Cote D'Ivoire. Two more cadeaus. Dismayed, I thank her and ask for the 10,000 CFA that she has not returned to me. She is confused. I am confused. She goes on to list the four cadeaus she has given me. Oh God. Now it's her turn for a cadeau. She wants my 10,000 CFA ($20) because she has broken several of her country's laws on my behalf without me asking her to do so.
The visa was already in my passport. Let's battle. I feigned a sudden drop off in my comprehension of the French language. I repeated "mon dix mille" (my ten thousand) over and over. She repeated her list of cadeaus. My efforts eventually wore her down. She was pissed, but she gave the money back.
This was the first time I had been asked for money in this setting. Policemen on the roadside? All the time. Secretary to the ambassador in an embassy? What? Really? Come on Mali.
I was admittedly all smiles about the fifteen minute turnaround time.
Bits and Pieces
Monday is get away day. I will be traveling overland from Abidjan to Bamako, a mammoth journey that will take me through different landscapes and politically held territories. I am again cutting it close in terms of visa expiration. Assuming I don't fall victim to roadside vomiting the day I'm supposed to leave, I should be alright. Here is a pic of my Ghana embarkation and disembarkation stamps: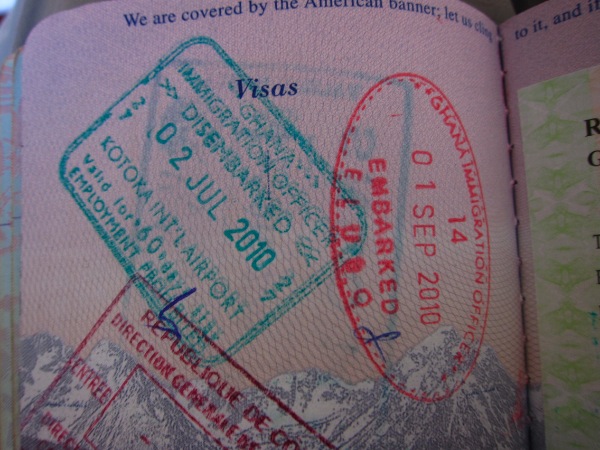 The stamp on the left says valid for 60 days. Well if July 2nd is the first day, my visa expired a couple days before September 1st, when I actually left. Thanks to the kind man from Nima at the border, I was not detained nor did I have to grease any palms.
There is a big game for Ivorian football fans this Saturday. In the English Premier League, Manchester City is playing Chelsea. Yaya and Kolo Toure, two Ivorian brothers, recently joined Manchester and Chelsea features Didier Drogba and Salomon Kalou. Looking forward to watching this one in Abidjan. I have considered myself a Chelsea fan largely because of Essien, but supporting Chelsea these days seems somewhat akin to backing the Miami Heat. If you ask me now, I'm a Sunderland fan. Sunderland has two Ghanaian players, the aging John "rock of Gibraltar" Mensah and newly acquired Asamoah Gyan.
There will probably one more post on Cote D'Ivoire before I leave. After that, get out your kora, cause we're going to Mali…
If you enjoyed this post, consider sharing it with the buttons below or subscribing to the blog by RSS or Email Thanks for reading 🙂