This title is misleading. It hasn't quite been five months, I've spent very few days alone, and if you read this blog, you are already inside my head in one way or another.
More than anything, you're inside my bowels. My efforts at transparency have been somewhat one-dimensional. While I've been keen to explain my trials on the toilet, I have neglected nearly all other forms of personal reflection.
After reading the last four posts, you may be wondering whether I'm actually enjoying myself. Considering that more than half of my content may very well be about intestinal catastrophes and public transport induced misery, it is a legitimate question. Kerry, facetiously or not, wrote on the facebook page that I'm not offering readers much of an incentive for travel in West Africa. This is true, and unfortunate. At the end of this post, I briefly explained that my reports, taken together, can be misleading. I offered a glimpse at why I am in fact having the time of my life. Today, I'm going to expand on that.
Why I Love West Africa
My last post ended with a diagnosis of amoebic dysentery in the village of Sevare. Let me go ahead and end that story: I was given the proper prescription and after three days or so, I resumed life as a normal human being. Bloody toilet bowls, absurdly uncomfortable journeys in sotramas, quatres quatres, and a pinasse, and more heat and dust than I ever cared to experience. This may seem like an appropriate summary of my trip to Northern Mali. Let me explain why that trip was worth it, why I already miss Mali, and why West Africa is a place to which I will soon be returning.
Between my semester abroad in 2005 and my current trip, I have been to these countries in West Africa: Ghana, Benin, Togo, Burkina Faso, Cote D'Ivoire, and Mali. In any one of those places, you will find it difficult to see a person walking with their eyes towards the ground. You will see people walking with their head raised. They will look you in the eye, they will greet you, they will invite you to eat with them.
There are no barriers to human interaction in Africa.
In the cramped quarters of a minibus this is easy to understand. My legs are intertwined with someone else's. I can feel the sweat of my neighbors. Whether I want to or not, I can smell their aroma. I'm already interacting with everyone physically, why not have a conversation? I have been offered food on minibuses, I have shared my own, I have learned local jokes, I have had arguments. Even on the sotrama to Sevare, feverish and holding back vomit, I found myself laughing along with the other passengers at the humorous insults exchanged between a Malian soldier and the pratikay (the guy who collects the money and recruits passengers, no idea of the spelling).
But this kind of interaction is not limited to public transport. It is everywhere. Why? I have some ideas. For one thing, no one is ever alone. Most Africans live with family. If they move out, they are probably going to live with someone else. Maybe relatives. Maybe a friend. Maybe their new wife or husband. This is not merely because living with others offers economic benefit. Most Africans simply do not like being alone.
Then there is music. In Ghana, I once watched a neighborhood dance party start when a truck selling dish soap pulled up to the curb blasting Nana Boro's "Ahayede" out of twin speakers each the size of a ten-year-old. Most African music is dance music, and few things are more interactive than dance. Within the music itself, instruments converse through polyrhythms and vocals typically employ call and response.
And how about language? Many African languages lack verb conjugation. Bambara, the predominant local language in Mali, has a limited, largely context driven vocabulary. While the languages are ostensibly basic, the interactions themselves are sophisticated. The limited vocabulary expands with emotion and body language. The listener is always an active participant. A conversation is very much alive.
Whatever the reasons are, many Africans interact freely. Emotions are openly expressed, not carefully guarded. This, more than anything else, is why I love being here. On the crowded pinasse to Niafunke, someone who hardly knew me told me I drank donkey piss. A Fulani family practically adopted me. I playfully flirted with a woman that was at least thirty years my senior. I befriended a Nigerian trader, later got into an argument with him, and then joked and laughed with him two days later when we randomly reconnected in the village of Tonka.
At home, people carefully choose their interactions. Their words are measured and their conversations, preconceived. There are a lot of good reasons for this. But it's boring, and in many ways, problematic. Our social fabric is largely based on individualism. This is something I am often thankful for. But many people struggle to define themselves, they keep their guard up, and when there is a problem they often deal with it on their own when a support system of friends, family, or a community could provide necessary relief.
In Africa, no one is alone. The stranger is someone to approach, not avoid. If you want to say something, you say it. If there is a problem, there is someone next to you. You can talk to them, without being afraid. There are a lot of drugs that need to be freely available in Africa, but I don't see Xanax becoming one of them.
Let me temper this by saying Africa is by no means some mental health paradise. And as much I love being here, there are things that frustrate and upset me to no end. I'm not talking about the difficulties of overland travel. I'm not talking about bathroom horror stories. I'm talking about gender inequality and soul-destroying poverty. And all that stuff I said about a family support system? If you're a homosexual in Africa, good luck. Yes, Africa has a lot of work to do.
I remain thankful for what it has given me.
Personal Growth
Sometimes I feel like I'm in the sea, clinging to an inner tube that's tethered to a barge which is connected to a tug boat that will take me home. I am far away, but I remain connected. I can see an endpoint and I know my return is soon. There is security in this. Sometimes, too much. When you are conscious of your return from a long trip, it's like putting the training wheels back on. Time, previously ignored, is calibrated and understood. My mind, operating on wavelengths of discovery and spontaneity, will soon be shifting gears.
Or will it? How much has this trip changed me? And how much of that change is permanent? These are questions that are difficult to answer. What I do know is this: right now my life is simple. I am relaxed in a way I have never known. I create each day from scratch. If I don't like a situation, I figure out how to change it or I leave it altogether. I don't have much money left and there is no job waiting for me at home. But I'm not worried. I cut off all my hair and may look alternately like a neo-nazi and a cancer patient. But I don't care.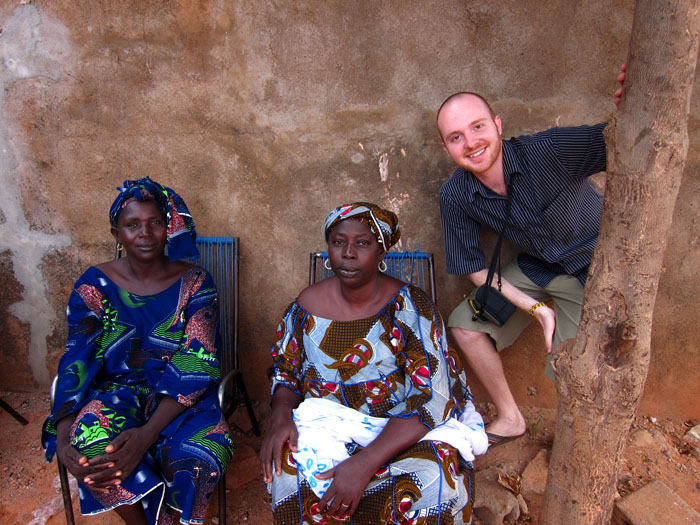 Why did I do that? Well, for one thing I have a receding hair line, so this is my fate regardless (mom, dad, I know you both read this. I expect one of you to fall on your sword and take the blame for this genetic mishap). But it's also hot in Africa and this is natural air conditioning. And then there's the fact that it is seriously liberating.
No hair. A small backpack. A laptop bag. No itinerary. No guidebook. Five months. Dwindling money. These are some of the ingredients for a trip that has been unforgettable.
Yes, my current mental state is largely a gift provided by long-term travel. It's possible that it will dissolve once I return home. I have a feeling it won't, in part because I plan to take a less traditional approach to things once I get back. What do I mean by this? You will have to continue reading into January to find out.
Relationships on the Road
To say my life right now is completely uncomplicated is somewhat untrue. In Cote D'Ivoire, I was briefly involved with a graduate marketing student. She was a friend of David's (one of my Couchsurfing hosts), expressed interest in me, and David went on to play the role of matchmaker. We had a good time, but acknowledged from the beginning that it was temporary. My visa expiration date provided the end point. Uncomplicated.
Then I came to Mali and fell in love with Bintou. When we first met, we insulted each other (read about cousinage here). From there, our relationship progressed naturally. We spent most evenings in an unoccupied corner of the tree garden at the Palais de la Culture, talking, laughing, appreciating each other's company. Physically, it never moved past holding hands and a few PG kisses. In Mali, this seemed appropriate.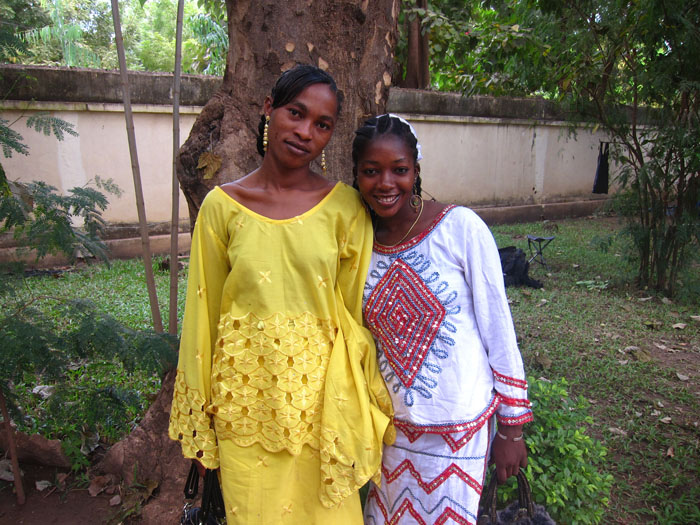 I mentioned that Africans are rarely guarded with their emotions. This is true, until they get in front of a camera. Not with Bintou. She is on the right, smiling, always. This trip was supposed to be free of attachment. But when I think about it, saying my trip was supposed to be this or that is silly. It has evolved on its own.
And Now
Three days ago I got on a plane to Casablanca. Air Algerie. I highly recommend them. It is a government airline and it is apparent that they are hemorrhaging vast quantities of money. There were maybe 10 passengers on the flight. This was a 737. There was something like 8 flight attendants. The ratio was nearly 1:1, flight attendant to passenger. It felt like being in a big empty restaurant with too many waiters. The flight attendants were all men, all mustachioed.
We landed in Algiers at 4AM. I tried to sleep on a circular bench, but woke up frequently. There were cats running around. Then a one hour flight to Casa. I took the train into an empty city. I felt alone.
Bintou's absence was now being compounded by la Fete de Tabaski. Everyone in Casablanca was either killing or eating a sheep and they were doing so privately. I found a cheap hotel and after settling in my room, asked the receptionist where I could get some food. He told me that everything was closed except for McDonald's and KFC. I was now back in that part of the world with KFC and McDonald's. What if I want to eat some sheep? It was then that Mohammed invited me to eat with his family.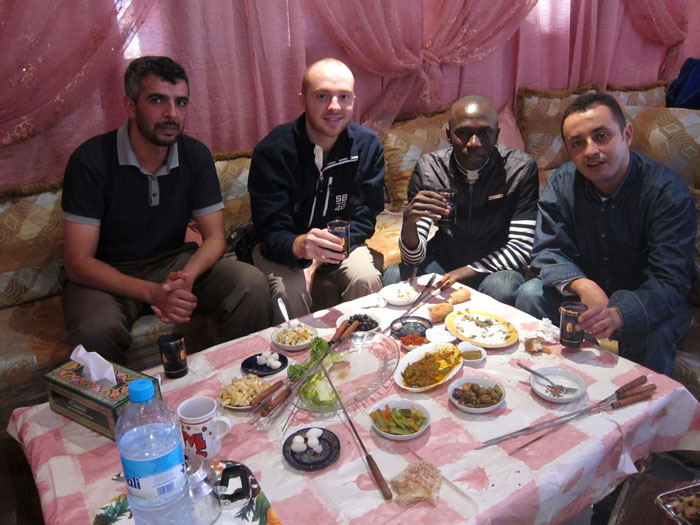 Lamb kebobs, salads, olives, a lentil stew, mint tea. Incredible hospitality, delicious food. Warmed by mint tea and new friends, the journey continues. As for Bintou, we'll be together again soon. Inshallah.
Raise your hand if you're still with me. That was almost two thousand words. Yikes. You knew everything that was happening to me on the toilet. Now you know everything else.
To everyone that has been leaving comments, I appreciate it. I enjoy the reactions, the words of wisdom, and the familiar faces. I will be seeing some of you sooner than you think.
If you enjoyed this post, consider sharing it with the buttons below or subscribing to the blog by RSS or Email Thanks for reading 🙂