If you are confused about this project, please go read the How to Draw Camels Ebook now. Apologies in advance to those who don't have camels featured in this collage. This is the first in the series. If you don't see yours here, look out for the next one. I have received over 60 now. They have been sent from all over the world. One of them was even drawn by a cat. That's how good my techniques are.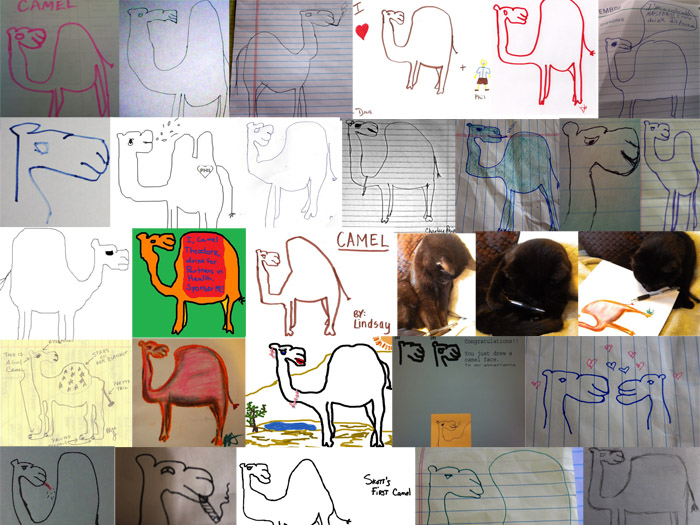 1600×1200 Wallpaper | 1280×960 Wallpaper | 1024×768 Wallpaper
What Now?
I mentioned previously that I was embarking on a road trip to Arizona. That starts tomorrow. Me, my good friend Sam, who you will be introduced to soon if you aren't one of the many readers of this site already familiar with him, and a girl named Kansas. We will be "Settling America." More info on that and more Africa content to come.
Stay tuned.
In the meantime, if you are somewhere on this route, get in touch with me at phil dot paoletta @ gmail dot com or through twitter at @philinthe_. You could potentially be involved in a life changing project.
Cleveland > Chicago > Neodesha, Kansas > Kansas > Kansas > Middle of nowhere Kansas > Colorado > Utah > Arizona
Those arrows do not mean days by the way. Get in touch. You will not regret it.
If you enjoyed this post, consider sharing it with the buttons below or subscribing to the blog by RSS or Email Thanks for reading 🙂