I don't want this post to come across as angry or judgmental. I will attempt to be careful with my words.
West Africa is not particularly well traveled so it's common to get to know other travelers when you do happen to come across them. Most often, you meet overlanders who are either traveling solo or as part of a tour. Every now and then you will run into someone who is visiting a specific country.
People travel to West Africa for different reasons. Most of these reasons are sensible. For example, I have come across many travelers in Mali who are here for the music (partly my motivation as well). This is understandable; Mali has some of the most powerful music on earth.
But recently, I have met several travelers who offer reasons like this:
– I am traveling to West Africa because no one else does
– I am traveling to West Africa because I'm trying to travel everywhere and I haven't yet crossed it off the list.
Before I go further, let me say that people are free to travel how they want. I can't say that someone picked a poor reason for traveling somewhere. If the reason suits them, fine.
My frustration comes from the fact that I have now met many travelers who have come to West Africa for the reasons above (or similar) and they end up hating the place without making an effort to get to know it.
When I first arrived in Bamako, I was staying in a hostel (The Sleeping Camel, which I maintain is one of the best hostels in Mali and the region for that matter). At the hostel, an overland truck had been stranded for several weeks waiting for visas from the Nigerian consulate. Their itinerary was London to Cape Town to Istanbul, an awesome trip that will take them through most of Africa.
A few of the people in the group told me they were trying to visit every country in Africa. Others told me they chose this particular trip because West Africa is the road less traveled and they wanted a true adventure. They wanted "fresh" territory.
Everyone who I spoke to was friendly, but more than a few of them were apparently miserable in Mali. During the few days I was there, I noticed some of them didn't really leave the hostel. Yet there was plenty of Mali bashing to go around.
I'm guessing that they didn't go to Diplomat on Friday night to hear Toumani Diabate play kora. I'm guessing that they were unaware of the fact that most Malians insult each other as a joke when they meet for the first time. I'm also guessing that they were in the dark about Bambara greetings.
In Bambara, when you tell a woman good morning, she responds Nse (an saay), "my power." She is literally saying "my power as a female always wins against time." This is beautiful.
Men are not allowed to say Nse. In fact, if a man tries to say "my power as a male always wins against time," people will get angry. Instead, when you tell a man good morning, he says Nba, "my mother." Thanks to my mother I am here to receive your greeting.
This cultural insight is rarely uncovered because many travelers don't make the effort.
Like I said before, people are free to travel how they want. I certainly can't claim to have immersed myself in every culture I have visited. I have spent plenty of time lounging around hotel rooms and hostels, drinking and eating, and not doing much else. Sometimes this is exactly what we need!
I don't have a problem with vegetating at the hostel.
I do have a problem with people saying Malians are unfriendly or "Mali is shit," when they have hardly made an effort to get to know Malians and Malian culture.
Palais de la Culture
Palais is one of my favorite spots in Bamako. The tree garden is hands down the best place to see a concert in the city. I saw Mamou Sidibe destroy this venue last fall. All the concerts are free. Last weekend, me and Bintou saw a bizarre and hilarious puppet show here. On weekday mornings, you can watch the national ballet (traditional dance from Mali) practice in the auditorium. In the evenings, men play a bocce ball-like game and children take karate lessons on the outdoor stage.
Palais de la Culture is maybe a 5 minute walk from the hostel I was staying at. Despite the proximity and the fact that any member of the bilingual staff would have recommended it as something to see in the neighborhood, no one I talked to at the hostel had been there.
Before you talk shit, you need to understand what you are talking shit about.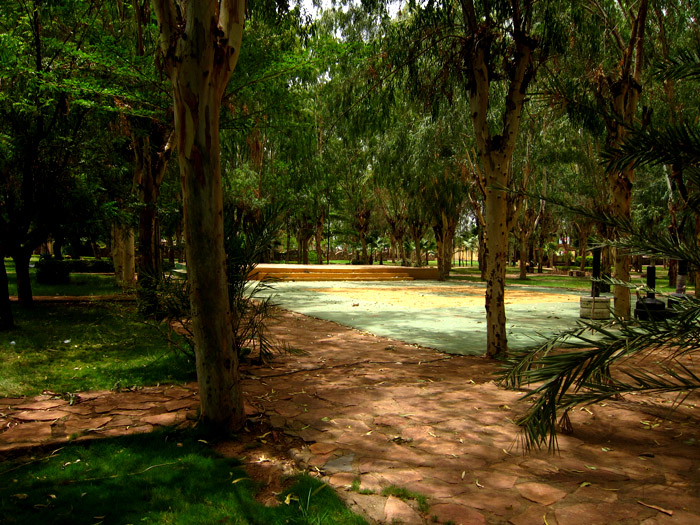 Personal Update
Spoiled by my new apartment. I was looking for apartments all day last Sunday. Most were either priced too high or not what I was looking for (no bathroom, too far, etc.). Close to giving up for the day, we stopped at the house of one last property owner. He didn't have anything for rent, but a man who was there for an appointment with him offered me an apartment in his compound for a price lower than anything else I saw that day. So I took a look at the apartment. Two rooms, a living room, bathroom, a/c, wi-fi, private terrace, and access to the swimming pool. Easy decision.
It is clear to me now that Thiam, the dutigi (head of the family), didn't need any extra income. It seems that he just wanted another person around. Perhaps someone to entertain the precocious Adam (girl, pronounced Ah dahm), their only child? Yesterday, me and Bintou spent the afternoon swimming with her and we have now been invited to events at her school.
Before the swimming session yesterday, I had an hour long Bambara lesson (thank you Claire! Lamine is awesome). Today I will be interviewing Boukary Konate in town as part of the How to Draw Camels project. He runs a blog (fasokan.wordpress.com) in Bambara and French, does outreach work with villages around Bamako and works on several projects to preserve and promote Bambara as a language. He has also done work for Global Voices, an organization I very much respect. Interview with photos, video and camel drawing should be up next week.
This weekend there is a Dogon festival in Bamako. Monday I will begin work with a women's cooperative in Bamako and with Project Muso, a non-profit that does women's empowerment work.
Good things to come!
If you enjoyed this post, consider sharing it with the buttons below or subscribing to the blog by RSS or Email Thanks for reading 🙂