Where I'm from, tomorrow is the longest day of the year. The sun will crawl to the horizon and some people will enjoy a light-filled evening of pleasant temperatures, cocktails, crickets, frogs. Others will hide from tornadoes and many may actually try to put their heads inside of an air conditioner.
Here, the sun falls from the sky at 7PM. 7 PM, every day, all year. Give or take 50 minutes. The seasons are similarly inflexible. The rainy season arrived last week. This means trading mangoes for mosquitoes (can you imagine a shittier exchange?), but it also means cooler temps and a more reasonable ratio of green to red.
In addition to violent rain storms, Bamako has been rocked by a series of concerts that you simply wouldn't be able to find anywhere else on earth. On Friday, I saw Bassekou Kouyate with his wife Ami Sacko and his band Ngoni Ba. The ngoni is a small stringed instrument considered by some to be the banjo's ancestor. There are four ngonies in Bassekou's band. Tiny instruments, big sound. With the accompanying percussion, you have the full spectrum of sonic possibility. As if the instrumentation wasn't enough, Ami Sacko annihilated everything in sight with the kind of booming vocals that are only possessed by a Malian songstress. Here is a short clip. More to come with faster internet or greater patience, whichever comes first.
http://www.youtube.com/v/aQaHRnUL0Fs
On Saturday, between the hours of 10 and midnight, a Tuareg ensemble from Niger performed at Tumast, the Tuareg cultural center in Bamako. Tinariwen was originally slated to play, but a last minute visa clearance meant an early departure for France (they are beginning an international tour with stops in the US, see here). With big shoes to fill, the band from Niger did not disappoint. Droning guitars dotted with syncopated lead lines and choral vocals sung in the lyrical Tamashek. Name of the band forthcoming.
http://www.youtube.com/v/f0IueTQ57-o
At midnight I was at Palais de Congres. As a benefit to the village of Niafunke, the birthplace of Ali Farka Toure, many of Mali's most renowned and accomplished musicians occupied the same stage.
In the clip below: Vieux Farka Toure, Afel Bocoum, Bassekou Kouyate, Samba Toure, Toumani Diabate's son and others. Some of these artists tour internationally, but it is only in Mali where you can find all of them on the same stage.
The song is called "Amandrai." You may have heard it before. It is an old Ali Farka song. On the album "Talking Timbuktu," it served as an open ended blues platform for Ali and Ry Cooder to play off each other in what would become the album's longest track.
Ali Farka famously said that if you used his brand of tuning (a droning open G) after midnight, you would raise spirits. For all we know, he was present in the electric atmosphere of Palais as his son led some of Mali's best in a truly inspired version of one of his most well known songs.
Take a few minutes to watch this.
http://www.youtube.com/v/Zh8mTq9xa_Q
I will work on getting more video up. It's slow going.
Tomorrow night, Les Amazones de Guinée perform. They are an all female band from Guinea, formed in the post-independence years and still going strong. Here is a sample:
http://www.youtube.com/v/OTFp3CgaIR4
That concert will set me back $6. The vieux farka and friends show cost me $4.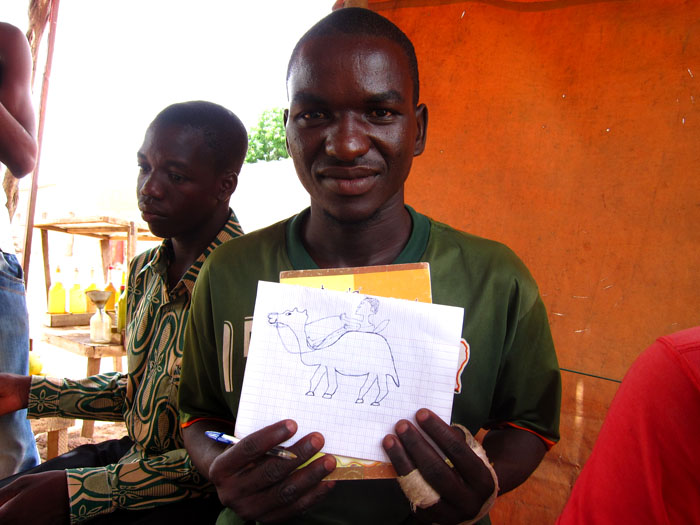 Are you ready for World Camel Day on Wednesday?? I have big plans for howtodrawcamels.com. Stay tuned.
If you enjoyed this post, consider sharing it with the buttons below or subscribing to the blog by RSS or Email Thanks for reading 🙂