I travel with a canon s90
and a flip cam
. I do most of my reflection with a notepad; some amount of that writing ends up on this site. I also travel with a digital field recorder, currently an Edirol R-09. I record a bit of everything with it. Music from car stereos and gasping tape decks. A friend's guitar playing, a stranger singing. The sounds of markets and bus rides. The adhan and sunday morning church sessions. The sound of morning, of dusk, of the middle of the night.
I incorporate some of these sounds into the music I make. Outside of a cathedral in Hanoi, I recorded part of a Sunday service. Big, strong choral vocals filled the neighborhood. The sound gave me chills. I added some delay at the beginning and end, a few chords on guitar, and around 36 seconds in, a synth kick and a composite clap made from static and a transposed recording of 3 kids snapping their fingers.
Power line vines speaker flowers by lionsinthetiles
It is not mixed or mastered, so excuse the levels. This is the cathedral, it is near Hoan Kiem Lake: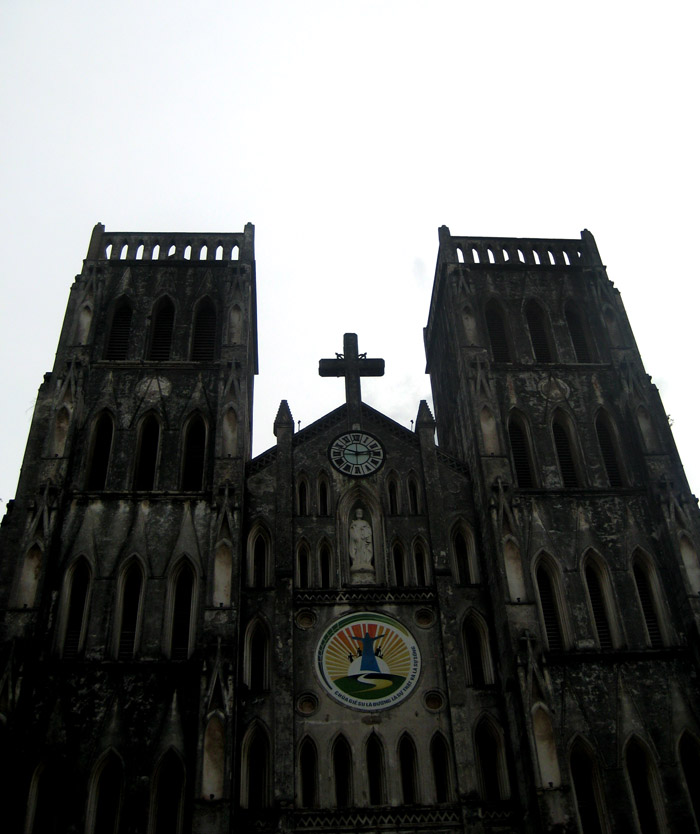 One night, in the newtown neighborhood of Accra, Ghana, I heard a woman singing. She was far away, but her voice carried well. It sounded like a praise song. It led to the track below.
Newtown im coming by lionsinthetiles
Music creation is not the only reason I carry a field recorder. Photos and videos help me connect with a memory, but audio recordings let me recreate it. When I feel like savoring some nostalgia, I put on a pair of headphones, close my eyes, and listen. Footsteps and laughter, whispers and exhalations, birds and insects, rain drops and a breeze.
In this clip, a fleeting verse of a Doussou Bagayoko song as I approached the entrance of Palais de la Culture in Bamako. It was an airless afternoon at the end of May, the hot season's final notice, reminding all life forms of its strength. I had walked from my apartment, thirty minutes away. Listening now, I can feel the weight of my saturated shirt. My lethargic limbs. The mild burning in my nostrils upon inhalation. Doussou's voice, pleasant though it is, provides no relief.
Amidst the crowded lunchtime marketplace of Palais' front gate, where sizzling brochettes are loaded into baguettes with sliced onion, hard-boiled egg, avocado, chili and a sprinkling of salt, I see a small girl sitting on a cooler. She is holding a half-frozen bottle of bissap juice, a hyper-sweetened purple tea made from hibiscus flowers, the ultimate elixir on a hot afternoon. I buy two bottles. In the shade of a mango tree, the first sip of this sugary ice is like an opiate. I might as well be floating in my mother's womb. I sit down on a stone bench and hit play. Doussou's voice. Now I'm in love.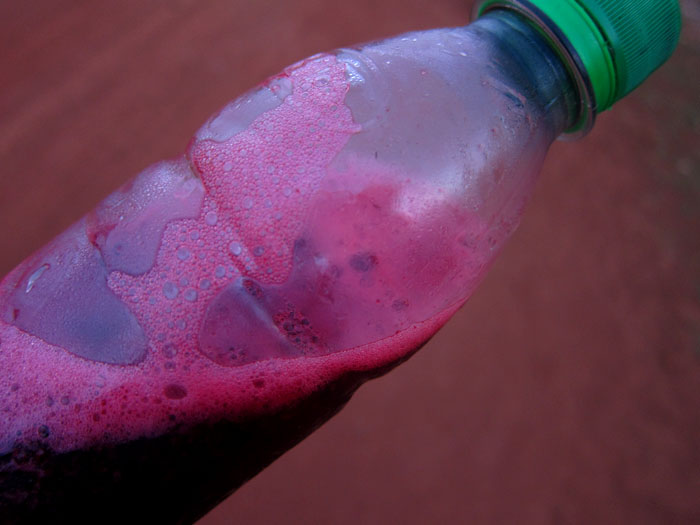 If you enjoyed this post, consider sharing it with the buttons below or subscribing to the blog by RSS or Email Thanks for reading 🙂