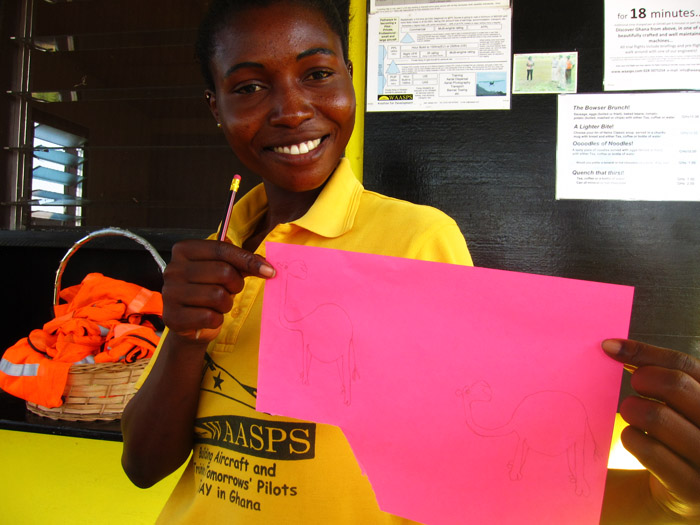 This post is a warm-up. I have a lot more to say about what I experienced last week. A more substantial post to come on the How to Draw Camels blog in the near future.
Northeast of Accra, close to Lake Volta, the largest man-made lake in the world, there is a town called Kpong.
It is here that Jonathan Porter (aka Captain Yaw), a British expat, partnered with the local community to form an aviation and engineering school for girls (AvTech Academy), a flight school for anyone who wants to learn, and a humanitarian organization, Medicine on the Move, which uses planes to bring doctors and health education to villages that are inaccessible by road.
Patricia (see photo above) is 22 years old. She is the first woman to obtain Ghana's National Pilots License. She is an engineer, a recipient of the Rotax Aircraft Engines certification. She knows how to fly and build planes. She's the only certified female flight instructor teaching the National Pilots License in Ghana. When I met her, she was teaching a Norwegian oil industry engineer how to fly.
Patricia is teaching people how to fly in planes that she built.
Normally, I approach prospective camel drawing students with a certain level of condescension. That was not the case in Kpong. If anyone was a student, it was me. I've yet to meet a more inspiring group of people.
I will be sharing a more in depth post on the various projects in Kpong on howtodrawcamels.com. Expect some video and interviews. For now, I want to share the results of my camel drawing workshop and introduce a few girls who I am privileged to know.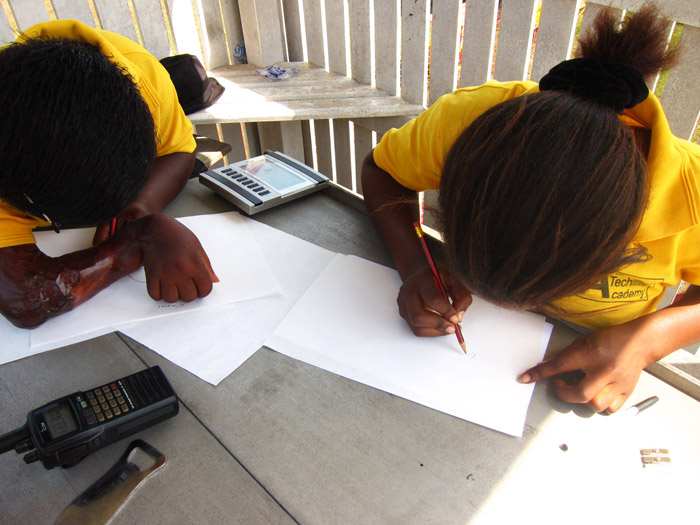 Drawing camels. Lydia, on the left, is 15 years old. She suffered an insect bite when she was younger. It became infected and her arm became completely disabled. Recently, she underwent several surgeries to restore mobility and improve the appearance. While she still has limited mobility, she can fly a plane. As she says, "disability is not inability." Before she was invited to join AvTech Academy, she was working in the market for her mother.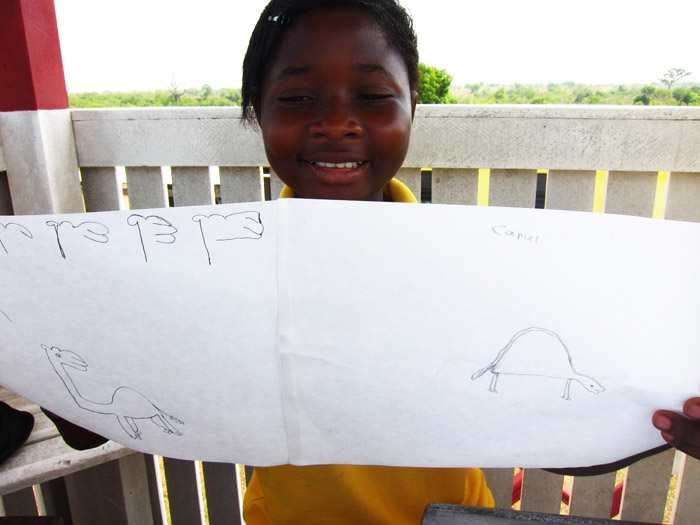 Lydia's before (right) and after (left) camel. Lydia was so pleased with her camel that she started drawing camels all over the place.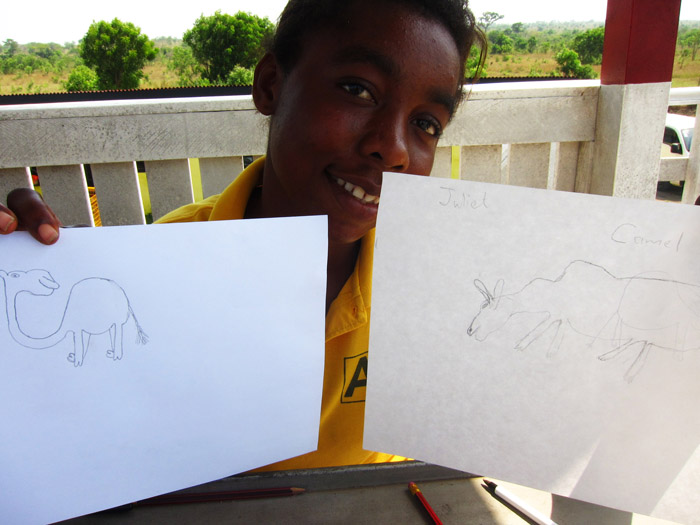 Juliet's before (right) and after (left) camel drawings. We drew our camels in the air traffic control tower. Every now and then, the girls told me to shut up as Juliet radioed the two planes in the air to notify them of changing wind patterns. Juliet decided she wanted to become a pilot after coming to Kpong for a fly-me day, a multi-village event wherein girls were invited to fly with Patricia and others as a celebration of the 100 year anniversary of the first woman in flight.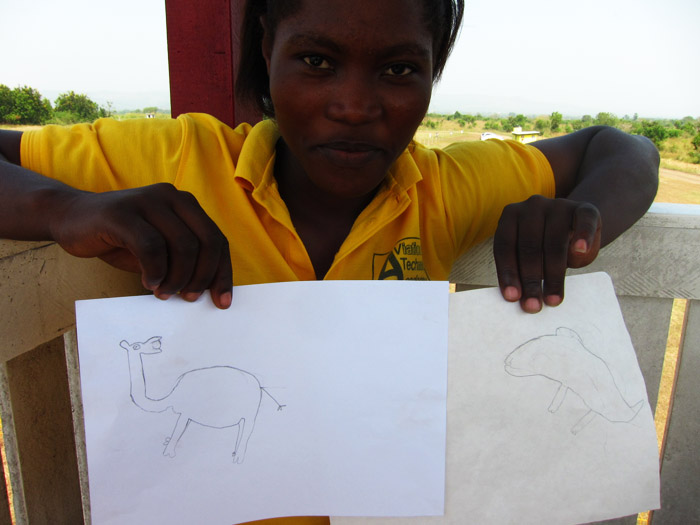 Emmanuella's camels. I don't think Emanuella would be offended if I say it's obvious which one is the before and which one is the after. She, like Patricia, came to the Kpong airfield looking for work. She began by clearing the runways of stumps and rocks. It wasn't long before she was invited to fly with Patricia. Now she is on her way to becoming a pilot and engineer.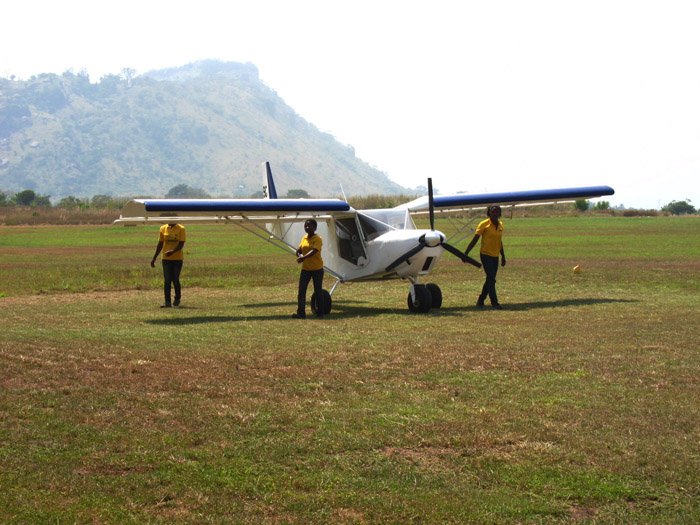 There are many reasons to be impressed by the work that these girls are doing. Some of these reasons are evident above. Here is another:
The day before I went to Kpong, I was having a chat with Winifred, the youngest girl in the family that runs my guesthouse. We were talking about what she wanted to do when she grew up. She wants to be a pilot. You know why? Because she saw Patricia on national TV building and flying planes.
A lot more to come on AvTech Academy, WAASPS, and Medicine on the Move, including ways that you can contribute. For now, check out the sites below.
Medicine on the Move
WAASPS
Patricia's story
If you enjoyed this post, consider sharing it with the buttons below or subscribing to the blog by RSS or Email Thanks for reading 🙂