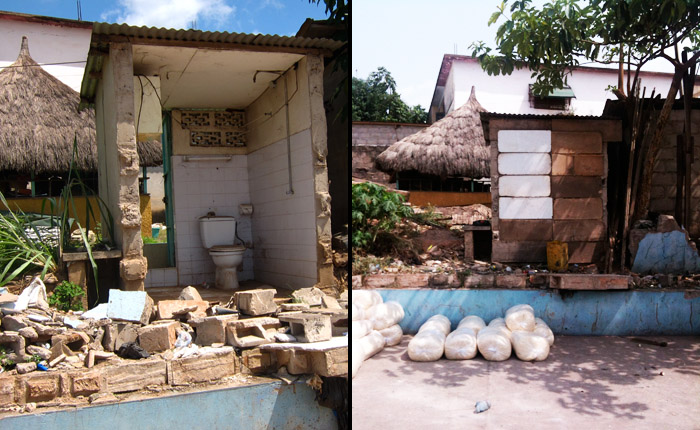 On the left, a toilet on the southern edge of Yamoussoukro in October 2010. On the right, the same toilet in March 2012. The wall has been sealed! (I realize the photo on the right looks far older.. right = iphone camera, left = canon s90).
For real though, Cote d'Ivoire, despite the political divisions that still exist, has an air of forward movement. For the second time in the past couple of months, I saw road-workers between Yamoussoukro and Abidjan working into the evening. The northern corridor has fewer checkpoints and the trip was far less exhausting than it was in 2010. The same can be said for the road between the border of Ghana and Abidjan. Abidjan is as energetic as ever, business has long since returned and construction is going on throughout the city.
Our restaurant is close to launching. It's looking like next week. All the paperwork is done, bulk ingredients and all manner of pots and cooking utensils have been purchased, we're feeling good, excited. This is a photo I shared on facebook of our office/store house for bulk ingredients.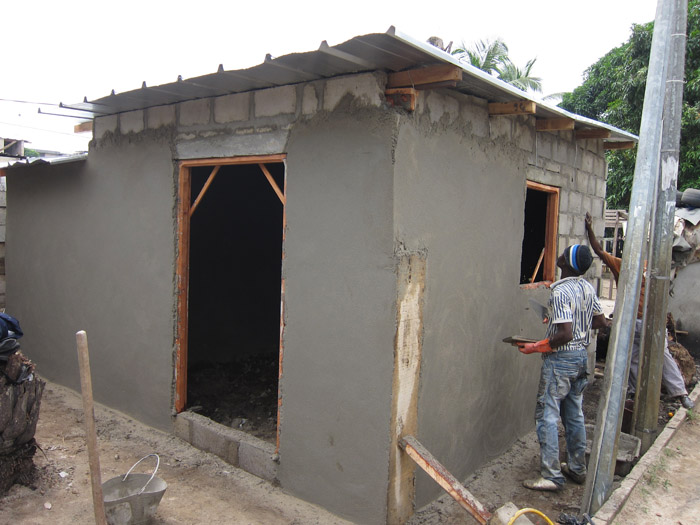 Now just waiting for the cement to dry. More photos to come. Actually, you can expect a running series on what it's like to start a restaurant business in Abidjan. Even if this thing flops completely, the investment is relatively small and it will certainly be a learning experience. As far as I'm concerned, it's a success as long as we don't poison anyone.
If you enjoyed this post, consider sharing it with the buttons below or subscribing to the blog by RSS or Email Thanks for reading 🙂