Rain animates the metal roofs and invites us to sleep. It is Abidjan's only tranquilizer. The shops close, the coupe-decale stops playing, the potholes grow deeper.
The morning after a night of rain, we carry our bodies to a shared taxi. Me, my former couchsurfing hosts turned business partners, Faty and David, and Faty's neighbor, D-lo. Drifting to sleep, we wake up when a gbaka edges us off the driveable part of the road. The prentike wags his finger at us and our driver tells him that he will decapitate his penis. Abidjan shakes off its stupor.
We are on our way to our second catering gig, a training workshop at the social services bureau. A traffic jam on the auto-route changes our plans and we head to the lagoon. From Yopougon, we bypass the congestion by taking a pinasse (a crowded water taxi, 20 cents a ride) to Plateau, Abidjan's business district.
In the afternoon, the sun comes out. We play cards and drink palm wine under a mango tree. Our business will surely have setbacks. In fact, it may flop completely. But today, we celebrate. After the workshop, we earned our first contract, weekly catering through October for CNPS workshops.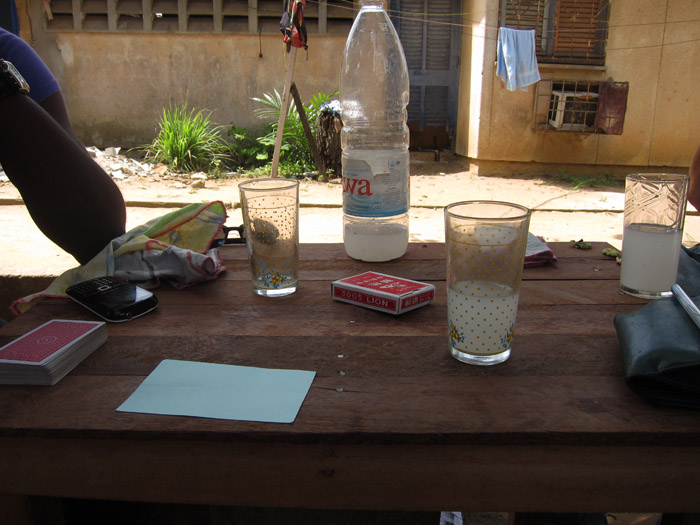 Palm wine and cards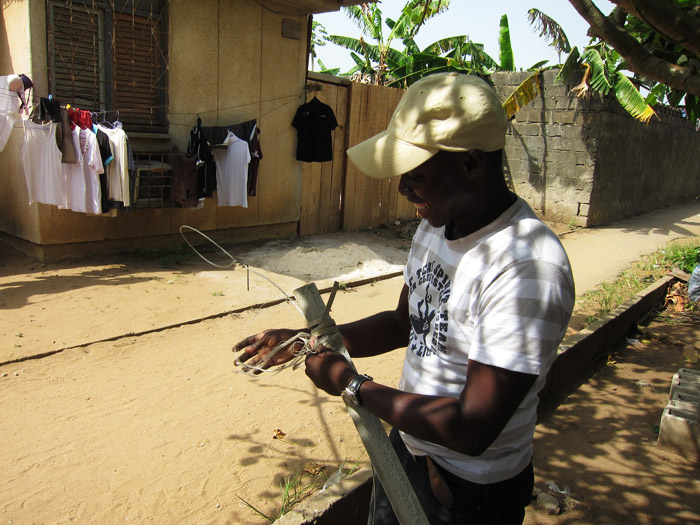 David building a device for catching cocoa pods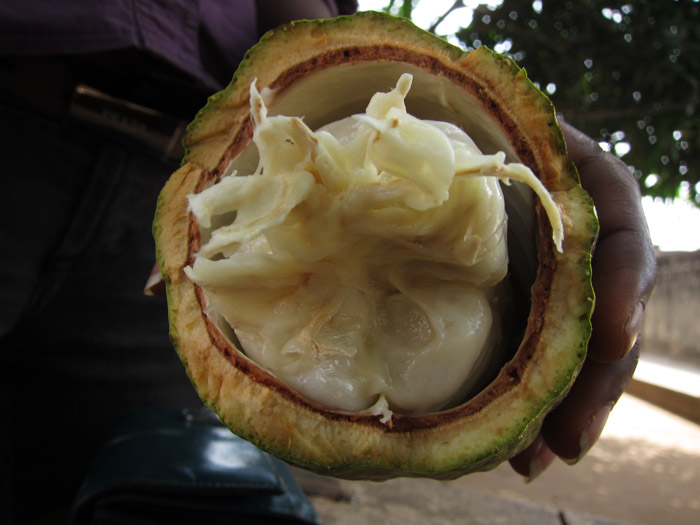 Inside of a cocoa pod. After the sweet fleshy part is the seed that is ground up into cocoa powder.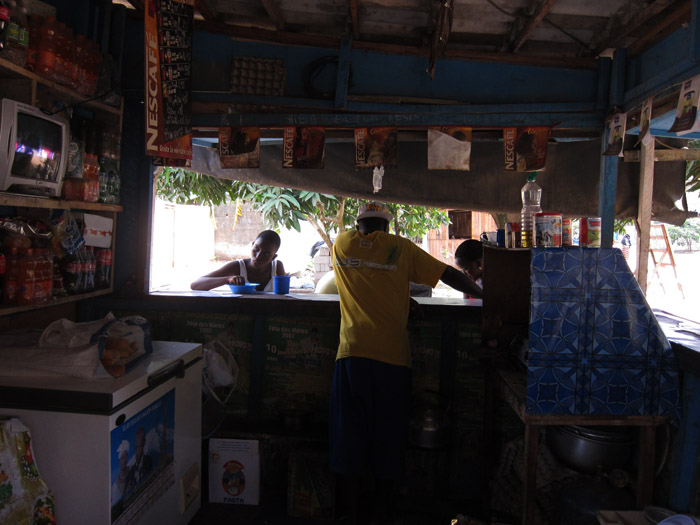 My local coffee shop. It is exactly 5 steps from Faty's front door. Tomato and onion omelette on a baguette for 40 cents.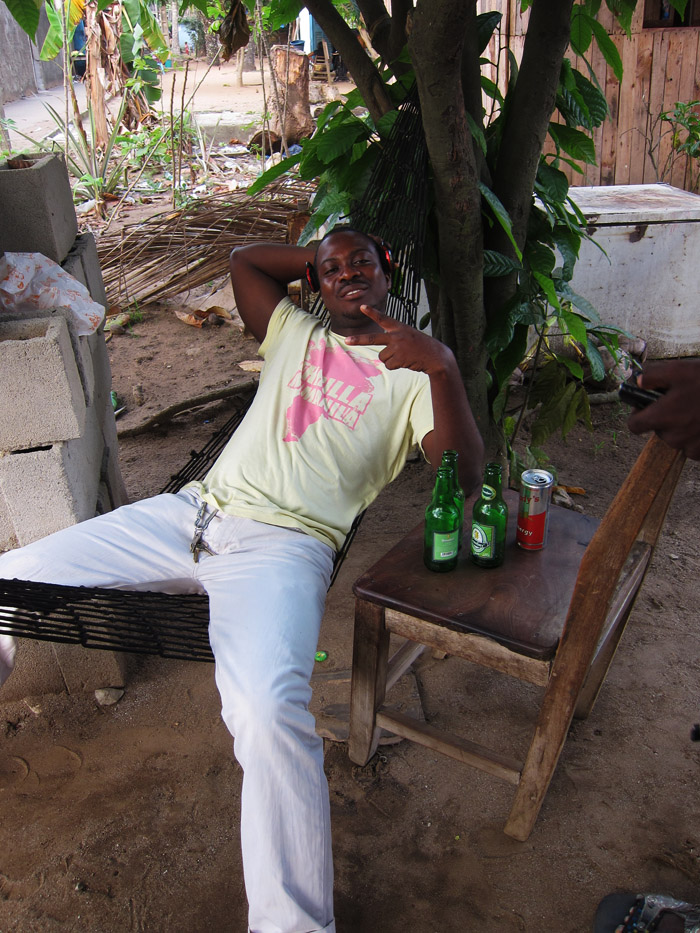 Fabrice … living his life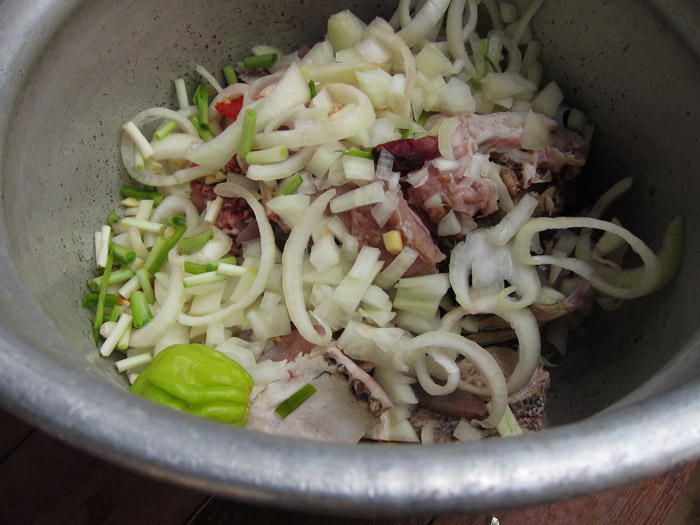 Crocodile, onions and chiles on their way to becoming a stew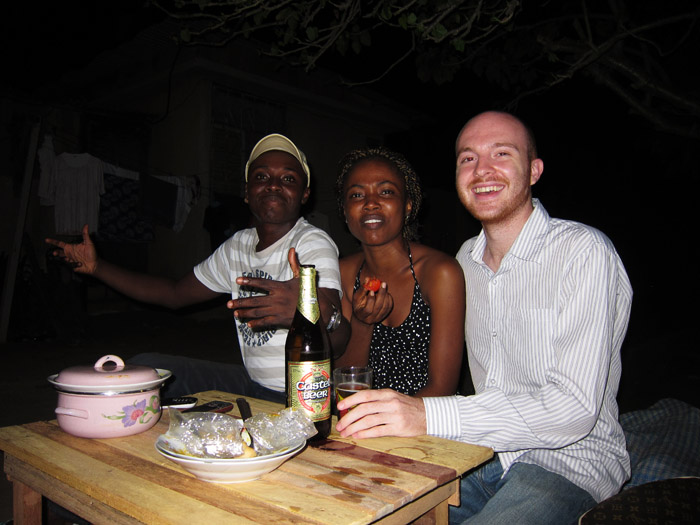 Me and my business partners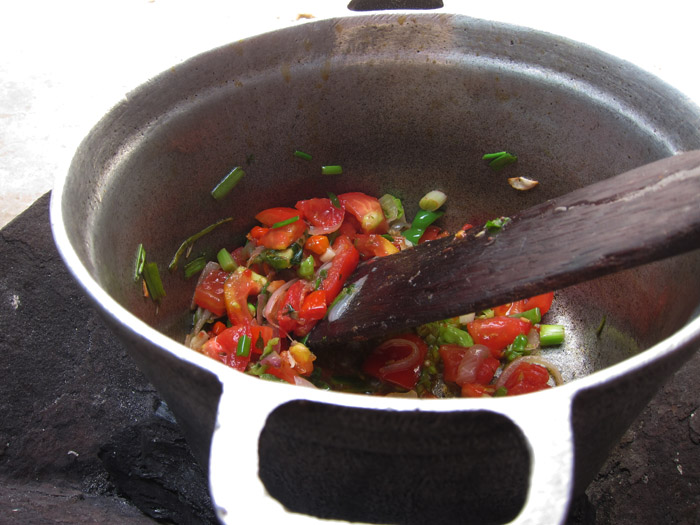 D-lo's sauce of onions, chili peppers and tomatoes.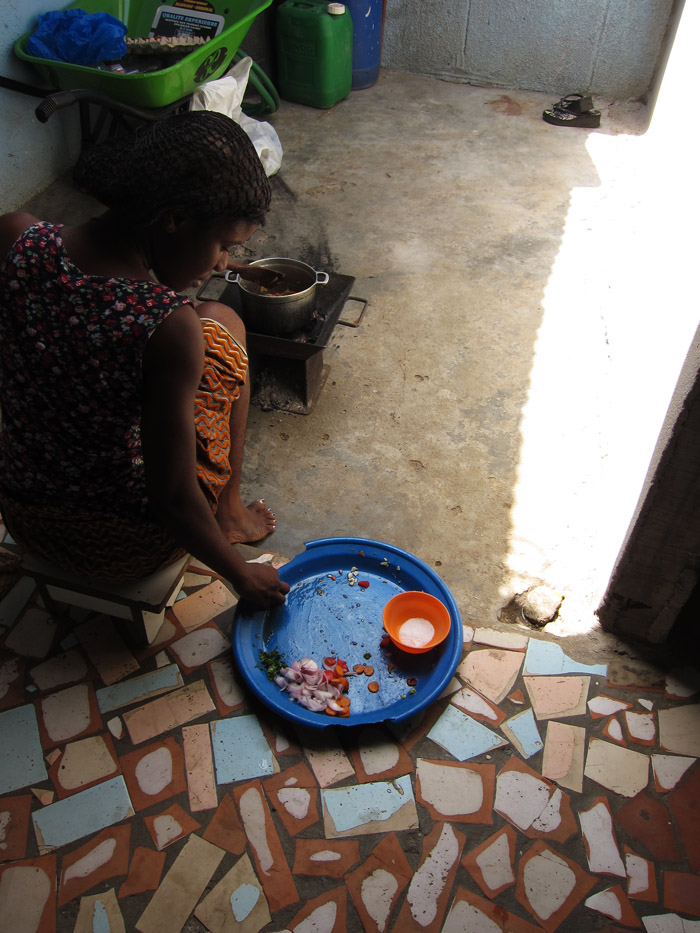 D-lo cooking her sauce. This became one the toppings at her shwarma stand that she would open later that night.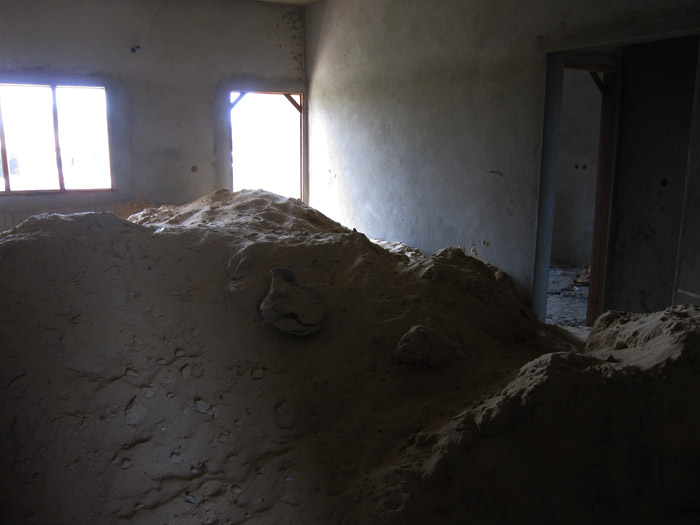 We are probably going to rent this apartment.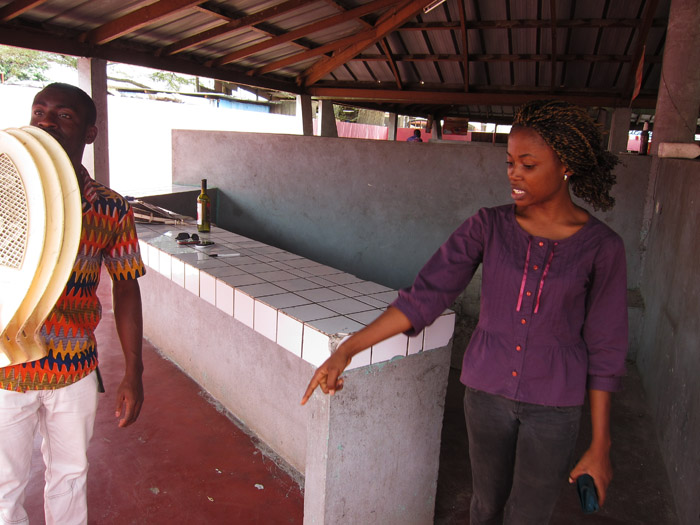 Setting up our restaurant space. Our rent is 20,000 CFA a month (about $40).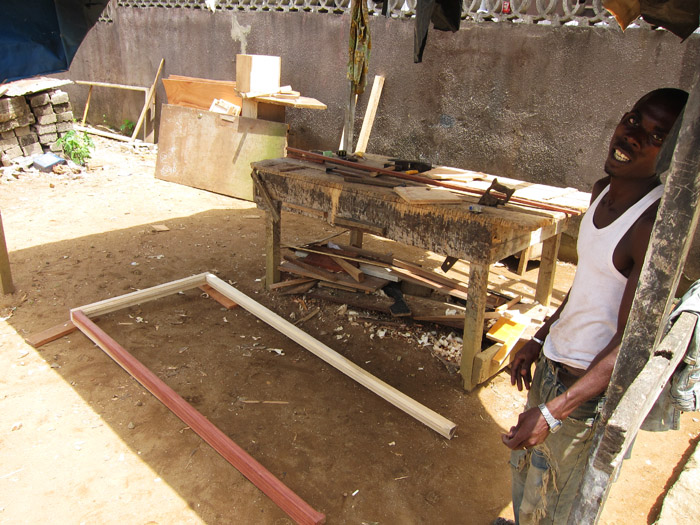 In my last post, I shared a picture of the maisonette we are building to use as an office and a store house for bulk ingredients. This is the door to the maisonette, and the door-maker, who likely looks distressed because we've overwhelmed his shop with requests.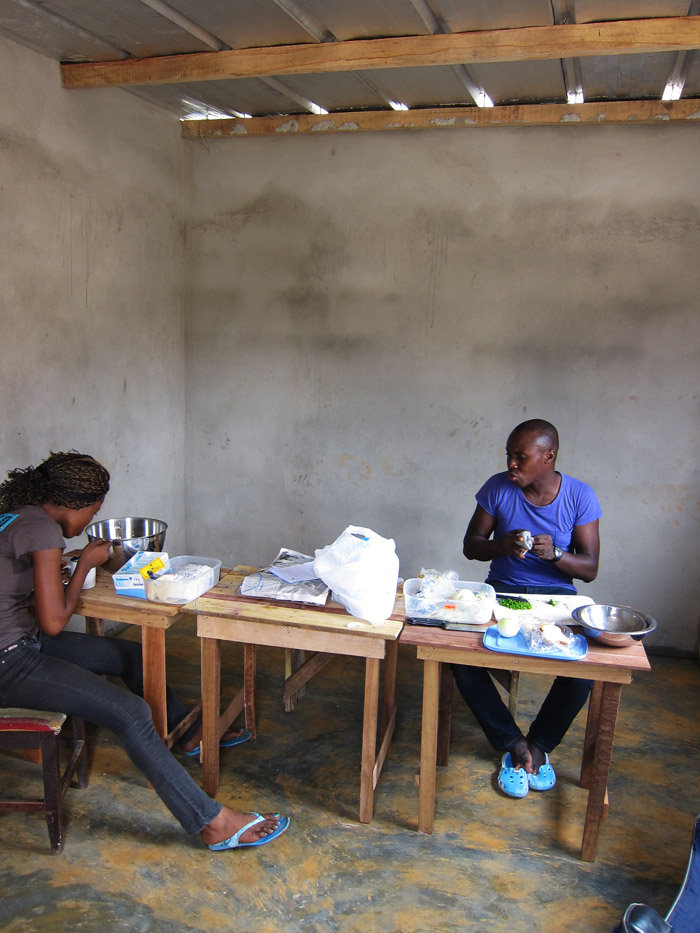 Inside the still door-less maisonette. The cement is dry now and we can do work here during the day. Once we have a door, we will start piling in the supplies. In this photo, making some food for ourselves instead of someone else.
Gingembre and bissap to be sold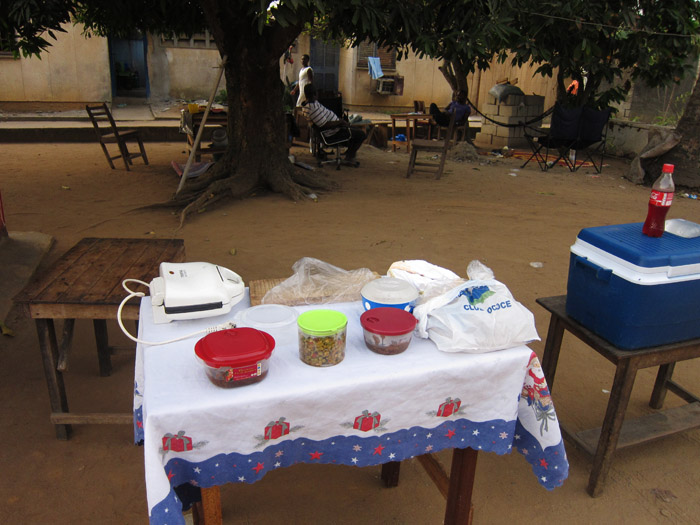 D-lo's shwarma stand. We're not the only ones going into the food business. D-lo, or didy, decided to start her own enterprise in front of her house.
Rerouting some electricity for the shwarma press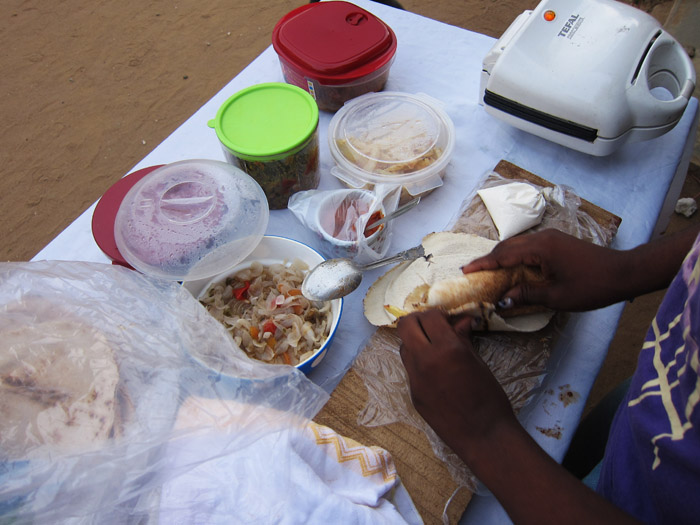 The first shwarma. They were delicious. I ordered three. She sold out the first night.
In my next post, I will describe what it's been like to start a restaurant and catering biz in Abidjan, including a look at expenses, profits, planning etc.
If you enjoyed this post, consider sharing it with the buttons below or subscribing to the blog by RSS or Email Thanks for reading 🙂