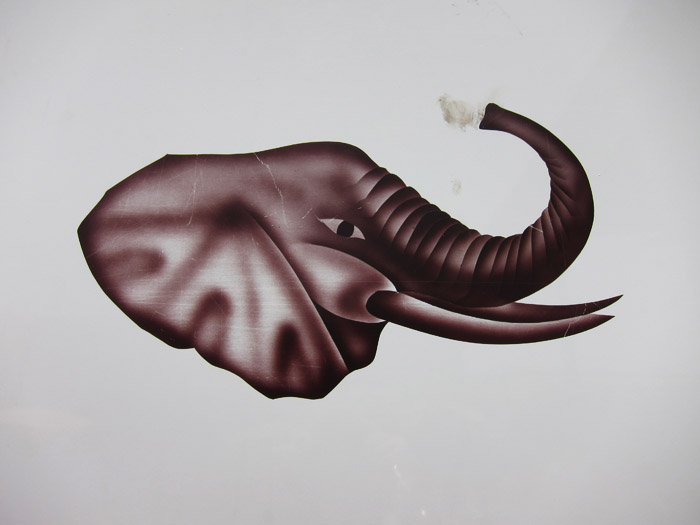 In Bambara, Sama = Elephant
I have spent approximately 110 hours of my life on the road between Bamako and Abidjan. I first took the trip in October of 2010. At that time, the northern half of Cote d'Ivoire was controlled by the Forces Nouvelles and it was the middle of the mini late-year rainy season.
Somewhere outside of Korhogo, my window, which wasn't sealed at the top, turned into a waterfall conveyor. Soaked through, I never fully dried; humidity and a thick sweat sealed everything in. This kind of layered moisture is a big problem. First for your body odor and later for your mental health. By the time I arrived in Bamako, my clothes were mildewing along with my brain. It would be a year and a half before I took the trip again.
Recently, I twice took the trip in reverse, from Bamako to Abidjan in early March and again in mid-April. I've opted to make the return trip by air because it's actually possible to get a reasonable abidjan-bamako plane ticket and as much fun as 36 hour bus rides are (they are indeed, in some ways), an hour-long flight is attractive. The bus will remain part of my routine, though, unless there is a significant price drop in airfares to Abidjan.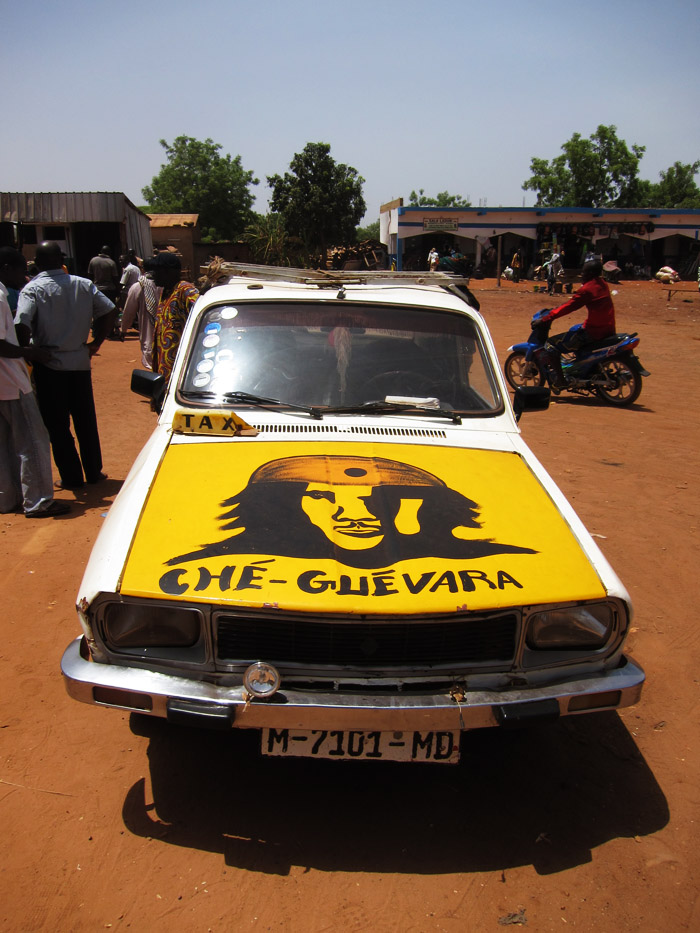 Taxi at Sama's Sikasso hub
Each overland trip is different, but I've also found many common threads between them. Here are a few things that my past two bus rides — both in the hot season, both going from Bamako to Abidjan — have had in common:
1. Swollen ankles marinated in a dirt and sweat reduction, seared and then steamed, served absolutely smothered in sweat. A drizzle of tampico on top.
The first several hours of this bus ride are pleasant. Your body is clean, the air is cool, the sun is low. You fall asleep. Around 1030 AM, you wake up abruptly. You are covered in sweat. In fact, sweat has pooled around your ass. Most of the passengers have inexplicably (were they cold?) shut their windows and the bus has become a rolling sauna. But don't worry, in 30 minutes even the most cold-blooded passengers will start to overheat. Windows open.
The problem is that the air has now been violated by the sun. A hot wind sears the interior of the bus. You sip dust from this wind. This wind burns your nostrils. At some point, you get wise and pull out a tshirt from your bag. You soak the tshirt in water and then drape it over your head. The girl sitting next to you is laughing and so are you; you've just engineered your own relief.
On the second travel day, your ankles are indeed swollen. The extent of their swelling depends on how much time, if any, you were able to spend horizontal, either outdoors on a 250CFA/night mat or indoors on a bed at one of Korhogo's cheap hotels. But forget about your ankles, it is during the afternoon of day two that the bus picks up a new passenger. His name is Humidity and he sits on top of you. Yesterday was a sauna, today is a steam bath. For every kilometer south, the moisture somehow compounds exponentially.
Your reach the point of ultimate saturation when the bus comes to a stop at a check-point. If you are on the side of the bus that is being violated by the sun, you are fucked. You got that? Unless. Unless there is someone selling frozen tampicos at that check-point. Tampico is one of those artificially flavored orange drinks (you can buy it worldwide, no?). Make sure they are frozen and then buy three of them. Put one down your shirt, press one against your wrist, and eat/drink the third. That first bite of sweetened ice makes the entire trip worth it.
By the time you arrive in Abidjan, a living organism of dirt and particulate matter sits on top of your skin. But it doesn't matter. You made it.
Notes: The above paragraphs apply primarily to the hot season. If you make this journey multiple times, your body will start to tune into the heat and humidity conditions. If you are traveling this route during the months of March-May, BUY A FAN. They are sold everywhere and they cost next to nothing. Use the fan when the humidity picks up, use the wet tshirt when the wind is hot. If you want true luxury, carry some alcohol based wipes with you. At the end of the day, the trip is easier than it sounds. Really. Finally, frozen bissap works just as well Tampico.
2. Everything you need is on the road
At the first immigration post for Cote d'Ivoire, there is a lady selling chicken slow-cooked in a piquant tomato based sauce. She will put this chicken in a baguette for you along with some french fries, a chopped hard boiled egg, diced tomato and onion, a bit of salt and a dollop of chili. While eating this delicious sandwich, entertainment is provided by the Ivorian immigration officers and the on-site medical team that is trying to administer yellow fever vaccines to people that can't afford them.
The road is more than a means to get from point A to point B. The road is an economy. If your village is close to a road — better yet, if it is close to a checkpoint — you have a marketplace and you can sell just about anything. The sweetest mangoes (if it is the hot season), melon sized avocados, sim cards and phone credit, mirrors and jewelry, toothpicks and toothbrushes, nescafe, tea, bissap, gingembre and gin packets, antibiotics and fish-oil caplets, fans and sleeping mats, creme star (vanilla ice cream, like fan milk in Ghana), fan yogo (frozen strawberry yogurt), and TAMPICO!!!!! It's all there.
3. Migrants, traders, travelers, and even some people who are more clueless than you
On my most recent trip, I sat near a Nigerian who spoke no French or Bambara. He had been living in a Nigerian expat community in Bamako for 5 years. Now he was headed to Abidjan to meet up with a Nigerian friend who promised some work. His friend told him that the trip took "about 8 hours." No, buddy, it's almost 5 times that.
Several other passengers were also going to Abidjan for the first time. One Mauritanian family was planning on helping out at a relative's boutique. Two young Bamakois were heading south to look for work. My seatmate was returning to Abidjan for the first time in years. She bartended at a club in Bamako; post-coup, there haven't been enough clients for the patron to keep all the workers on (this is happening all over Bamako by the way).
Of course, most of the passengers are seasoned travelers. Some have family in both countries. Some are traders who make the trip several times a month. They know where and what to eat, they know where to find the cheapest avocados, and they knew where to lay out their mat in Korhogo or wherever the bus stops for the night (if it does).
4. Fierce arguments and playful joking
Cote d'Ivoire's civil war and 2010-11 post election crisis come up on every bus ride I've been on. Most of the passengers have a Mande background. If they are not Malian, then they are most likely from northern Cote d'Ivoire. In general, these people voted for or supported Alassane in the 2010 elections. There always seems to be 1 or 2 Gbagbo supporters on the bus, though. Don't expect them to sit there quietly. On my last bus ride, political arguments mostly involved the coup in Mali, ECOWAS intervention and the "Tuareg rebellion."
Jokes outnumber arguments, however, and now that my Bambara is sharp enough, I can offer more targeted insults when it comes to cousinage (I used to call everyone a bean eater — an actual insult — because it was my only line of attack). The great thing about speaking Bambara (Bamanankan) is that it is a close cousin of Dioula (Jula) and you can communicate with just about everyone on this bus. A highlight was telling a 5-year-old that I was a crocodile and my house was in the Niger River: Ne ye bama ye o de la N ka so bε djoliba kɔnɔ.
5. Community
If the driver stops at a check point, everyone waits to see if he turns the engine off. If he does, everyone sucks their teeth in unison. Cutting the engine typically means that everyone needs to get off the bus. If it's a customs checkpoint, they may want to remove and search every single piece of baggage. The nature of the trip — 36 hours of heat and dust — provides for some built in solidarity. The family atmosphere only intensifies when outside forces, like police and customs, further delay the journey. You complain together, but you also share food, stories, and jokes, and you stick up for another passenger when the time comes.
The best bus
The bus costs 20,000 CFA ($40). I travel with Sama Transport. They have earned my loyalty. Their buses are more or less in good shape and their drivers are efficient without being reckless. Sama is also the transport company that is best installed on this particular route. Their hub is in Sikasso, in southern Mali, and as far as I know, they have been running buses between Abidjan and Bamako longer than any other company. The trip takes 36 hours and usually includes an overnight stop in Korhogo or just north of there.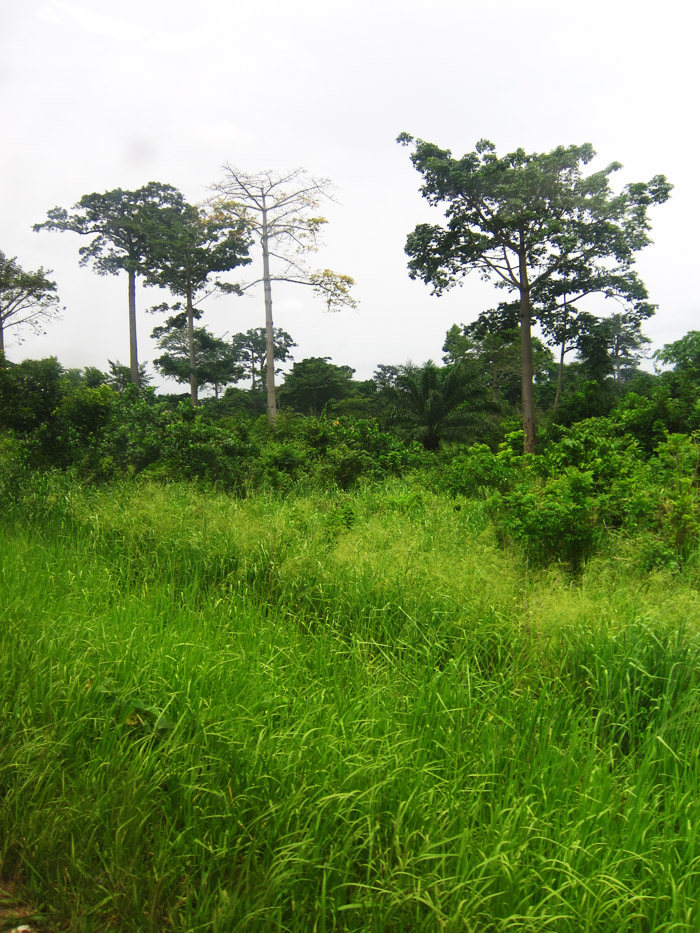 Neon green Cote d'Ivoire through the bus window
Only a few more days in Bamako before I return to the states for a bit. This is not an evacuation, but rather a planned trip home to see family and friends. I will be passing through Lisbon on the way and will be soliciting advice in my next post. Many posts on Bamako, new music, and the restaurant/catering biz in Cote d'Ivoire to come.
Updates from all over the place to come
If you enjoyed this post, consider sharing it with the buttons below or subscribing to the blog by RSS or Email Thanks for reading 🙂