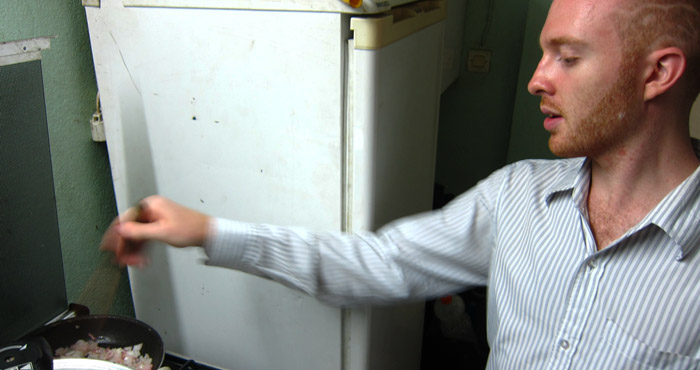 Helping to prepare Christmas dinner in Abidjan with a camel shaved into my head
God willing, this blog will turn two years old tomorrow, June 29th. It started as many travel blogs do — as a public journal for a trip of definite length. After two years, the trip does not have an end point and the blog has become much more than a home for travel narratives. There are fewer stories about my loose stools and more posts on language, music, dance, camel drawing, and recently, a growing restaurant and catering business that I started with two former couchsurfing hosts in Abidjan.
Things I've learned from running this blog
Despite the frenzy that occurred when I made professional grade camel drawing accessible to the public, this blog has relatively modest traffic. I don't write posts that go viral (although a few continue to bounce around social media and tumblrs) and only a small number of very special folks arrive at this site via search engine. Most of them are looking to find information on women sleeping with snakes. That's not a joke. Here are the most popular search terms for my site for the past year: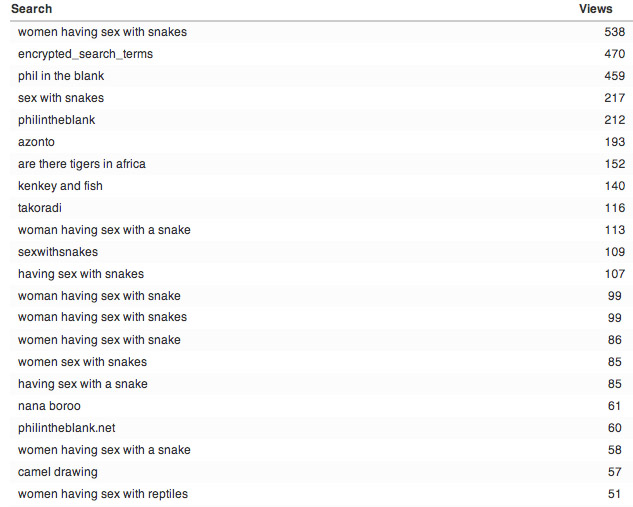 I actually know why that's happening. I wrote a post in 2010 about a Ghallywood film in which a man tricked women into sleeping with snakes. I don't even want to link to it as doing so may give more authority to the post with respect to Google's wack algorithm. It does make me happy, however, to see that people are arriving at my site by searching for azonto and kenkey and fish.
There are the snake sex people, who most likely leave the site as soon as they find out I don't actually have any human-reptile porn, and then there are a whole bunch of really cool folks that have become regular readers. The most important lesson I've learned in two years of running this thing is that a blog can be a real point of interaction. I'm not just talking about virtual relationships (which I also appreciate). I have met readers in real life, and many of them have become good friends. Thinking about the past two years without the people that I have met through this site and twitter is difficult.
Other things I've learned from running this blog:
– The most popular posts are short and itemized, but those posts also tend to attract the most fickle guests.
– A blog can serve as a portfolio of writing and media as well as an informal resume.
– A blog can produce an income or lead you to a place that will help you do so.
– Anyone can start or run a blog — they are very low-tech
– People appreciate big ideas, and will share them widely. Example: camel drawing
– A blog can inspire many other projects
The decision to start this blog is right up there with the decision to live/travel in West Africa. Which is to say, it was a very good one.
Things I've learned from living and traveling in West Africa
Settlers of Catan is universally loved
I brought Catan to the village of Fana, Mali last year and it continues to see regular play. It didn't take them long to pick it up either; to this day, I am in winless in Fana.
I can move my hips
To be honest, I think it would be hard not to learn how to dance if you spent a significant amount of your time in West Africa.
A grasscutter, also known as the Greater Cane Rat, is relatively good eating
So-called bush meat is not as widely eaten in West Africa as some people seem to think, but it's around if you know where to look and it doesn't taste half bad.
Camels are the most graceful and dependable animals on earth.
And that's to say nothing of their ability to withstand environmental extremes.
I can communicate in French and Bambara
My French was decent a year ago, but it's come a long way since. Not fluent, but getting there. I'm nowhere near fluent in Bambara, but I made a major breakthrough in the first half of this year. It's all downhill once you can start thinking in a language.
Mangoes are the superior fruit
And don't try to tell me that watermelons or strawberries or some other bullshit is better.
I know the exact moment when something catastrophic is going to happen to my bowels.
Also, you don't need toilet paper if you have a plastic tea kettle filled with water. You do, however, need soap and more water afterwards…
You could drop me in Abidjan, Bamako, Accra, or a select number of villages in the countries where those cities are located, with no money or possessions, and I would be fine.
It's a good feeling knowing that some people will take you in like family.
I can clean myself with half a bucket of water.
I have a shower at my bamako apartment and Faty recently put in a shower at her house in Abidjan, so I haven't taken as many bucket showers this year, but I honed my skills in 2010-11.
Many ideas that seem crazy are not.
When David proposed sending lunch deliveries to the business district of Abidjan via bateau-bus (think public water taxi), I was skeptical. It was the cheapest way to get to Plateau, but it seemed inefficient and difficult to coordinate. I was wrong. We now have two delivery guys with wheeled push carts traveling by water taxi. On Monday, we fielded over 70 orders and had our biggest day yet.
This trip (or whatever you want to call it) is just getting started.
The West Africa trip, but also the more abstract trip blending life and "work" — bringing ideas to life, collaborating with people, getting my hands dirty with more than one project.
I would like to say that I have learned many other things — about the way people live, about politics, development, and power dynamics, about how different things are "there" compared to "here" — and I think that I have, but they wouldn't fit into a post like this and they are almost impossible to pin down anyways.
I am heading back to West Africa in a couple of weeks. The trip, and this blog, continue.
And now for some dramatic closing music — you know, pleine d'émotion. Don't be foolish and cut this off before the beat drops.
link to this classic Mali tune.
If you enjoyed this post, consider sharing it with the buttons below or subscribing to the blog by RSS or Email Thanks for reading 🙂