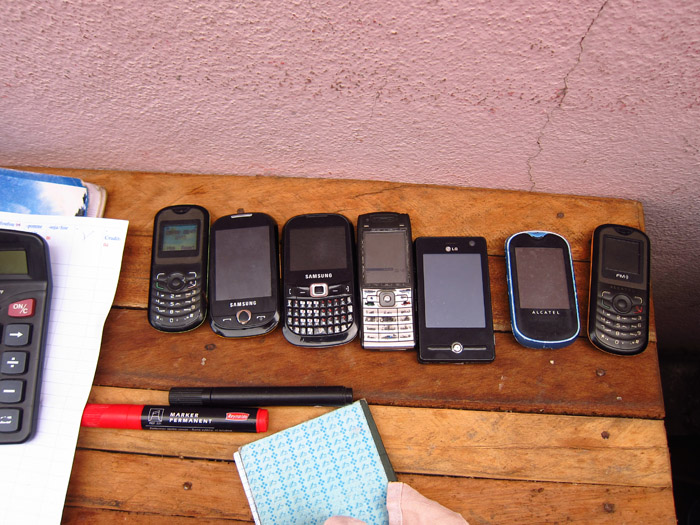 A picture of our phone bank earlier this year
It has been a while since I talked about our Abidjan lunch delivery biz (last post on it is here). When I wrote the last update, we were going through 25kg of potatoes a day and delivering 100 plates of food every afternoon.
In the past several weeks, we had been delivering between 180-200 plates of food a day and we were receiving more and more requests from businesses that were outside our original delivery zones. Things were good.
We have dealt with a few obstacles since we started this business. High food prices during Ramadan, a taxi strike, closure of the border with Ghana, and countless hiccups resulting from adjustments we've made on the fly. None of these can compare to what happened recently, however.
A while back, one of our delivery guys (we'll call him D) was promoted to manage the other delivery guys and to prospect for new clients. We promoted him because, even as a delivery guy, he was recruiting new clients and expanding our business. D was friendly, charismatic and — we thought — exceedingly honest.
One day, D called into work sick. Several of our other delivery guys also called in sick. They said they had stomach pain, GI-type illness, etc. We scrambled and found a few back-ups, but many of our deliveries were late. Clients were unhappy.
The next day, we had a quarter of our normal phone volume. Clients weren't placing orders. We thought that perhaps people were upset over the late deliveries. In any case, we had already started with food preparation (we start at 7AM), so we decided to pay our clients a visit (with food in hand) and see what was going on.
When we arrived at our clients that hadn't called earlier in the morning, they told us that their food had already been delivered. Say what? They said that our delivery guys had already delivered their food.
We explained that we did not actually deliver any food to them and furthermore, we didn't receive any phone calls with orders in the morning. Our clients didn't understand. They told us that they did call in the morning to place their order and they had no problems doing so. Wtf??
Then Faty and David ran into D and a few of our other delivery guys. All looking rather healthy. All making deliveries.
It took several days to unravel the entire story, but here is what happened. D had approached a restaurant owner in Plateau with a proposition. D told him that in a day's time he could find him over a hundred delivery clients. The restaurant owner was obviously interested and they worked out a deal. D then talked to several of our other delivery guys and promised them a larger sum of money than what they were making chez nous.
It gets worse. D then went around to our clients, distributing new menus. Everything was the same. Our logo, our name, our menu items. Except for the phone numbers, which he had crossed out and replaced. He told our clients that the old numbers no longer worked.
For many of our clients, D was the first person that they met. It was D that convinced them to give our delivery service a try. So when he told them we had new phone numbers, they had no reason to be skeptical. Furthermore, many of our newer clients had never met me, David or Faty. They called us to order, but they never interacted with us face to face.
So when we showed up telling our clients that they had not in fact ordered food with us that day, they were rather confused. They had no reason to believe our side of the story, because D and the delivery guys were the people that they were familiar with.
After several days, however, they began to believe our side of the story, mostly because the food this restaurant was serving them was nowhere near the quality of what we offered. At the same time, we went to la Justice to report what was, in our eyes, a crime — D was using our name and our reputation to steal our clients.
I wasn't with Faty and David when they saw D and our delivery guys working together, making deliveries for someone else, but it's not difficult to imagine their shock. Later, when the story was told to me, I felt the kind of nausea that accompanies heartbreak and loss.
While we are currently getting back to where we were before this fiasco — our clients now fully understand the situation — we lost a lot of money in one week, and worse, we learned that several people we worked with, people we had come to trust, people whose company we enjoyed, had conspired to effectively destroy our business.
D and the other delivery guys have asked for pardon. Some of them have actually asked to resume work with us. We will not be rehiring any of them. Right now, we are trying to recuperate the money we lost. We do not want to place criminal charges and hopefully, we will be able to resolve this by dealing with D and his family directly.
There are many lessons to be learned here, and we have already started to make significant adjustments in how we run our business. Some of these adjustments concern the culture of our business and the ways in which we can ensure that everyone feels invested in this project. We expected many challenges when we started this thing, but this was not one of them. All we can do is learn from it, and hopefully avoid something similar from happening in the future.
CAMELS CAMELS CAMELS CAMELS
The IndieGoGo campaign was successful so I drew 100 different camels with 100 different people this weekend. I also saw 3 different concerts, a performance put on by a house of former street kids, and I made tracks through countless Bamako neighborhoods. Video of all of this is on the way.
That other thing
I voted in Ohio several weeks ago, and I'm happy to be in Bamako now, where I'm spared things like robo-calls. I find politics mostly disgusting and I have no words for what is going to be a multi-billion dollar election. That said, if you're American, you should vote.
If you enjoyed this post, consider sharing it with the buttons below or subscribing to the blog by RSS or Email Thanks for reading 🙂