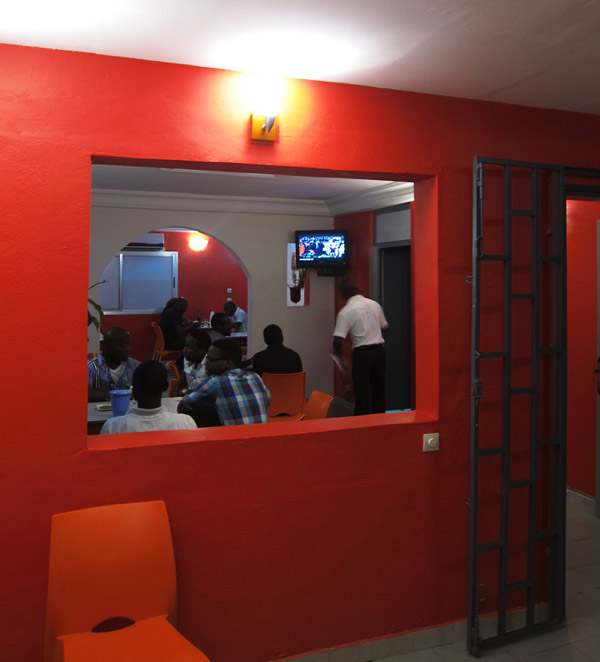 Here are a few observations and lessons learned from nearly two months of running a full service restaurant in Abidjan.
Running a restaurant is a great way to meet people. Among our regulars, we have the captain of ASEC Mimosas (Cote d'Ivoire's most storied club football team). We have Monsieur Kedjenou, an extremely well-read Anglo-Ivorian who orders a half chicken kedjenou almost every evening. There is Yehni Djidi who, in addition to writing a popular and insightful blog, has a lovely husband and a great group of friends. There are also a few other bloggers, like Ishy, Edwige, and Ama, who are frequent visitors and a pleasure to host every time. Then there is everyone from the quartier. Some who come to watch the match and drink a beer and some who come with their petit(e) ami(e) for a late night kedjenou. Lots of friendly faces and good conversation and perhaps 5% irritating and difficult folks. I'll take it.
Restaurant work can give you a hangover without drinking any alcohol. It makes sense. Strange meal times, possible dehydration, little time to relax, many decisions to make, long hours. It's easy for your body to get out of sync. If you are already earning a hangover without alcohol, might as well have a drink or two. This is about mental health.
Rain and power outages are really not very interesting when you are running a restaurant. A couple of weeks ago, we had an evening killed by rain and a concurrent power outage. We had one couple that came in to dine by candle light. Despite the emergence of delestron, an imaginary monster that cuts electricity by neighborhood in Abidjan, power outages are relatively rare in Abidjan when compared to the rest of the region. In Bamako, Dakar or Accra, many businesses are required to have a generator. That said, Cote d'Ivoire's CIE is not what it once was and power infrastructure needs to be improved.
We are blessed to have a number of employees who are invested in their work. One of our servers has created what has become a very popular cocktail: the lion, a mixture that includes gingembre and tequila among other top secret ingredients (grenadine). While he does have a problem with punctuality, he takes his craft seriously otherwise and has a great rapport with our customers. We've been fortunate to have a core equipe that is talented and motivated, both in the kitchen and on the service side. We've been less fortunate to have a few transient employees that were never really interested in being part of this family. They waited for a bit of their salary and then took off. This happens, too.
Running a restaurant offers great insight into the local economy, neighborhood politics and gossip, the price of a whole goat, and many other things. It doesn't take long to learn who on the block is a little bit crooked or who in the mayor's office will launch empty threats in hopes of a bribe. Whether you want to or not, you hear about disagreements and palabres, and sometimes they happen right in front of you. You can also see the amount of money in people's wallets as you go from the 1st to the 30th. The month starts with crisp 10000 CFA notes and winds down to tired and crumpled bills of 1000 and 2000 CFA. Abidjan's skyscrapers are becoming less mossy and highways are improving, but a lot needs to happen before money really starts to circulate among the majority of the population.
Customers form habits quickly. Most of our regulars gravitate to certain tables, usually the table they sat at when they first ate at the restaurant. Some like to hide out in the back. Others prefer to be one step from the door. When certain customers walk in, we can place their order without asking. We know Monsieur Kedjenou will have a half chicken kedjenou with a side of pommes sautes and a tea, for example. We know that Jean will have a tchep au poulet with a chicken thigh, etc.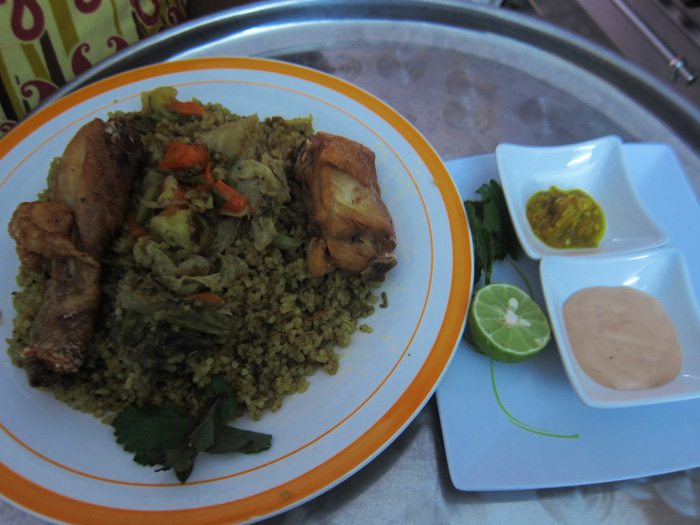 La fete arrive. Between the 20th and the 5th, business in Abidjan largely shuts down. That is, if the business is not a maquis, nightclub, restaurant or hair salon. Market prices tick up and people bank on the "13th month" of their salaries. This is the time to go out and enjoy yourself. Last year, when we were just running deliveries, this time period was a dead zone. This year, we count on it. We are planning on going all night for a few days in the coming weeks. Feel free to stop by and join the party.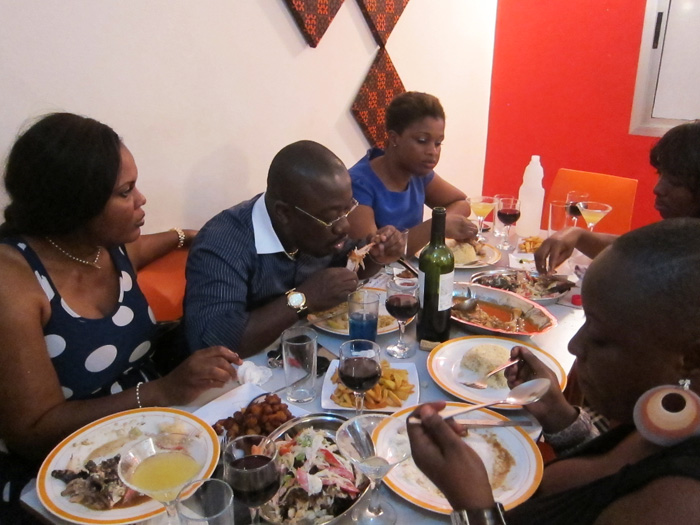 This work has been exhausting, but fun and interesting, too. As the project becomes more organized, I will have some more time to reflect here. If you find yourself in Abidjan, come by for a glass of palm wine on the house.
If you enjoyed this post, consider sharing it with the buttons below or subscribing to the blog by RSS or Email Thanks for reading 🙂