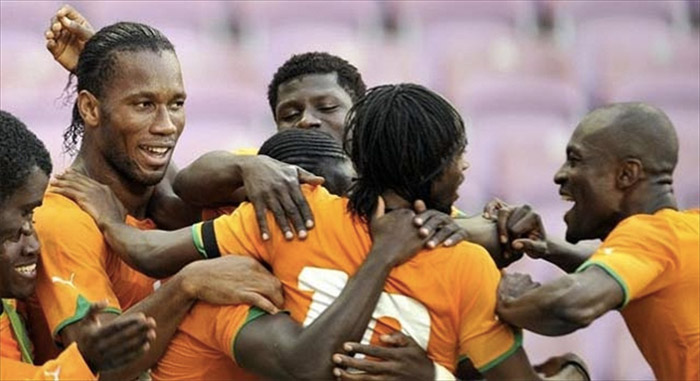 Previously: In 2010, I left hobart street in Washington DC for Accra, Ghana. I arrived one day before the Black Stars were to face off with Uruguay in the quarter finals of the World Cup. You can read about that here.
Four years later, I am in Abidjan, and I'm throwing all my weight behind the Elephants. Why such fickle allegiances? Two reasons: 1. It's always nice to find yourself in the middle of a multi-million person party and 2. We are running a business (a restaurant) that could benefit from a deep world cup run.
What are the chances of a deep world cup run for Cote d'Ivoire? Probably not good. They have one of the most inexperienced coaches in the tournament, and despite a talented roster, they have repeatedly underperformed at the international level.
But guess what? I have them getting out of their group and beating Italy. The second half of this equation may be a long shot, but I think a few strokes of luck on the defensive side of the ball and a coming out party for Wilfried Bony are going to carry the Ivorian team. Wilfried Bony can destroy teams in the way a younger Didier Drogba once did.
Most Ivorians are less optimistic. They will support the team, and Abidjan will explode after any victories, but Ivorians will not blink an eye if the team ends up dead last in the group. Such failures are a playground for Ivorian humor, and if it does end badly, we can at least look forward to the jokes. Side note: Ivorians are skilled comedians and Abidjan may be the global capital of everyday masters of wordplay.
This World Cup happens to coincide with an ICC decision on ex-President Gbagbo. Specifically, the court will announce whether the charges are confirmed. I know some people here who think the announcement will not have much of an impact regardless of the result. I know others who think any result is going to raise tensions. Some people are going to be angry no matter what happens, but I don't think there is a decision that will lead to unrest or anything like that. The World Cup may also play a role as distraction.
On the restaurant side of things, we are working on our projector situation. We hope to have that up and running for matches 2 and 3 of the group stage. Our back-up plan is to move one of the TVs so it displays on the patio. We are also stocking up on beer.
I'm still a Ghana fan, and sure, it would be great to see the U.S. get out of that group, but I'm not going to hold my breath with Germany and Portugal hanging out there, too. Personally, I see Germany and Ghana going through. Whether or not Asamoah Gyan finds his pre-penalty-meltdown form or not (he has been tearing up UAE league, but all things are relative), Jordan Ayew looks like he is turning the corner, and Ghana has an absurd midfield.
But hey, Brazil is probably going to win it all, right?
International sports tournaments are trivial and silly in many respects, but they also reveal something about the capacity of humanity or some crap like that. And nothing is bigger than the World Cup.
If you enjoyed this post, consider sharing it with the buttons below or subscribing to the blog by RSS or Email Thanks for reading 🙂