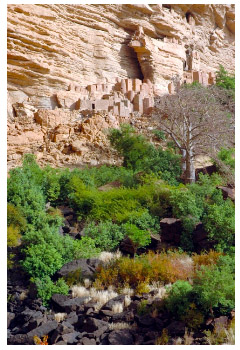 Mali is a phenomenally beautiful place — from rich, red sunsets over the Niger River to vast valleys of verdant flora — but one region stands alone as fantastically unique in the world: Pays Dogon. French for Dogon Country, this area of south-central Mali has been home to the indigenous Dogon people for more than 1,000 years, and they have certainly left their mark on the place. With red-rock dwellings carved into cliffs as high as 1,500 feet, they developed a distinct religion, culture, and even language separate from their Islamic and East-influenced neighbors.
Today, Dogon Country thrives as an artistic center in West Africa, providing exceptional crafts to markets throughout the region. However, Dogon Country also promises the thrill of adventure to those world travelers looking for their next big trek. Hiking through Dogon Country can be as grueling as it is enlightening, but with the right preparation — and the right guide — travelers will likely find it a rewarding experience.
Seeing
Simply reaching Dogon Country can be a trek in and of itself, as it lies toward the center of Mali. It takes nearly nine hours to reach the main entrance of Dogon Country, Bandiagara Mopti, by car and significantly more by bus. Travelers will find most drivers willing to escort them around the country for about 50,000 CFA per day, which equates to nearly $90 U.S., yet travelers should be warned: Mali drivers are stereotypically ill-tempered, as a career of traversing the dry, poorly maintained Mali highways is sure to make anyone cross. However, as the trip ticks off most of Flight.com's travel resolutions, a journey to Dogon Country is assuredly worth the hassle.
Besides Bandiagara, which is the largest town entry into Dogon Country, travelers can go to Bankass or Douentza. Supplies and guides are certainly more plentiful in the Bandiagara, but travelers will also likely pay a premium for the convenience of such trekking necessities. Each of the three portals offers travelers a small taste of Dogon culture. Because of the popularity of the spot among French and English tourists — American tourists generally have yet to take an interest in West African travel — Dogon peoples and others hope to capitalize on Western wealth with souvenir stalls, eateries, cultural displays, and more. Mali is one of the poorest countries in the world, and Dogon Country's attraction of affluent foreigners allows locals enough revenue to purchase grain collectively and feed the community, so travelers' presence in the region is highly appreciated.
Due to the long seclusion of the Dogon people from the rest of Mali and the rest of the world, there are virtually no roads in the region that can transport travelers from the bustling entry towns to the small, native villages in the valley below. Thus, travelers hoping to see more of this fantastical land must continue the rest of the journey on foot — which brings me to the next section of this article.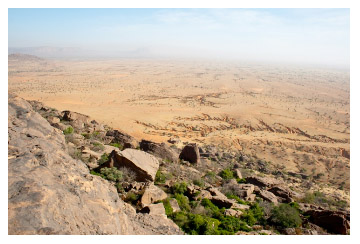 Surviving
Travelers hoping to see the length and breadth of natural and cultural beauty in Dogon Country must start the journey at a relatively high level of fitness, as the trails through the countryside lead up and down the Bandiagara Escarpment and can become quite strenuous. The Dogon people may navigate their country in sandals with several pounds of luggage on their heads, but foreign travelers should certainly wear sturdy hiking boots.
It is more difficult than one might expect to procure a helpful and informative guide who can ferry one safely through Dogon Country. While the three entry towns certainly have a surfeit of willing escorts, not every Malian citing a price has sufficient knowledge of the region and its peoples to lead a satisfying trek. Though many guidebooks advocate that travelers go it alone, those who don't speak French (or Dogon) or who are mindful of paying respect to the peoples should certainly find a qualified chaperone. For the cost of about 10,000 CFA (about $17 U.S.) per day, travelers should be able to secure:
An insightful, pleasant guide with familiarity of the region.
Three meals per day.
Two to three village visits every day.
Included tourist tax for each village.
Even with a guide, there are a few pieces of Dogon etiquette that will ensure amiable interaction with the Dogon people. For example, carrying and distributing kola nuts to village elders — or any local travelers encounter —is an ancient Dogon sign of respect and congeniality, and doing so allows travelers to interact more authentically with the native peoples. Additionally, travelers will likely receive meals in family homes, as restaurants are uncommon in small Dogon villages, and it is only appropriate to graciously accept any food placed on the table.
Though West Africa may not seem like a vacationer's dream, the people and landscapes in Mali's Dogon Country are unlike anywhere else on Earth. It is nearly impossible to describe an experience in Dogon Country — which is why travelers must see and survive the place themselves.
If you enjoyed this post, consider sharing it with the buttons below or subscribing to the blog by RSS or Email Thanks for reading 🙂