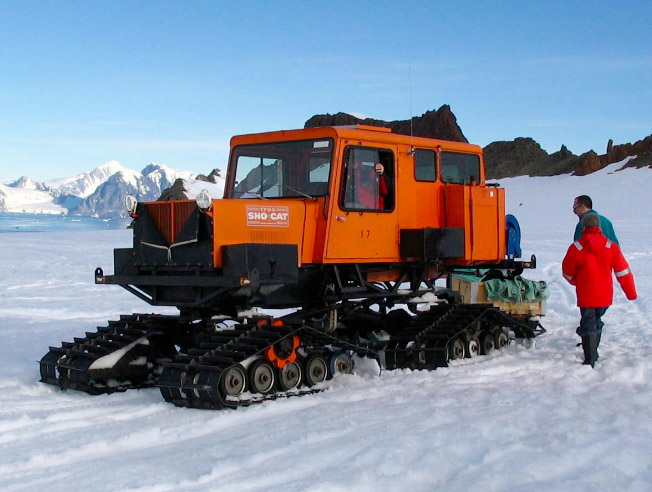 When I first heard the term, "Snowcat Snowboarding," I glanced at my buddy with the most bewildered look smeared across my face. However, as it turns out, this type of shredding is actually quite common. Most snowboarders are familiar with the tractor-like vehicles delicately grooming the mountainside at resorts and lodges. Well, those machines are commonly referred to as Snowcats. With that little nugget of information on hand, it becomes fairly easy to deduce what snowcat snowboarding is, wouldn't you say?
For those that still haven't figured it out, snowcat snowboarding is when resorts, lodges, and private parties enlist the use of one or more snowcats to ferry a group of snowboarders to what would have previously been inaccessible mountain terrain. The whole concept arose some 30 years ago when Alan & Brenda Drury—a couple enjoying a ski holiday—had the idea to use the machines as a transport vehicle.
From there, the idea exploded!
The biggest increase in popularity occurred during the past decade or so as countless resorts expanded their fleet of snowcats, not only to accommodate any hillside maintenance, but also to facilitate the sport of snowcat snowboarding. In fact, cat-boarding (as it is commonly referred to as) has even grown more popular than heli-boarding, which is using a helicopter to access remote sections of mountainside.
The PistonBully 300 snowcat is notably one of the biggest names in the industry. While snowcats in general have always been known as the tugboats of the mountain with respect to their brute strength, the features on the PistonBully 300 match that strength with modern technology. Riders can expect to climb steeper grades much faster, while enjoying a smooth, comfortable ride at the same time. Because snowcats are largely considered industrial equipment, most resorts will either buy them from industrial auctions, or rent them from reputable sources. After all, the outright purchase of one of these behemoths could be a budget-breaker to say the least.
For the most part, snowboarders can take advantage of two different types of cat-boarding excursions—single-day and multiple-day. As the names suggest, a single-day trip generally lasts between 6-24 hours, while a multi-day trip can span 2 or more days. Usually the one day trips can be booked in-town where both the arrival and departure will take place. However, a multi-day trip might be booked at an in-town location, but the actual excursion will likely be based out of a remote, wilderness lodge.
While the number of snowboarders can vary, most snowcat expeditions will likely have a maximum of 12 riders. Along with those riders, there is usually two staff members—a lead- and tail-guide driver—on board as well. However, those numbers are per snowcat; with each expedition there can be anywhere from 1-3 machines in operation. Depending on the weather, the average run (2,000 vertical feet) will take anywhere from 20 minutes to a half an hour to ascend.
Once you're at the top, the rest is pretty straightforward. Strap on your bindings, adjust your goggles, and let the shredding session begin!
If you enjoyed this post, consider sharing it with the buttons below or subscribing to the blog by RSS or Email Thanks for reading 🙂