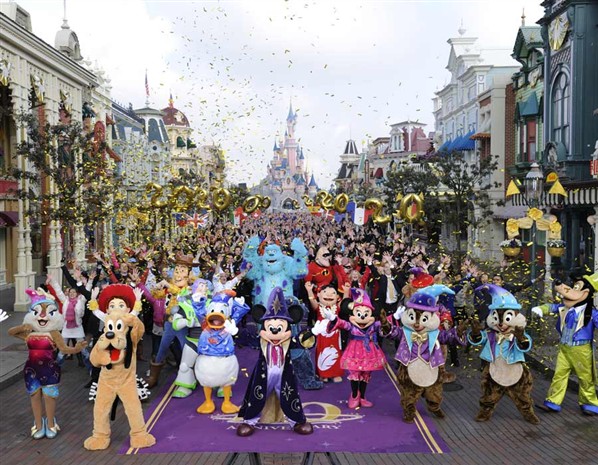 Every child the world over loves Disney at some point in their lives, this is a common fact. Whilst the older children get, the less likely they are to admit this, the Tinkerbell fairy-dust of Disney magic always comes back at some point, and luckily, Mickey Mouse's French residence is right on our doorstep!
I'm not going to rave that Disneyland Paris is better than the ultimate magical destination of Disney World, but for a budget, short haul option, it can't be beaten. Flights over to Paris are often cheaper than a train to London for the day, and if you can grab a bargain here, the cost of your holiday will be lower overall. You can cut costs even further by saying 'no' to expensive public transport to get to the airport itself, and instead drive yourself there, booking airport parking for the duration of your holiday. This is a service I use regularly, and I recently booked parking at Stansted for a great price, proving that it really does save money as well as stress. Most large UK airports have a service too.
A cheap flight is your first step to Disney budget, and there are countless hotels onsite and around the area which don't cost the earth. Transport to the parks is often by way of shuttle buses, but do check with your particular hotel whether they run a regular service. As for tickets, booking a hopper, multi-day pass will be the best bet, as you often get a day free with certain promotions, and definitely beats the cost at the gate on the day, as well as saving time. Always check you're buying your tickets from a reputable dealer and you won't have any problems.
When you're in the heart of the magic, the fun can really start, and to get the most out of your day, grab a park map on your way in, to give you the exact times of parades and shows. A good tip is to watch the parade in the morning, and then head to the popular rides during the afternoon parade, to hopefully take advantage of lesser queues. You could also take advantage of the Fast Pass service too, cutting out the amount of queueing.
You have two parks to choose from – Disneyland and Walt Disney Studios, as well as Disney Village, the entertainment centre for evening fun after the parks have closed. If you're visiting for more than one day, dedicate a day to each park, and then go back and visit what you missed in any subsequent days. Despite the fact your park tickets will allow you to hop between the two, it's always a good idea to experience one park per day, so you don't miss anything exciting!
A visit to Disneyland Paris proves that you don't have to travel endless miles to find magic and fun, and for a jam-packed weekend with the family, this is a great choice of destination.
If you enjoyed this post, consider sharing it with the buttons below or subscribing to the blog by RSS or Email Thanks for reading 🙂