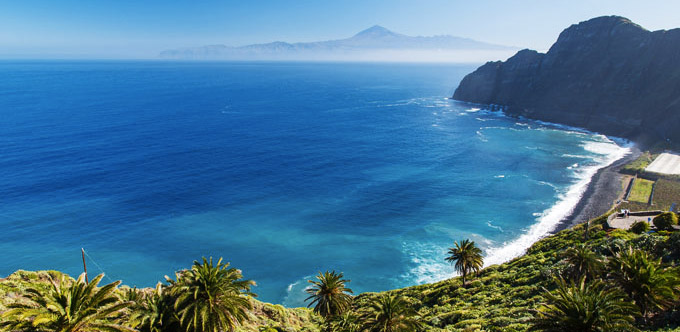 If you have booked your holiday but don't know yet where to go, Canary Islands may be your place. Do you like the beach? They have lots of them. Wide, with little volcanic rocks, or covered with white sand from the Sahara: you choose. Do you prefer the mountain? They also have many and, more specifically, the highest one in Spain: Teide. Still not convinced? Well, let's talk then about the wonders of each island so that you will definitely need to go:
-Tenerife. Probably the most known of them all, not just because it is the capital and has the greatest number of inhabitants, but also because some of the most amazing green spaces, declared "heritage of the humanity" by UNESCO, are there. For example, you will be able to visit Teide's National Park or Icod de los Vinos, where the legendary dragon tree resides. In addition, if you happen to be there in February, you shouldn't miss its Carnival, which can only be compared with the one held in Brazil. However, Tenerife is just one of the seven Canary Islands, so let's know the other six too.
-El Hierro. From the biggest island to the smallest one. However, if you like it peace and quiet, this is your destination, as there are less tourists and therefore you will be able to admire its prolific nature without having to worry about overcrowded areas. Moreover, if you are into arts and sustainability, you may want to check out its Bimbache openART Festival and its Global Initiative for Arts and Sustainability.
-La Palma. If you are a volcano person, this is your island, as it is the most volcanically active and has one of the world's premier astronomical observatories, the Roque de los Muchachos Observatory. However, this shouldn't make you worry since it's been a while since the last eruption, so you will be able to peacefully discover both all the endemic species living there and the minas galerías (water tunnels), which carry the water from the mountains to cities, villages and farms.
-Fuerteventura. The second largest island after Tenerife and declared a biosphere reserve by UNESCO in 2009. Like the other six islands, it mixes volcanic origins, outstanding nature and traditions ranging from the cheese called majorero, with protected denomination of origin, to the practice of many watersports thanks to its ocean and weather conditions.
-La Gomera. Despite having only 22 kilometres in diameter, you will find a fascinating amount of microclimates, species, slopes, and also its particular silbo gomero, a whistled language really helpful when you want to talk to your neighbour in the next ravine.
-Gran Canaria. It is half of Tenerife's size, but both of them have almost the same amount of population. Although it is not precisely flat, it possesses a lot of roads (most of them even venture into the mountain areas) and it is well communicated with the rest of the islands, so you won't feel isolated while visiting it. Also, its numerous green areas and rocky landscape will surely make you gape whenever you look around.
-Lanzarote. Last but definitely not least: this ochre island perfectly combines dreamy beaches with volcanic settings, so there is no wonder why it has appeared in a number of well-known series, books and music videos. Of course, here you will also find a unique biodiversity which earned the island its status as UNESCO Biosphere Reserve protected site.
If you enjoyed this post, consider sharing it with the buttons below or subscribing to the blog by RSS or Email Thanks for reading 🙂