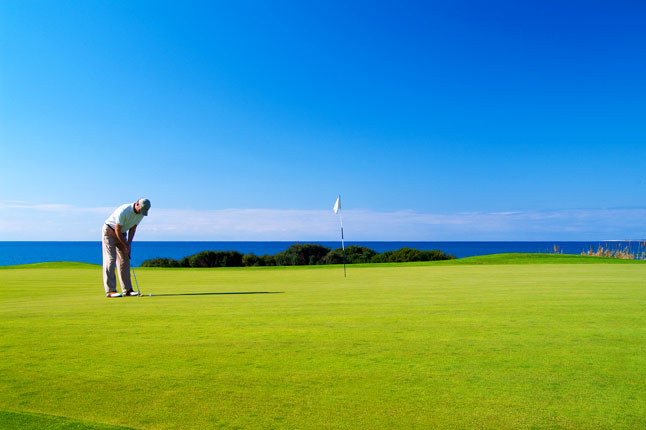 Are you looking for the premier Mediterranean golfing and resort experience? Then look no further than the golf courses and resorts at Costa Navarino, Porto Carras, and Porta Elounda in Greece. Leave your everyday stress and schedule at home, and enjoy an incredible relaxing day of golf with a golf outing or tournament at any of these three beautiful Greek Golf resorts. All take exceptional pride in offering premier guest services and personal attention that every golfer desires, along with some of the best golf Greece has to offer…
Costa Navarino Golf Course – Costa Navarino, Greece
This premier Mediterranean Golf Resort offers two of the most scenic and challenging Golf Courses (The Dunes Course and The Bay Course) in all of Greece. The Dunes Course, designed by former Masters Champion Bernhard Langer, offers links-style golf with breezy oceanside views.
The Bay Course, designed by Robert Trent Jones Jr., plays shorter than its Dunes Course cousin, but emphasizes tighter control off the tee and more strategic play. Both courses will test your golf game but not your patience as golfers continuously soak in the natural beauty of the area while enjoying all the amenities of that Costa Navarino has to offer. Rated as one of the Top 100 Golf Courses in Europe for 2011, Costa Navarino is a golf experience not to be missed.
Porto Carras Golf Course – Sithonia, Halkidiki, Greece
Originally designed by renowned architects Cornish and Robinson and renovated in 2003 by Roy Mc Ray, Porto Carras is a premier level Championship Golf Course featuring scenic water views and bunkers in almost every hole location. Offering scenic views of seaside villages, vineyards and mountains, Porto Carras is exhilarating to see and even more breathtaking to play. Porto Carra Golf Course's strategically placed bunkers and water hazards offer a moderate challenge to most golfers and is an experience that will take your breath away throughout its 18 holes.
Porto Elounda – Elounda, Kreta, Greece
For a decidedly different golf experience, play the exciting 9-Hole Par-3 Golf Course Porto Elounda. Offering amenities like professional golf instruction on site, Porto Elounda does par-3 golf the right way from start to finish. And with fine dining and entertainment at the nearby Porto Elounda Spa and Resort, your vacation experience at the Porto Elounda Golf Course is only the beginning of your adventures. Renowned for his world famous spa and food experience, the Porto Elounda is a golf and resort adventure for the truly an experience for golfers and non-golfers alike.
If you are looking for your next golf adventure in Greece, you can't go wrong with the resorts and golf courses at Costa Navarino, Porto Carras, and Porto Elounda. The ultimate in Greek vacation spots, all three courses feature challenging layouts, breathtaking scenic views, and all the nearby resort and spa amenities that serious travellers come to expect from their vacation experience.
If you enjoyed this post, consider sharing it with the buttons below or subscribing to the blog by RSS or Email Thanks for reading 🙂