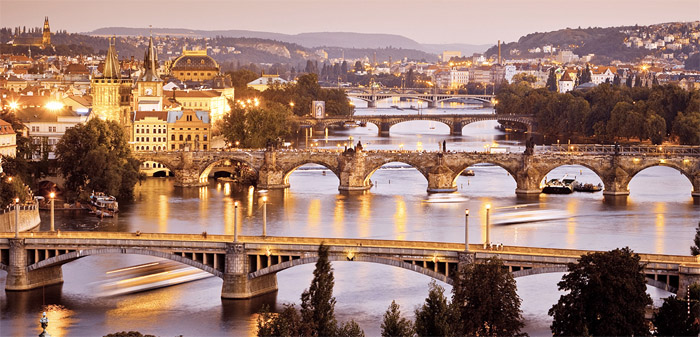 A few years back, a friend and I criss-crossed our way through Europe. Backpacks on our backs, no guidebooks, limited budget, and a desire to see as much as possible. We visited all the major cities in Western and Eastern Europe. We first flew to Istanbul and then worked our way westward.
There are plenty of different ways to judge a city. As backpackers, cost was the first bit of criteria that we always looked at. Cities like Paris and London were virtually off limits to us in this regard. We visited them, but we were only able to stay for a few days in each place. A simple lunch at a cafe exceeded $15 in these cities, so you can imagine what it cost to have a night out on the town.
Other cities were far more accommodating to our meager budgets. And make no mistake, most of these cities happened to be in Eastern Europe. Cities like Warsaw, Budapest and Prague allowed us to stretch our budget without skimping on entertainment.
Prague was a particular highlight, and it quickly became my favorite city in Europe. It was easy on the wallet, sure, but it also had everything to offer in terms of sightseeing, nightlife and dining.
Few cities have a more dramatic sitting. The Vltava river cuts through the town, and ancient bridges, like the Charles, provide architectural wonders teeming with history. The castle sits on a hill above the city, and the nearby park is worth visiting for a few relaxing hours.
But the real reason we fell in love with Prague was the delicious, cheap beer and the lively pub and nightclub scene. The Czech Republic has been brewing beer for centuries, and while you may have tasted Pilsner Urquell from your local supermarket, sampling it where it's actually produced is another story entirely.
We often found ourselves in cozy bars, downing pints of beer that cost us no less than a dollar. Locals were always up for a friendly chat, and we quickly met a host of interesting people. What's more, most of the bars have their own forms of entertainment, like billiards and foosball tables.
Prague is one of those towns where you could easily spend weeks and months and not get bored. However, even if you wanted to go to Prague for a weekend, it would be a worthwhile trip. Spend a day sightseeing and then enjoy the bars and restaurants. With cheap airfare available throughout Europe on a variety of budget airlines, no one should miss out on visiting this city, especially while it remains such an affordable destination.
If you have been to Prague before, feel free to share your thoughts in the comments below.
If you enjoyed this post, consider sharing it with the buttons below or subscribing to the blog by RSS or Email Thanks for reading 🙂