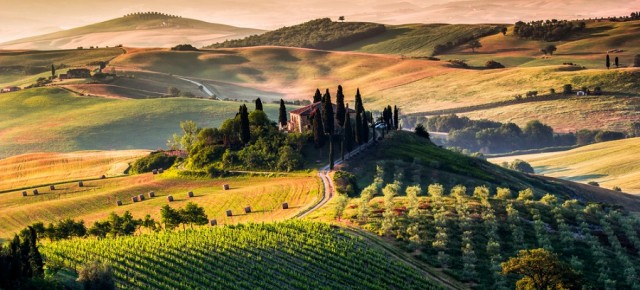 The definition of the word Odyssey is "an epic journey" and there is nowhere in the world as epic as Italy. Take in some of the most amazing examples of architecture and art that the world has to offer and explore this country's natural beauty all the while sampling fabulous local food and wine.
The Tuscany Countryside
There is no denying that the Tuscany Countryside is a feast for the senses! Be sure to check out the olive groves and vineyards that the area is famous for. From the stunning colours of the flora and fauna to the food, wine and beautiful art, you can surround yourself in beauty every minute that you spend here.
Rome
This is an ancient city that Julius Caesar once called his home. At the Colosseum you can see where his gladiators fought for their lives to entertain thousands of people. You can go on some great underground tours of the Coliseum and experience it in all it's glory. Some of the greatest artists and architects of world history have left their legacies in this city. Michelangelo's murals in the Sistine Chapel are mesmerizing and must be seen. Enter the Vatican City (a separate country within a city) and peruse the rich Catholic history. Be sure to stop by the Trevi fountain, a marvel of art and engineering. If you are interested in shopping you can scoop up plenty of inexpensive and high quality leather products. Make sure to sample the local food and wine and don't forget to stop by one of the many breathtaking beaches.
Venice
This stunning, romantic city located in northeastern Italy is famous for its unique bridges and canals. Be sure to experience a gondola ride along the famous Grand Canal and watch the sunset. This city is also renowned for its amazing architecture and art and music. Be sure to take in Piazza San Marco and St Mark's Basilica. Try to visit one of the many world famous festivals that take place in the city. This is a great area for shopping and it is known for its world famous Venetian glass. Be sure to dine on the fantastic food and wine that this area offers.
Amalfi Coast
This stretch of coastline in southern Italy is known for its mild climate and stunning panoramic views. This Unesco World Heritage site is something that must be seen to be believed. Rent a car and drive west along the 40 km stretch from Vietri sul Mare in the east to Positano. There are some fantastic villas you can rent on the Amalfi Coast, from there you can rent a boat and explore this stunning stretch of coast and all of its inlets. Make sure you find time to relax in the sun and try the limoncello liqueur made from local lemons. Be sure to try the exquisitely prepared, freshly caught seafood.
Florence
This city is considered the birthplace of the Renaissance. You can visit sculptures and paintings by Michelangelo, Donatello, Leonardo da Vinci and many other famous historical artists here. The architecture here is also rated among the finest in the world. It is also known for its fashion and Gucci, Ferragamo, Cavalli, and Emilio Pucci all have their headquarters here. So make sure you take a stroll down the famous Via de' Tornabuoni for some shopping.
If you enjoyed this post, consider sharing it with the buttons below or subscribing to the blog by RSS or Email Thanks for reading 🙂