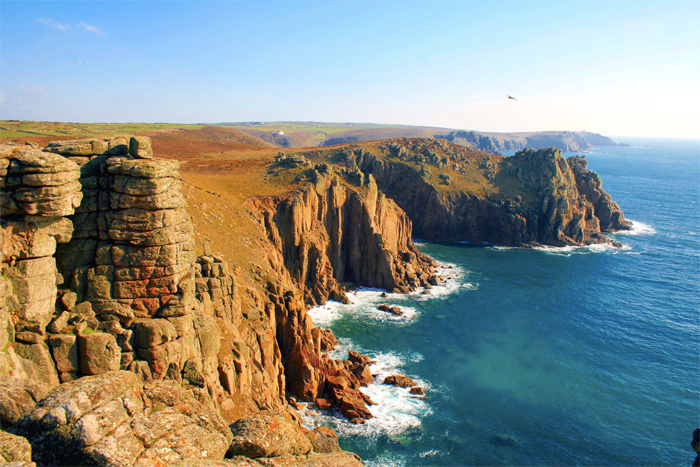 One of England's more southern counties, Cornwall is beginning to receive more and more visitors as people discover the wild landscapes, rural charm and variety of activities available. In fact, tourism accounts for roughly 25% of the Cornwall economy. Considering its distance from the major population centers in England, there must be a good reason for all this attention.
The South West Coast Path is one of the area's most well known attractions. In fact, it is the longest waymarked footpath in the country. Officially a National Trail, the South West Coast Path alternates between challenging changes in altitude and flatter stretches that are great for a leisurely stroll. Walkers who plan on completing the entire trail will need about eight weeks on average. Of course, you can always just visit a portion of the trail and enjoy a nice afternoon.
Cornwall is also known for its history. On the peninsula of Tintagel island sits Tintagel Castle, which has long been associated with the legend of King Arthur. The area around the castle may have even been occupied during Roman times. Managed by English Heritage, the castle has been a tourist site for over 150 years. Whether you believe in the Arthurian Legends or not, the castle is a remarkable archaeological site, and the vistas from the location are superb.
For those interested in some mariner history, Trevose Head Lighthouse must not be missed. First lit in 1847, the lighthouse played in important role for mariners approaching the peninsula. Enjoy views down both sides of the coast here, and take your time exploring the many caves and igneous rocks, which are often referred to as "greenstone."
If you want something a bit more unconventional, try Porfell Wildlife Park located in Looe. It is the largest exotic animal sanctuary in the county. Similar to a zoo, but with a focus on taking in injured or neglected animals, this sanctuary is a great attraction for families. You will be able to get up close and personal with meerkats, zebra, owls capybara, and lemurs, among others. In total, more than 250 different species of animals can be found on the grounds.
If you are looking for holidays in Looe or other Cornish towns, go with a trusted provider. There are many deals available online. Comparison websites are best. Of course, if you plan to go during low season, you can find some serious savings.
If you have been to Cornwall for a holiday, please share your thoughts in the comments below.
If you enjoyed this post, consider sharing it with the buttons below or subscribing to the blog by RSS or Email Thanks for reading 🙂