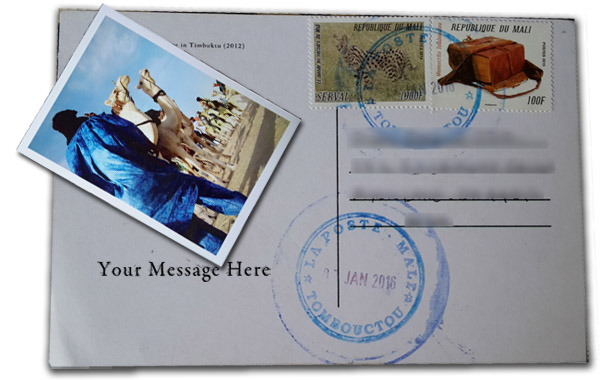 I haven't been to Timbuktu since 2012, but I still have regular contact with a number of people there. I send a bit of money to Fatoumata's family (I wrote about staying with them here) each month. They lost all of their livestock during the upheaval of 2012-13.
I also regularly run into a former guide from Timbuktu named Ali. I have known Ali since 2012. He was always one of the most dependable and trustworthy guys in a line of work that attracts its fair share of hustlers.
Ali has been traveling between Timbuktu and Bamako. Every now and then he snags a short-term contract as a fixer for a UN agency or an NGO, but work has been hard to come by. Many other guides find themselves in the same boat. There are no tourists, and if you don't get in with the UN/NGO world, good luck.
So we've decided to start a little side project: Postcards from Timbuktu.
You can now send a postcard from Timbuktu to yourself or anyone else with a custom message. Me and Bintou are handling the logistics from Bamako, while Ali is coordinating a team of out-of-work guides in Timbuktu. Should be good for a laugh, and if we can make a few bucks from it, sweet. I would also be amused if the lone Timbuktu Post Office clerk was suddenly inundated with postcards. Click here to check it out.
Oh, and Happy New Year!! I am hoping the best for West Africa, and specifically the Sahel, this year. Unfortunately, 2016 is off to a poor start in that regard. Thoughts to all in Burkina…
If you enjoyed this post, consider sharing it with the buttons below or subscribing to the blog by RSS or Email Thanks for reading 🙂