Turkey is one of the best places in Europe to visit for a summer holiday. Its coastline is home to dozens of beautiful locations with world-class beaches, warm waters, and perfect weather all year round.
This article will list four top summer destinations along the Turkish coast.
Image by Taylan_Yetik used under the Creative Commons license
Antalya
Antalya is the largest city on the Turkish coast. It's also one of the easiest to reach with an international airport nearby.
Antalya has a bit of something for everyone, ensuring Antalya direct holidays are quite an experience for every type of traveler. The city is located close to more than 170 Blue Flag beaches, making it one of the best beach cities in Europe, if not the world. Its weather is impeccable for the beach with high temperatures, little rainfall, and plenty of sunny. The waters surrounding Antalya are perfect for snorkeling and scuba diving in the crystal clear.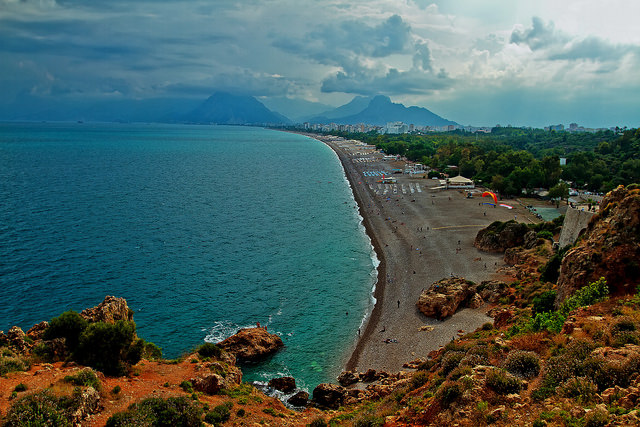 Image by Usuf used under the Creative Commons license
Antalya is rich in art and history. The city is full of well preserved ancient Lycian and Roman ruins, particularly around Kaleiçi, an old, enclosed quarter filled with narrow streets and buildings built centuries ago.
Antalya is also home to dozens restaurants offering high-quality food at affordable prices. Cuisine from all parts of Europe is readily available here. Antalya also has a lively nightlife, particularly during the summer when regular beach parties are held on the nearby beaches.
Bodrum
Bodrum is a tourist town located on the southern Aegean coast of Turkey. It has become popular with tourists from all around the world due to its rich culture and history, wide of variety of adventure activities, and close proximity to some of the finest beaches in Turkey.
Bodrum's beaches are perfect for sunbathing with fine sand and plenty of sun. Water activities like windsurfing, snorkelling, jet skiing, scuba diving, and more are on offer at Bodrum's beaches, too. Bodrum is also home to dozens of restaurants selling cuisine from all over Europe. A number of local restaurants selling Turkish cuisine can be found scattered throughout the city, too.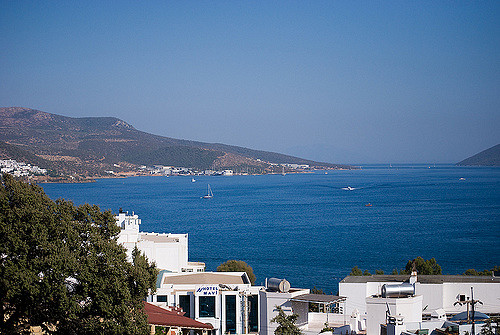 Image by Çağri used under the Creative Commons license
Ölüdeniz
Ölüdeniz is a small village and found 10 miles to the south of Fethiye. The village has a numerous Blue Flag beaches, many of this regularly top listing the best beaches in the world.
Several hiking trails start in Ölüdeniz, including the Lycian Way, a 300-mile hiking trail that leads to the Turkish city of Antalya.
As Ölüdeniz is a small village, it doesn't have as many tourist amenities as of the largest Turkish tourist city like Antalya and Fethiye. There are fewer restaurants, resorts, and shops to visit. It's the perfect place to visit for beach lovers looking forward to escaping the crowds and enjoys a quieter, more serene beach holiday.
Fethiye
Fethiye, a small tourist town on Turkey's Mediterranean coast, has quickly become one of the most popular tourist holidays destination in Turkey, and for good reasons.
Fethiye is home to several world-class beaches that are ideal for sunbathing. Its weather is hot during the summer with very little rainfall, making Fethiye the perfect location for a beach holiday.
Fethiye has a rich culture and history that are interesting to explore. The number of ancient "Lycian" ruins are remarkably well preserved, including rock tombs that are carved into the cliffs overlooking the town, and a giant coastal amphitheater that looked on to the sea.
Activities on offer in Fethiye include hiking, swimming, snorkelling, scuba diving, canoeing, and jet skiing and Paragliding.
Since Fethiye is an international tourist town, its restaurants serve food from all corners of the globe. A few local restaurants selling local food can be found on some of the smaller side streets, too.
Turkey's popularity as a summer holiday destination is on the rise, and it's easy to see why. The country is home to hundreds of world class Blue Flag beaches, it has an interesting and varied cuisine, and it's relatively inexpensive, too. Make sure to consider Turkey holidays when planning your next summer holiday.
If you enjoyed this post, consider sharing it with the buttons below or subscribing to the blog by RSS or Email Thanks for reading 🙂