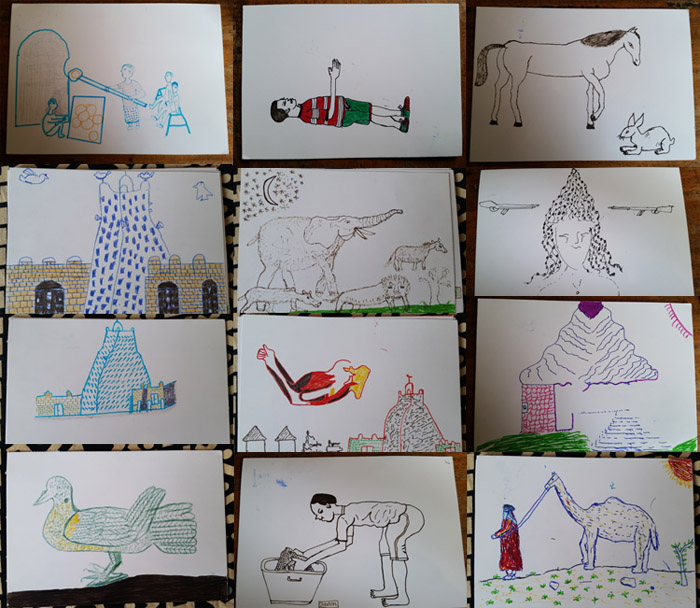 A couple of weeks ago, I asked Faty, a friend in Timbuktu, if she would be willing to have her students design postcards for Postcards from Timbuktu. I proposed selling her cards for $12, with the additional $2 going towards her classroom.
I was not surprised that Faty got behind the idea. She is incredibly active on the net — blogging, sharing images of everyday life in Timbuktu, organizing social media campaigns for various causes — but also in her community. She is the founder of Sankoré Labs, an ICT (information and communications technology) initiative in Timbuktu that promotes entrepreneurship and civic engagement. Pick a NGO buzzword, and she is probably involved with it, but she actually does the work.
The whole idea with these postcards is that the kids design whatever they want. If you order one, you really don't know what is going to show up. You can see a sampling of cards that have gone out in the picture at the top of the post. In addition to those pictured, I saw one postcard that had 2 frogs with their legs outstretched and a tree with hearts for leaves. Another had a dead "terrorist" with an ak47. Yet another had a mickey mouse type figure sprinting across the postcard, surrounded by CiWara designs, a traditional Bamana symbol featuring an antelope. The cards are original and beautiful, and I would personally be thrilled to receive one.
On the back of the postcard, the students have written their names. I encourage anyone who has ordered one of these cards to take a picture of it when it arrives (hold it in your hands, put it on your cat, put it in your front window – just something to show the kids how far it has traveled), and I will send that to Faty so she can share it with the kids.
In addition to the original designs, the hand drawn postcards are also interesting because they have an extra step in their journey. The cards themselves come from Bamako, like the others. But instead of going directly to Ali's crew, they go to the Yehia Alkaya school. Once the kids finish with them, Faty delivers them to Ali, and one of the guides hand writes the message.
If you want to order one of these hand drawn cards, here is the page to do so.
We have one more twist that we are going to add to the project in January. I am also creating a map that tracks where all of the orders are traveling to. Since the BBC article, we have had an influx of orders to the UK, but because of the BBC's wide ranging readership, we have also seen our first orders to places like Indonesia and Kenya.
I am really looking forward to our first order to a small pacific island nation. If you are in any place that meets that description, let me know and I will send you a postcard for free.
Stay tuned… I feel like before long we will be shipping camel cheese from Timbuktu.
If you enjoyed this post, consider sharing it with the buttons below or subscribing to the blog by RSS or Email Thanks for reading 🙂