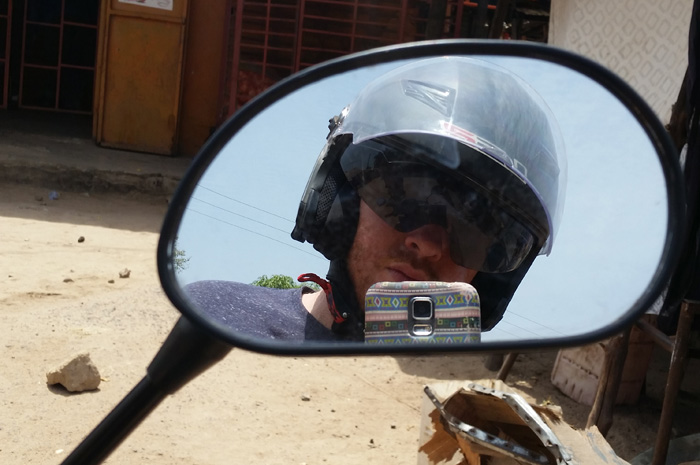 Trying to look the part.
This is the fourth installment in a series of posts about our scooter trip around West Africa. If you need to catch up: Part 1, Part 2, Part 3.
Riding north and east from Bissau, the road deteriorated in parts, but we easily skirted around the broken tarmac on the jakartas. In the afternoon, we stopped in Mansôa in search of refreshment and a bite to eat. We didn't find much on our first pass through town, so we flagged down a group of guys walking on the roadside. They didn't understand French or our 3-word-Portuguese, but a young man sitting on a terrace overheard us and intervened. He happened to be a polyglot who spoke English, French, Spanish, German and Portuguese. He lived in Switzerland, but he was back in Bissau for several months in order to visit his mother.
He took us to the town's only restaurant, a low key chop shop that looked like it would see some action at night. We were not in the mood for a riz-sauce lunch, so we asked the sweet maman running the show if we could make our sardine sandwiches and buy beer from her. She obliged and even chopped up some onions and tomatoes for us. So we sat drinking cold Cristals, eating what were now gourmet sandwiches and chatting with our new friend about life in Europe and rural Bissau.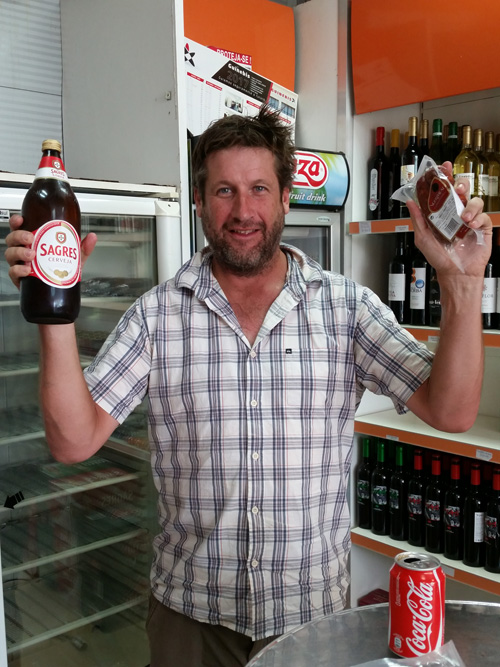 After lunch, we pushed on towards Bafatá. We stopped at a service station before we arrived there and found it to be well stocked with beer, chorizo, wine, and not much else. This is not unusual in Guinea-Bissau, and it's one reason for our current love affair with the country.
Later in Bafatá, we stopped at a roadside maquis, where we drank near frozen Cristals and chatted up the barman and two of his lady friends. Kids skipped alongside the road in white jerseys plastered with the Emirates logo. They were on their way to a dusty football pitch.
We were an hour's drive from Gabu, where we planned on sleeping for the night. The road dipped and climbed, trees bowing overhead. We were getting closer to the Guinean highlands with every kilometer.
In Gabu, we stopped at the first hotel we saw, a converted villa with a secure courtyard. The rooms were clean and relatively cheap, and the hotel had a generator. We parked the bikes and unloaded our bags before grabbing a taxi into town. After wandering down one of the side streets that cut through the market, we ended up on the terrace of a bar that had a nice view of a quiet intersection.
The barman told us we could have steak with chips or salad. We were a bit hungry at this point, so we asked him how long it would take. Seven minutes was his response. Seven? Yes, seven minutes. It may have been longer than that, but we were still impressed. It was a one-man operation, and the bar looked deserted when we arrived.
After dinner, we wandered back towards the market area. When we got to the main road, Matt spotted a friend and frequent Sleeping Camel guest, a German with a kola plantation on the Bijagós islands. This was the second such chance encounter on the trip, first in Bissau with Andy and now in a small market town in the northeast corner of the country with Falk. Falk was equally surprised when he saw us, and we agreed a drink was in order. We found a dimly lit maquis and sat out on the patio, enjoying the Bissau island tunes drifting out from the bar.
After a few rounds of Cristal, we said farewell to Falk and went back to the hotel. We had Guinea-Conakry on the agenda the following day, along with a rough stretch of road that would rival the Niokolo Koba park in Senegal.
We left Gabu at first light. We were feeling good and the border was not far, so we decided to get breakfast after crossing into Guinea. As we pulled up to the checkpoint on the north end of town, a policeman reviewed our documents and then pointed to Matt's front tire. It was nearly flat. We creeped back into town and immediately found a "collage" tire shop. While Matt's inner-tube was getting patched up, I went off in search of breakfast.
I pulled up to a boutique and began talking with a light-skinned shopkeeper. I wrongly assumed he was Mauritanian when he was actually Tamashek from Mali. First surprise. Him speaking Bambara was the second. We had a funny conversation, and then he pointed me towards a Guinean standing behind a table with a familiar spread: eggs, mayonnaise, nescafe and condensed milk. But the Guinean also had Sonia chili sauce, tomato and onion. The silver lining of the tire puncture was the discovery of the best omelet sandwich on the trip.
Tire patched and bellies full, we once again drove off towards the border. When we arrived, a group of pleasant policemen welcomed us on the Guinea-Conakry side. They were mystified and amused by our jakartas, and they were very unhappy with America's new president. Matt's visa and my Malian ID both passed with flying colors, but the customs chief refused to give us a laissez-passer for the jakartas. He said we didn't need one. We protested, but he stood his ground. Of course, this would be a problem further down the road, but I will save that story for the next post.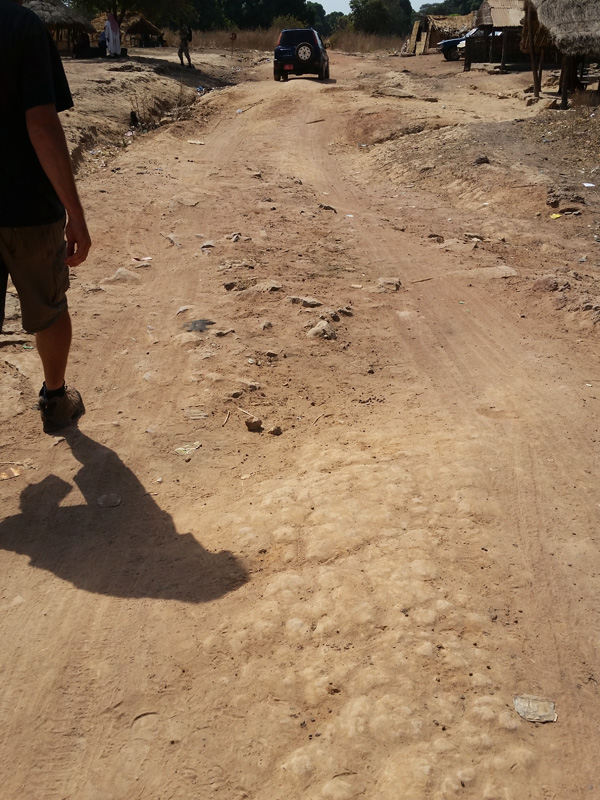 This photo was taken just next to the border. We were repeatedly told that the road was "bombé." I didn't know what this meant at first. I thought it could have meant "bombed out." If that was the case, it was the most dramatic and worrying description of a road that we had come across on the trip. When I looked up "bombé" on Google translate, it said "bulging." That was not encouraging, either.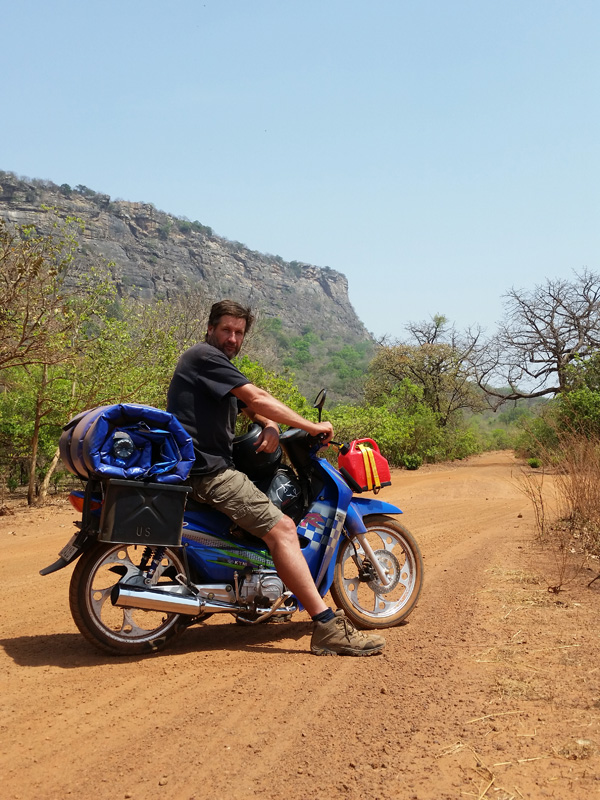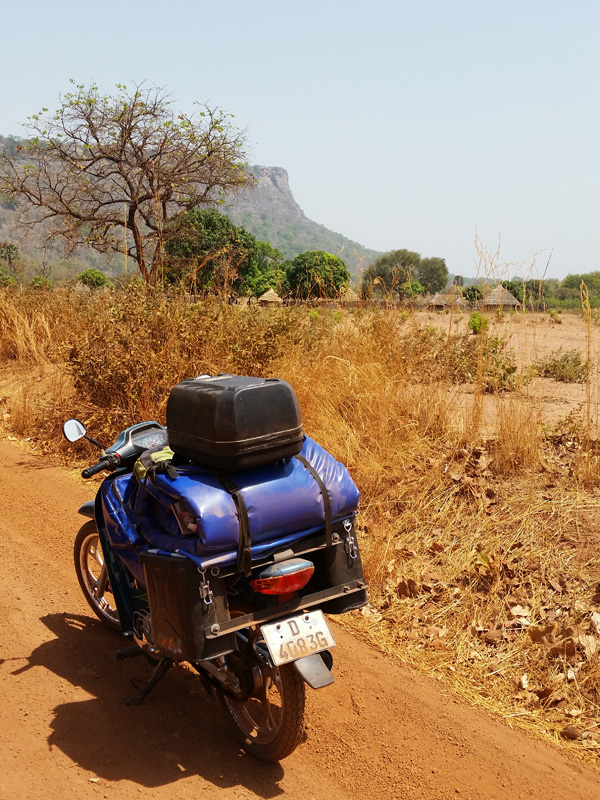 For 15 kilometers or so, the road was filled with sharp dips and narrow paths carved out from last year's rains. Then the road evened out, and we had gorgeous views of the plateau snaking its way towards the highlands.
In the late afternoon, we planned on stocking up on water before scouting for a place to bush camp. We pulled into a village, and Matt, while searching for water (I swear!), found the only bar for probably 200 kilometers in any direction. Well, "bar" might be a slight exaggeration.
The bar was the front room of the barman's family's house. Crates of warm Guiluxe beer sat in the corner, and a few bottles of cheap gin were already on the table. We were warmly received by the barman, his wife and a few customers that had settled in, but could we stomach warm Guiluxe after being spoiled by the frosty beers of Bissau? Apparently we could.
We sat with three day laborers who were working on the new Chinese road and a veteran from Guinea-Bissau's war for independence. The veteran had violent tremors and told us that booze was the only thing that could get him to stop shaking. He took an empty calabash, filled it with a mix of warm gin and beer, tipped it upwards and emptied it in one gulp.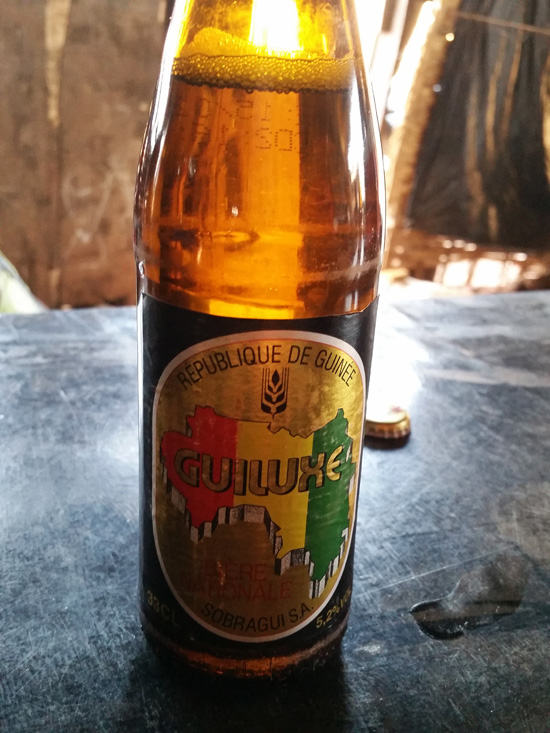 We continued drinking warm Guiluxes and soon realized that a bush camp was not in the cards. We would have likely crashed the bikes a few hundred meters outside of town just trying to find a place. The barman opened up his house to us, but it was suggested that we pitch our mosquito nets over at the local customs office. The barman admitted that we probably wouldn't get much sleep if we were camped out at his place.
The customs agents were incredibly welcoming, promising us security and offering us a fenced off area where we could park our bikes and sleep for the night. We grabbed a few more Guiluxes at the bar and started making dinner.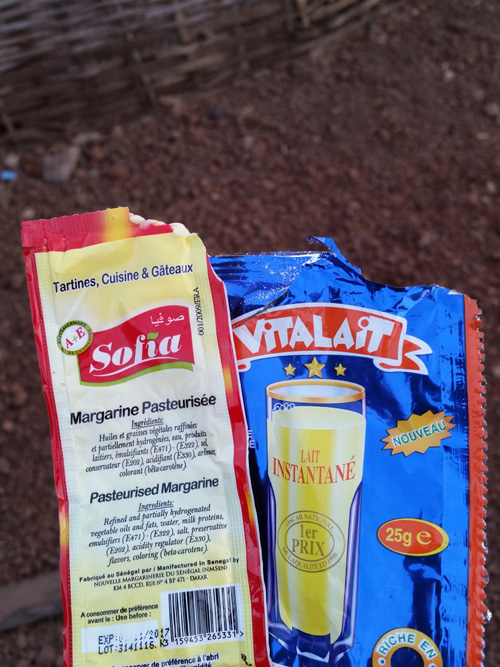 The sachet of dry pasta said to add butter and milk to boiling water in order to make a cream sauce. The above photo is what I found at the boutique. Close enough. I commissioned one of the girls at the house next door to buy us some onions, and we were on our way. After dinner, I slept like a baby once the power cut off (the speakers on the neighbor's TV could have used a tune-up).
We didn't know it at the time, but the following day would be the most difficult day of riding on the trip. We were repeatedly warned that we would have a rough stretch followed by tarmac, followed by a bone shaking 35 kilometers that would take us into the highlands. That forecast was 100% accurate.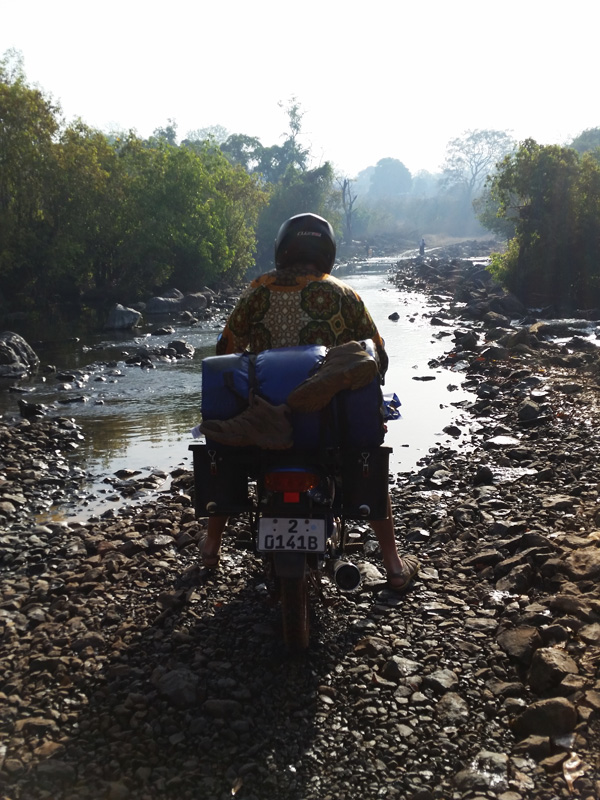 It didn't take us long to arrive at the day's first obstacle: a river. I can't imagine what this crossing would be like during the rainy season. We planted our feet on the rocks and slowly rode through about two feet of water. Thankfully, I had already busted my foot brake on a punishing speed bump just after the Guinean border, so I could enjoy the river crossing without worrying about damage to the bike.
After the river crossing, we had about 15 kilometers of unpaved dips and turns. It was not easy, but it was a long way off from the sober warnings we had heard since the border.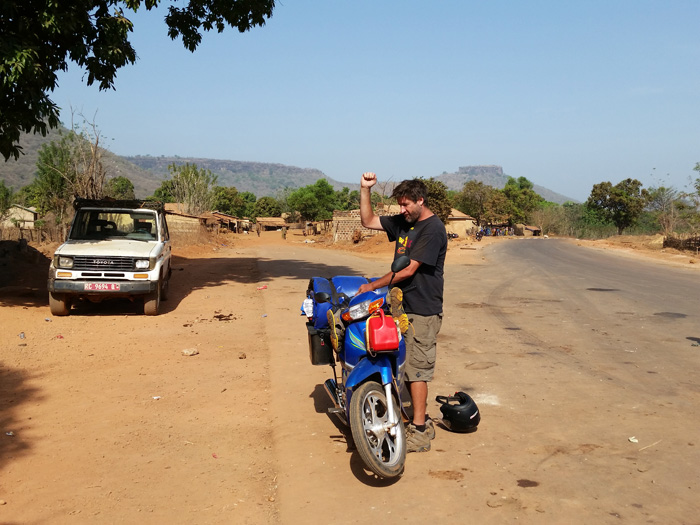 Matt celebrating what we he thought was an early end to rough roads. On the other side of the camera, I was doing the same while munching on a hard-boiled egg smothered in chili powder. We were back on the tarmac, and things were looking up. Turns out, it was our celebration that was premature.
The tarmac continued for a short while and then disappeared for about 35 kilometers, exactly how it was explained to us. Things went south fairly quickly. We were riding on loose sand and rock, which is not very accommodating terrain for a 110 cc Chinese motorcycle. And whether "bombé" means "bombed out" or "bulging," this road — this path into the highlands — was bombé.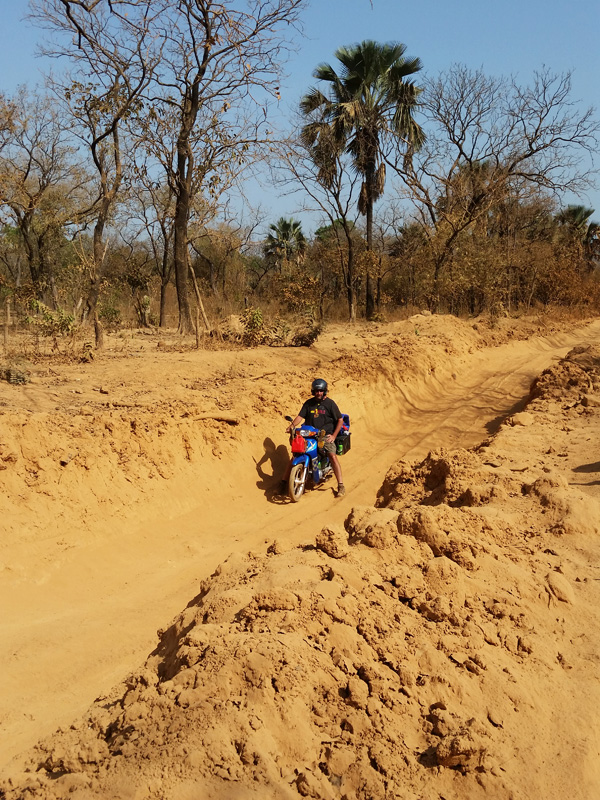 Matt cruising into a patch of sand. Right after I took this picture, I managed to further dislodge my foot brake, nearly snapping it off while descending into one of the steeper dips in the road. Before long, we started climbing, up into the forest. At one point, a baboon flew across the road and down into the ravine. For 35 kilometers, we were caught between 1st and 2nd gear, dodging boulders and jagged rocks while trying to stay upright in the sand.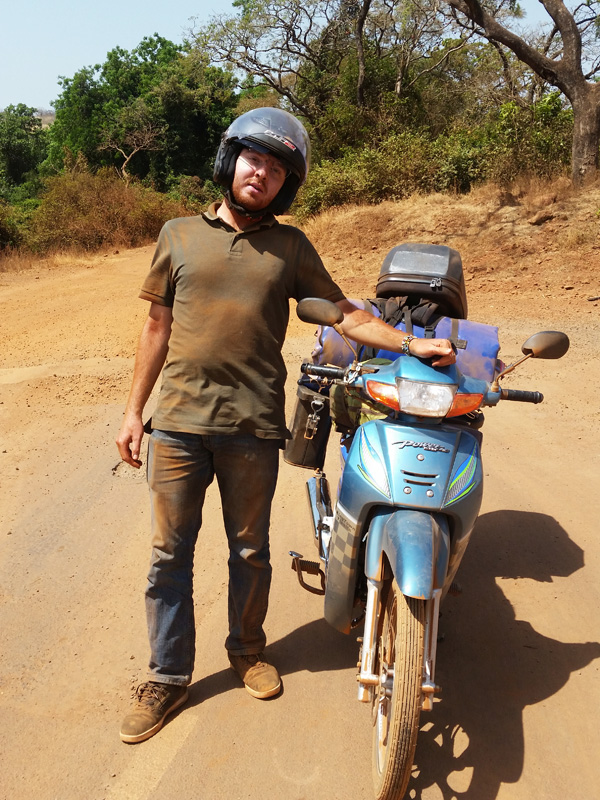 This is me once we got back onto the tarmac. Dusty, tired and relieved.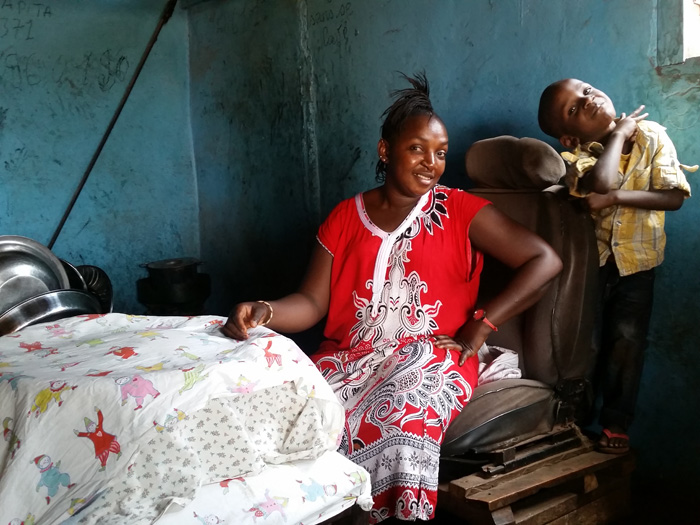 This is Mariam Sylla. Shortly after we made it back onto sealed roads, we arrived in Mariam's village. Her shop looked inviting so we popped in to see if we could grab some lunch. Excellent judgement on our part. Mariam danced around her shop yelling "ici, tout est possible!!!" (here, everything is possible). She wasn't lying. She had a thick beef stew cooking on the stove. We asked her if we could have it served in bread instead of with rice. Of course!! Can we get some chili peppers chopped up on top? YES!!! Can we get some nescafe with condensed milk!! Are you kidding?? ICI, TOUT EST POSSIBLE. Even dessert? YESSS (orange slices).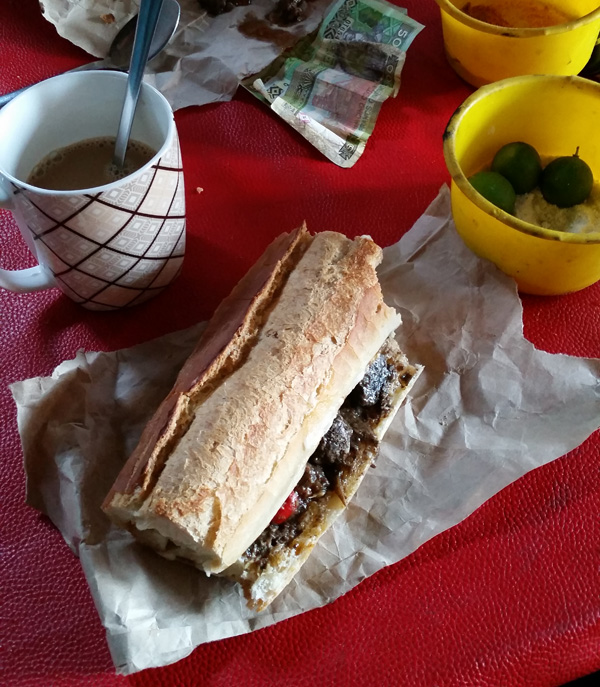 For the trip, this was a top-3 if not top-2 sandwich, and that is saying a lot.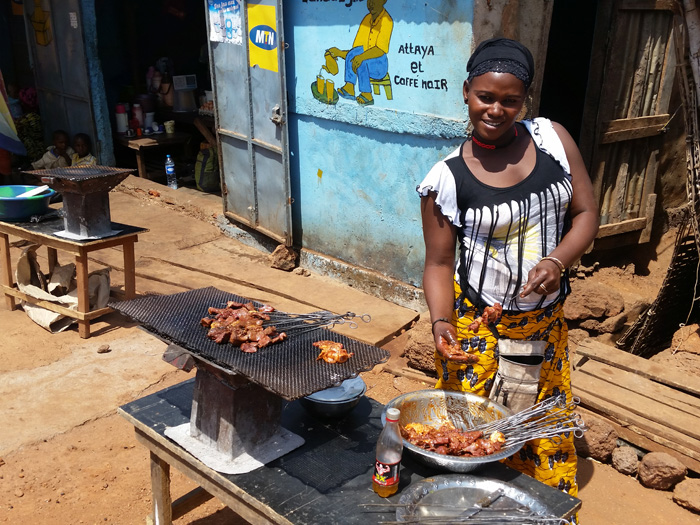 Outside, Mariam's daughter was grilling brochettes. Spoiled for choice!!
Rejuvenated, we got back on the bikes. The destination was a small village called Doucki. It wasn't far, or so we thought.
Click here for the next post.
If you enjoyed this post, consider sharing it with the buttons below or subscribing to the blog by RSS or Email Thanks for reading 🙂