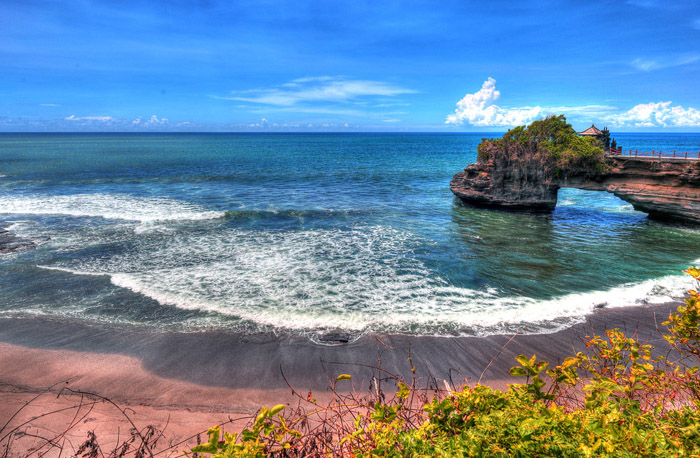 Indonesia is a stunning country in the heart of southeast Asia which is made up of thousands of islands. It is an area of the world which is full to the brim of life, personality and stunning landscapes. Here are a few of the reasons why you should make this country part of your bucket list for 2018…
1.Countless Islands
The unique thing about Indonesia is that it is made up of thousands of islands. Some of the islands are volcanic, some are not. You will be able to experience a wide range of landscapes, see some stunning natural wonders and you'll never run out of places to visit. 
2. Beach paradise Bali
The most recognisable place in Indonesia is most likely Bali. Bali is a stunning island brimming with majestic mountain ranges, rice fields and fun beach resorts which attract tourists from all over the world. This island even has a place where you can try cat poo coffee… if that's not enough of a reason, we don't know what is! You'll be wanting to get onto G Adventures Indonesia Travel and jet off within days – but seriously – this island is a stunner.
3. Natural beauty
There are not many places in the USA which you can enjoy somewhere which has been completely untouched by humans, but in Indonesia one place in particular shows the best that nature has to offer. Raja Ampat is located in West Papua and is the perfect place to go if you love diving and are looking for a quiet getaway.

4. Wildlife everywhere
If you love animals, Indonesia will give you a treat. Indonesia is the home to many unique species of animals, and is also the home of tigers, orangutans and elephants. On the island of Kalimantan you will be able to visit a few national parks which let you get up close and personal with some of the most amazing creatures on the planet.
5. Luxurious retreats
One great thing about Indonesia is that it boasts being the home of some incredible spa retreats. If you are looking for the ultimate spa treatments, then some of the best choices for you could be in the islands of Bali and Subang.

6. Hawkers
Although in some parts of the world hawkers selling their wares on the side of the road is a little annoying, in Indonesia you will be greeted with the friendliest people you'll ever meet. Often these businesses are family run and because of this they sell unique and vibrant handmade items.
7. Kopi Luwak

Remember when we talked about cat poo coffee earlier? This is a national delicacy and is produced when coffee beans are eaten by the Asian palm civet and then come out of the other side. Makers of this *ahem* UNIQUE brew then take the droppings of this animal and transform it into coffee called Kopi Luwak. The drink is actually touted to have benefits in preventing diabetes and cancer, so don't knock it until you've tried it!
8. Tea plantations

if you aren't much of a fan of coffee, then there is still hope for you. Within the volcanic hills between Bandung and Bogor lies a vast tea plantation which extends as far as the eye can see. A small donation to the women who work here could grant you a tour of the tea factory to see how the tea is made.
If you enjoyed this post, consider sharing it with the buttons below or subscribing to the blog by RSS or Email Thanks for reading 🙂