At the beginning of 2017, I put together a list of things I wanted to accomplish for the year. This is how I did:
✓ Introduce my mom to Andre and West Africa. Mission accomplished in February of last year, right before we left for our first jakarta safari.
✓ X Ride a scooter from Dakar to Accra. Made it to Guinea-Conakry before heading back up to Bamako. This was still a huge success. The trip was going very well, but I needed to get back to Bintou and Andre.
✓ Get my Malian passport. Or at least my Malian identity card. I got my Malian identity card, and it saved me a good chunk of change on our jakarta trip. I no longer need a visa for West African countries.
✓ Take the fam to the states. Yes. And it worked out better than expected.
✓ Keep going with Postcards from Timbuktu. The project hit a bit of a wall, but Ali and I have been coming up with ways to revive it. We also reached out to our email list and received heaps of great suggestions, some of which are now in play. We contacted a number of different websites/blogs that will possibly feature the project, inshallah. We have a new birthday card postcard that Ali made with a friend in the dunes near Timbuktu, and Bintou is now selling her handbags made with Dogon fabric on the site as well.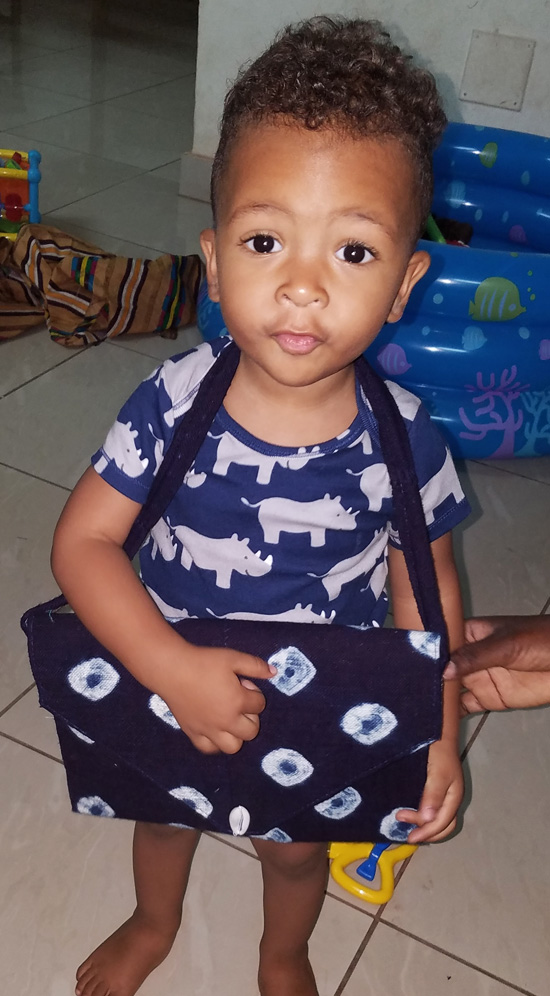 Andre modeling a Dogon handbag that Bintou made. 
X Use the right hemisphere of my brain more often. Not even close on this one.
2018 
I should probably be typing this on a wooden keyboard, but I have to say the status quo is pretty damn good. My criteria for that conclusion is simple: 1. I am healthy 2. Bintou and Andre are healthy 3. I wake up every day without anxiety or dread. There is always room for improvement, but it's hard to find fault with life when these three things are true.
Now if you had to twist my arm, I would still like to use the right hemisphere of my brain more often. Possibly not unrelated to that, it would be fantastic if Andre could go to bed just a leeetle bit earlier. He has never been a big fan of bedtime, but this 18 month sleep regression (something I never knew existed until last week) is almost making me beg for the days of colic. No, that's not true. Jesus. What am I saying? Let's go back to that gratitude thing. Thank fuck Andre does not have colic right now.
Here are a few plans and goals for this year:
Use the right hemisphere of my brain more often – Maybe if I make it the first thing on the list it will happen. Maybe if I'm also a bit more specific. This year, I'm going to buy a ngoni and learn how to play it.
Visit the states again – Andre has grown so much since we were there last year. We are planning for a late July-August visit.
More scooter safaris – Our last one of the 2017-2018 season was in February (read about it here). For the 2018-2019 season, all the dates are now up at scootwestafrica.com. We have sold out one trip already at the end of January. We are really looking forward to introducing more people to this under-visited corner of the world.
One community project – Between the hotel staff, the postcard project, and our river trips, we have a lot of contact with people that are seriously underserved by the state. While we provide an income to a lot of these people, it wouldn't be that difficult to also fund a community project that would benefit a larger group. I think the best way to do this is to partner with an existing local association that is already doing effective work.
One year memorial for Boukary – This will be a September event in Bamako. After Boukary's passing, I talked a lot with his friends and followers about continuing his work – or helping others to continue his work – and I've mostly done nothing about it. I would like to have an event in a public space to get people together to celebrate Boukary's work and to look at ways for it to continue.
Now for a few pictures from 2018 thus far: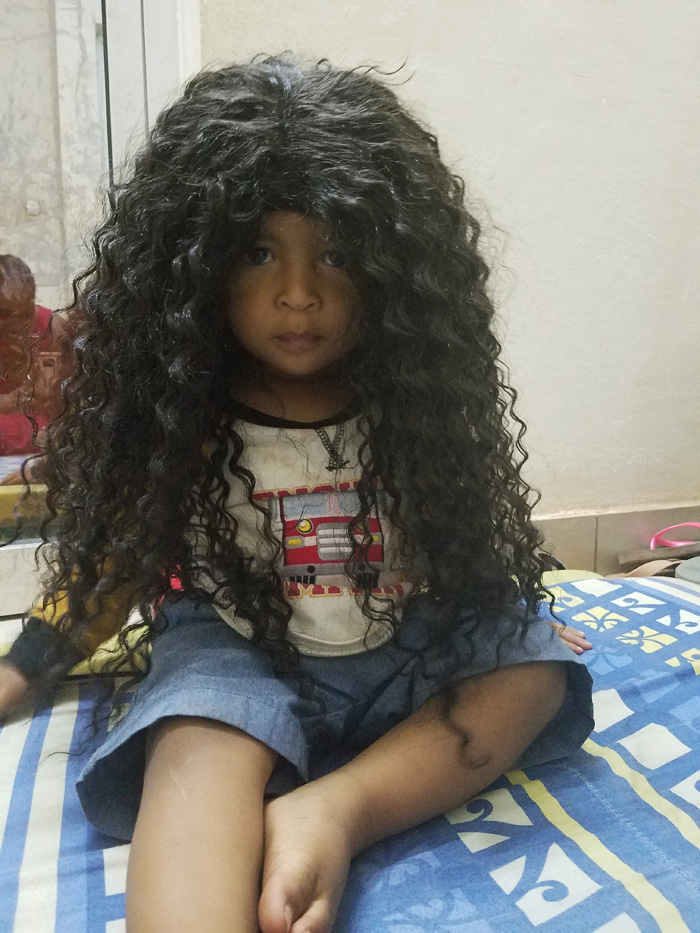 Bintou is a phenomenal mother. I really can't say enough about her skills when it comes to raising a human being. Andre probably agrees with me 99.95% of the time. In some cases, like the photo above, he is less impressed.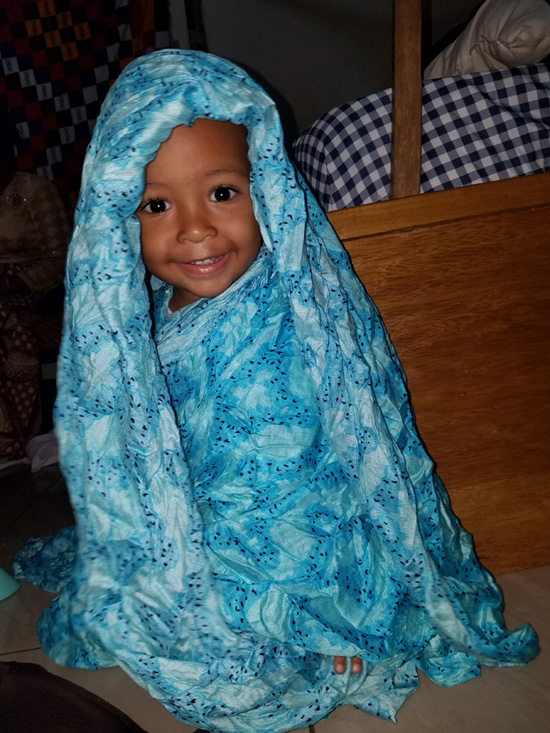 He doesn't seem to mind scarves, though.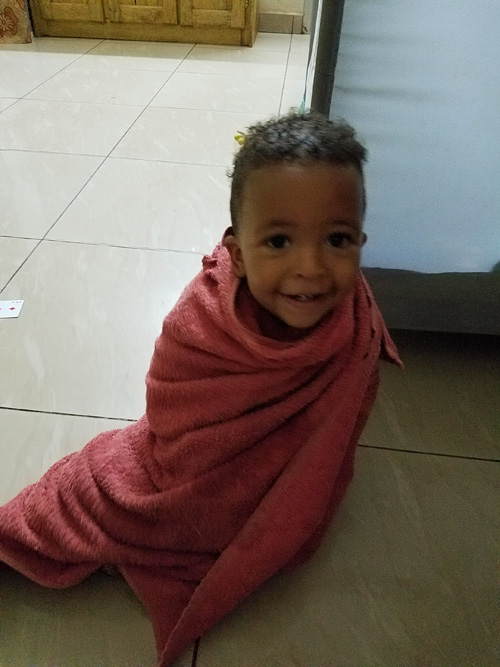 Or towels.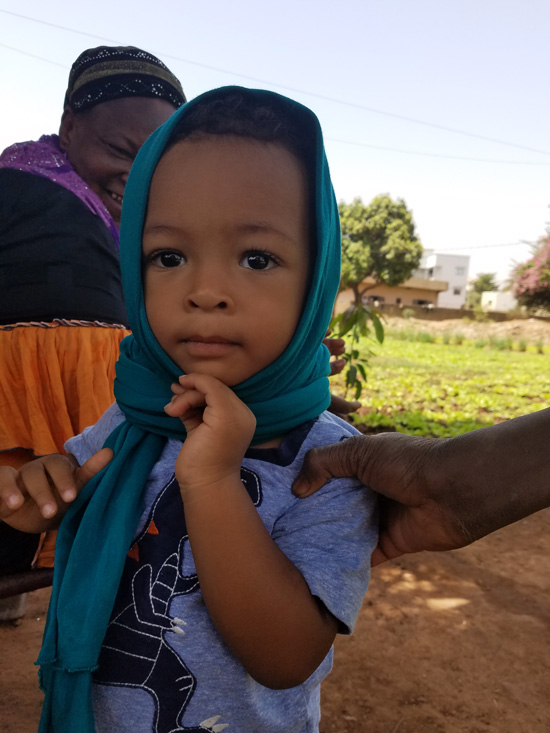 Andre the nomad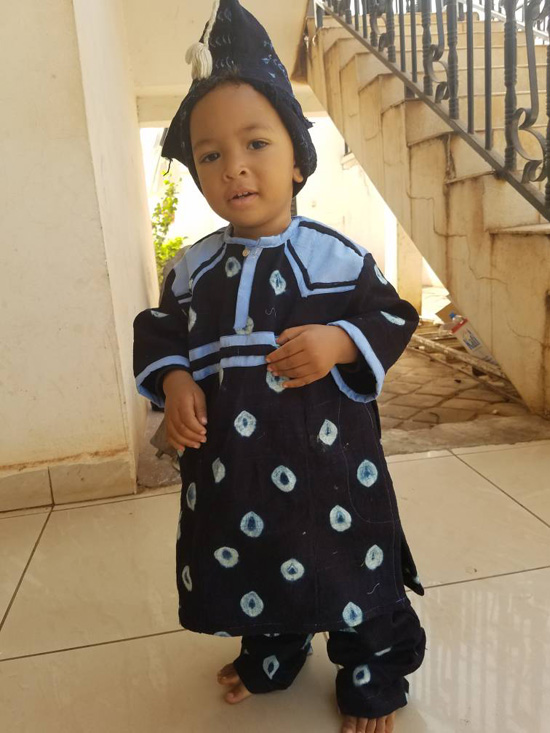 Andre le chef Dogon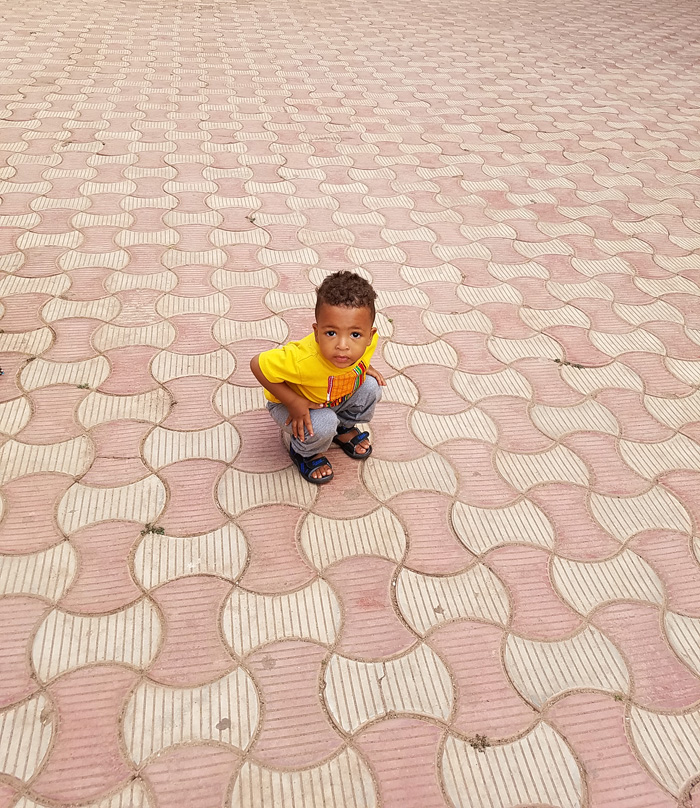 A month or so ago Andre started crouching for photos. Sometimes he himself asks for a photo to be taken. He will say "photo" and then crouch. It's his pose apparently. In fact, it has become really difficult to take a picture of him without him crouching.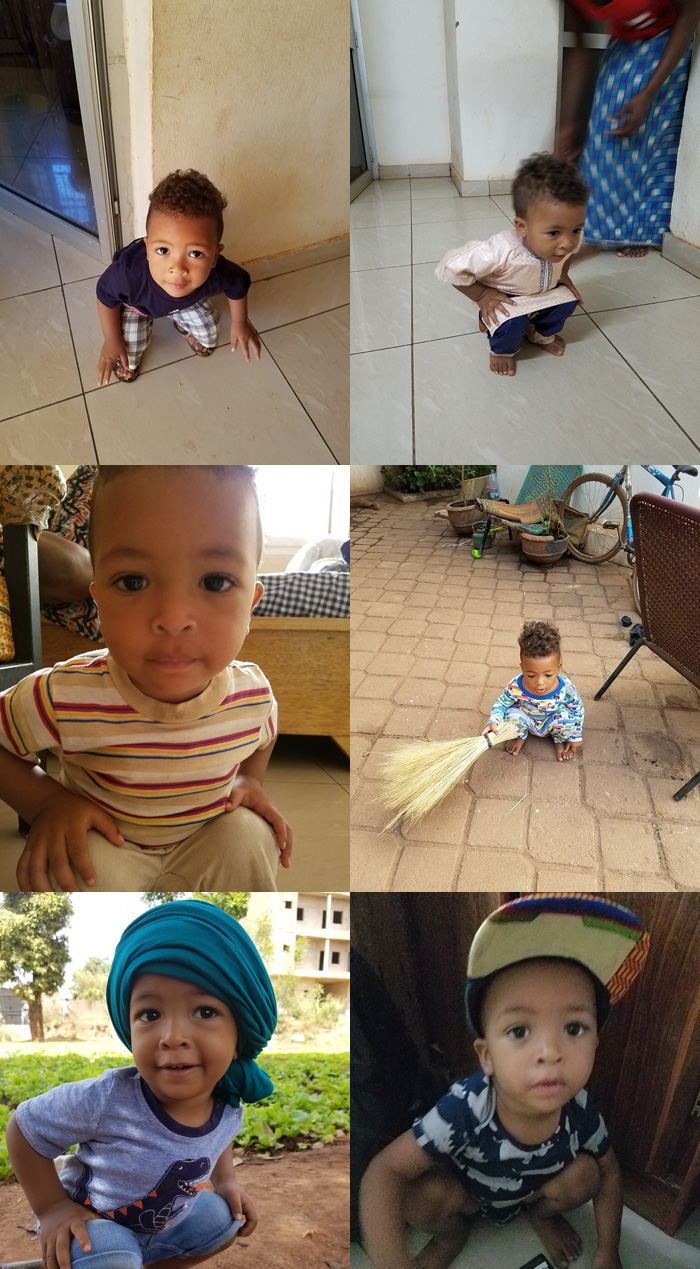 See what I mean?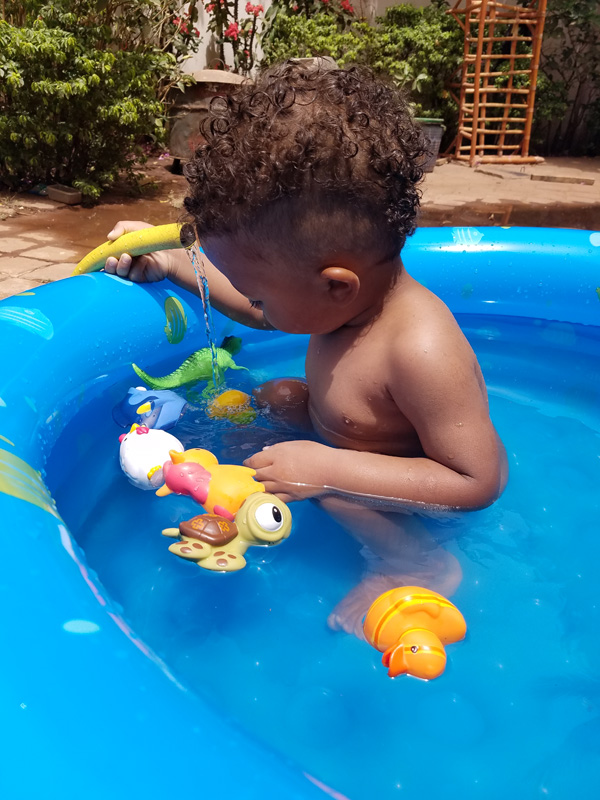 The Malian hot season is merciless, but there are a few positive tradeoffs, like mangoes, avocados, daily sunshine and a reduced mosquito population. It's also been a good occasion for Andre to become an aquatic baby.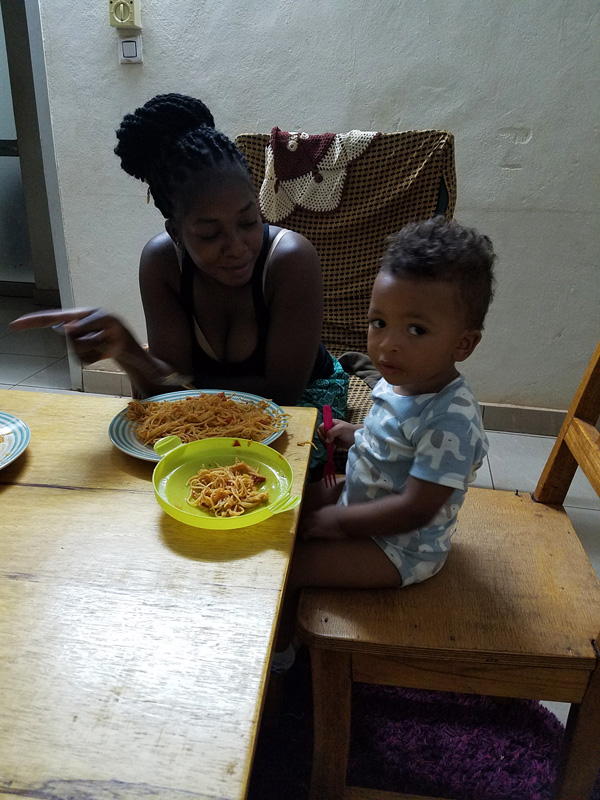 Andre hates his highchair. We have to eat at the coffee table so that he can sit in a regular chair.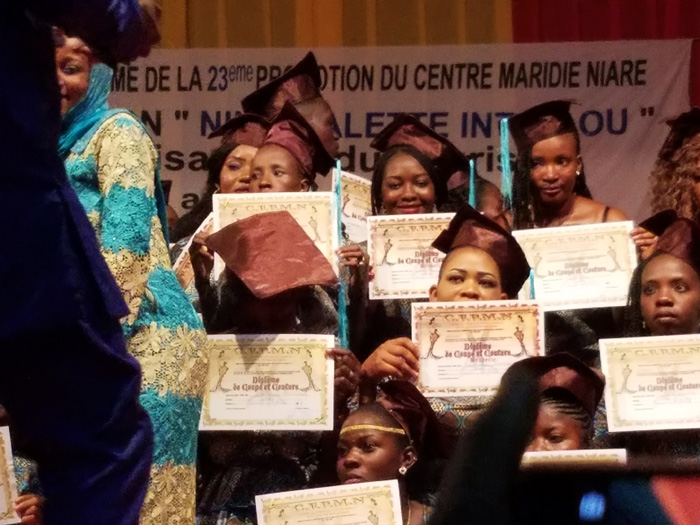 Bintou graduated last month. All five of her dress and accessory designs were chosen for the catwalk at her graduation. I am seriously proud of her.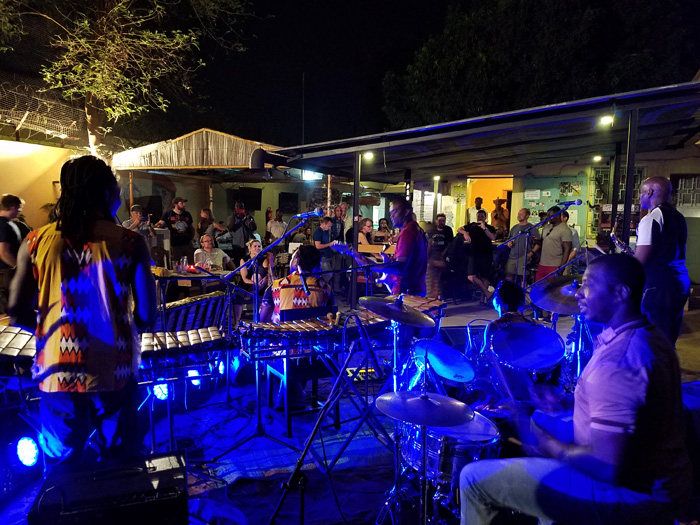 At the Camel we have had a wild first half of 2018. Incredible concerts (the one above is with Bwazan, Sulaiman Hakim and Omar Konate), river trips and reunions with some of our favorite people.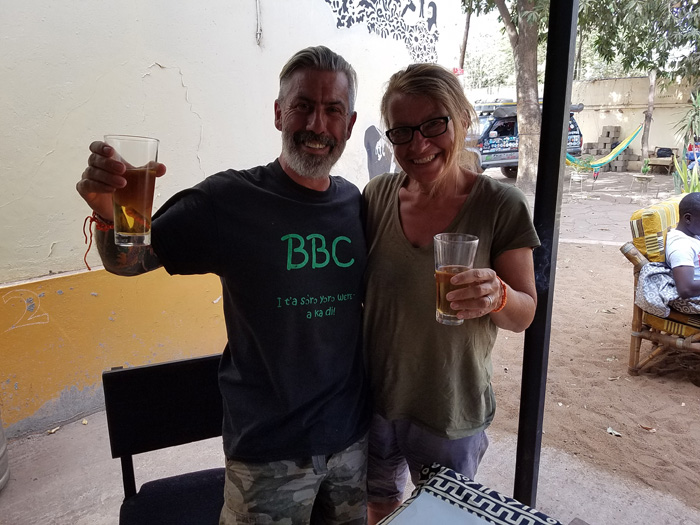 Kevin and Heike are back. We adore them and hope they never leave. They will leave, though. At least for a while. They are running self-guided overland trips in Morocco. You should check them out.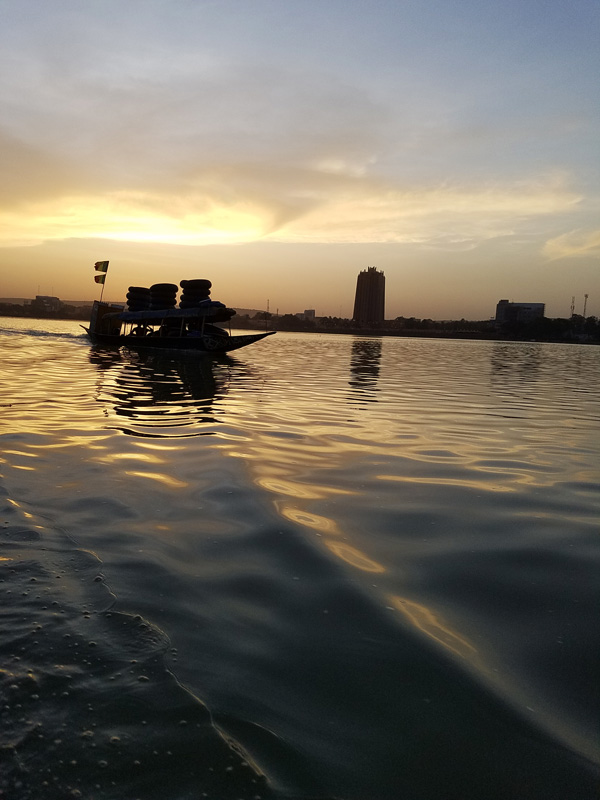 We have had some great trips on the river, including a May Day excursion down to Samaya where we hopped in truck inner-tubes and floated down the river.
Life is good, but all is not well in Mali. Hopefully the rest of 2018 is not like the previous year, or the first half of this one. Unfortunately, it remains hard to be optimistic, especially when it comes to the center and north of the country. There is supposedly an election that will take place in July. We'll see… J'espere que la vie est belle chez vous.
If you enjoyed this post, consider sharing it with the buttons below or subscribing to the blog by RSS or Email Thanks for reading 🙂