2AM on the BT N Segou. A sheet of urine sails over my head. This is the third time tonight. Like a letter dropped into a post box, the flying saucer of piss fits through the two foot opening between the railing and the roof of the boat's upper deck, landing in the water below.
The four ladies to my left were taking turns peeing into a plastic bowl. Trapped by the wares of an obnoxious Nigerian merchant and three rows of sleeping bodies, the women repeatedly sent the bowl's contents airborne. They did this expertly, but I was not happy about the situation.
"What do you want us to do? Don't you see the people sleeping everywhere and the stacks of metal bowls and these oversized boxes?"
"Yes, I see that. I see that. From now on, hand me the bowl and I will dump it in the river."
Forty minutes later I received my first warm bowl of urine.
I was completely immobile myself. A few hours earlier there was a melee for sleeping space and I lost out in a big way. My knees were bent, one foot in between the legs of a man who looked liked Kevin Garnett, the other foot poked through an opening in the railing to my right. My back was curled around a small wall of jeri cans and my head rested on a balled up tshirt.
This discomfort was in exchange for the most amazing celestial display I have ever seen. Stargazing on the Niger River, hundreds of kilometers from a real city, is truly special. At times I felt like I was wearing 3d glasses. Lizard Island in Australia, the American Southwest, Northern Benin – these places were spectacular for observing the heavens, but nothing comes close to what I was seeing on the BT N Segou.
The night before I was staring at a broken ceiling fan. Occasionally I laid on my side and stared at a broken floor fan. The sauna-like conditions in the Mopti Catholic Mission dormitory were miserable. I slept in thirty minute stretches, each time waking up saturated in sweat.
We had arrived in Mopti at midnight, six hours late. The Twelve hour bus journey became eighteen when we broke down not even 100km outside of Bamako.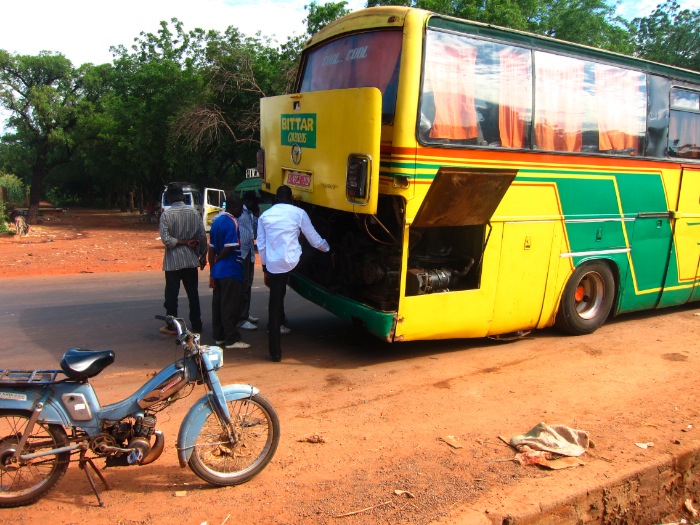 For six hours I watched a rotating cast of men climb in and out of the engine. Their efforts paid off. The resurrected bus required frequent maintenance, but there would be no more six hour delays.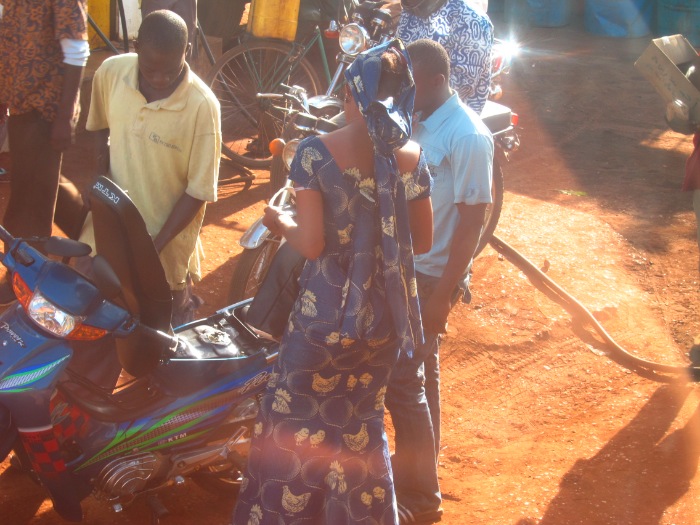 Why did I take this picture? I have a fabric almost identical to this one that I purchased in Ghana five years ago. It has Roosters, hens, chicks and eggs all over it. I love it. I know this woman is my soulmate. We will meet again.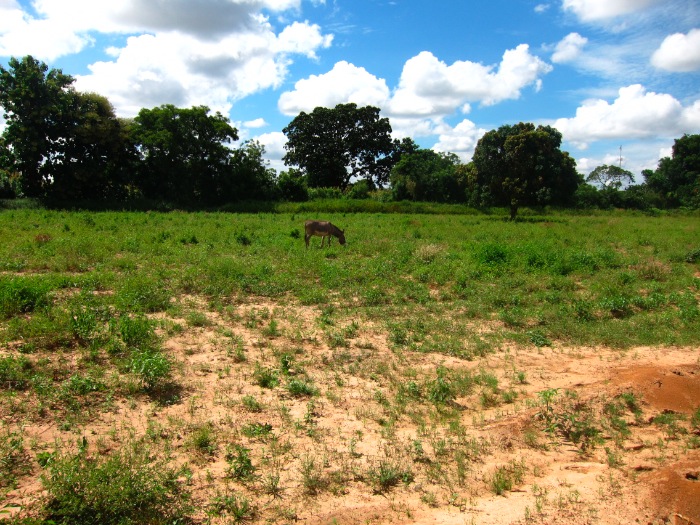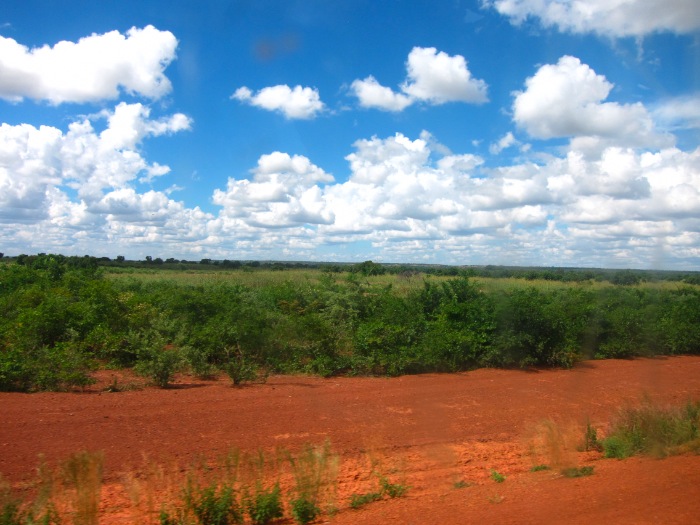 On the heels of the rainy season, the verdant plains of Mali.
After a night in the Mopti mission, we woke the next day to buy supplies and secure our place on the BT N Segou. Before boarding, three rounds of Malian tea. Shot glasses filled with equal parts sugar and chinese green tea. You drink it quickly. After three of them, my blood is vibrating.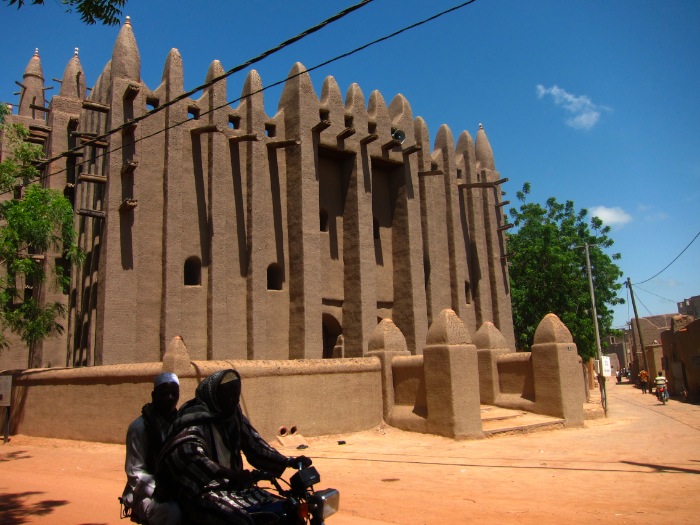 We boarded the boat three hours before it was set to depart. Hamadou, my "guide" on this trip, insisted we do this in order to get the best "seats."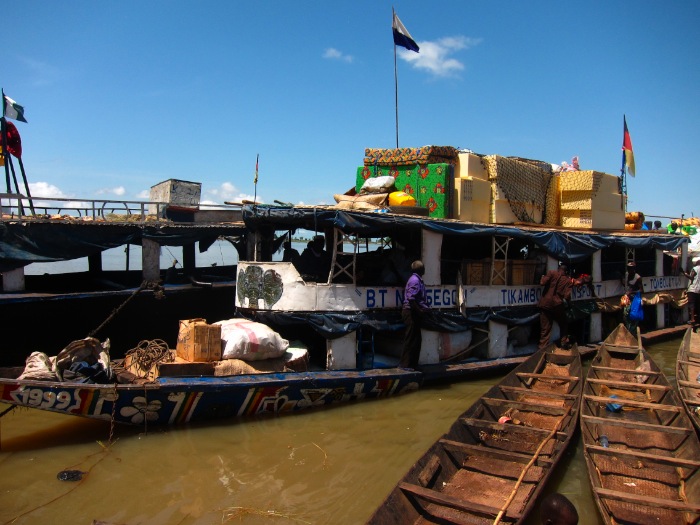 Three hours before departure, we are the first passengers on the boat. There are no seats, but we are able to spread out on the upper deck. Blankets have been laid down by the proprietor of the boat? I build myself a small nest (this would later be destroyed) and find myself content watching the chaotic boarding process. Motos, goats, foam mattresses, untold numbers of 100kg sacks of rice, there is no limit to the type and amount of cargo being loaded onto this boat. The lower deck was about level with the water to begin with. Is there a weight limit? I don't know.
After the first round of passengers board I need to make some adjustments to the territory I've staked out. After the second round of passengers, it is clear that boarding three hours early will not have afforded us any advantage whatsoever.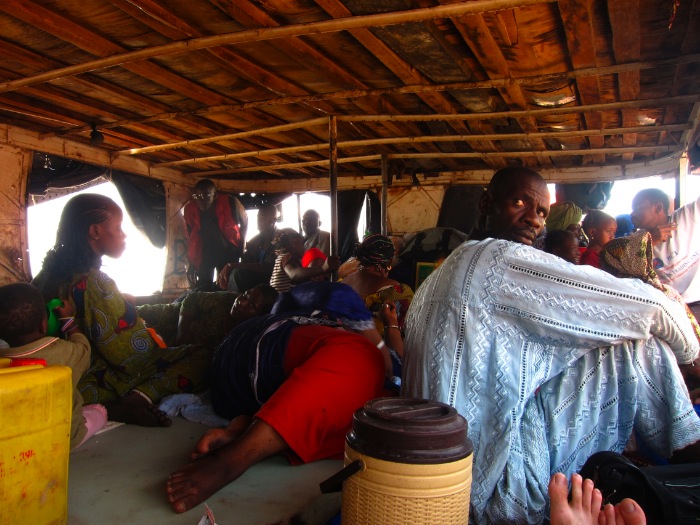 There were three false starts that I am still confused about. The boat pulled away from the port, only to return and receive more cargo and people. This was upsetting. The upper deck was already heading in the direction of a cattle car. When it was all said and done, I could somehow still stretch out my legs and this was reason to celebrate.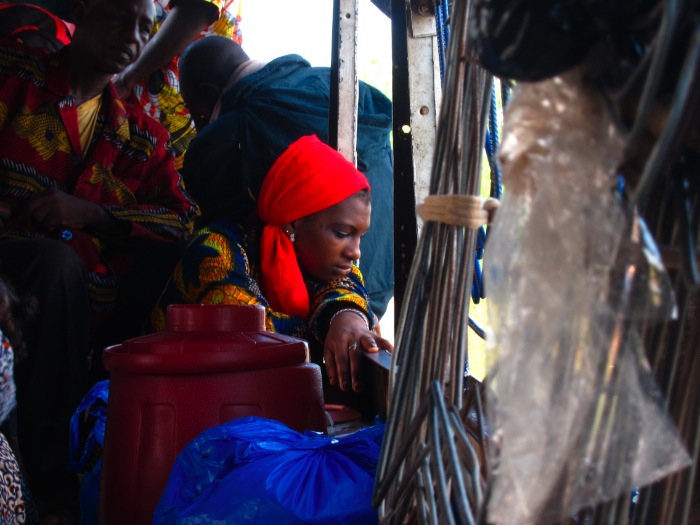 A state of delay.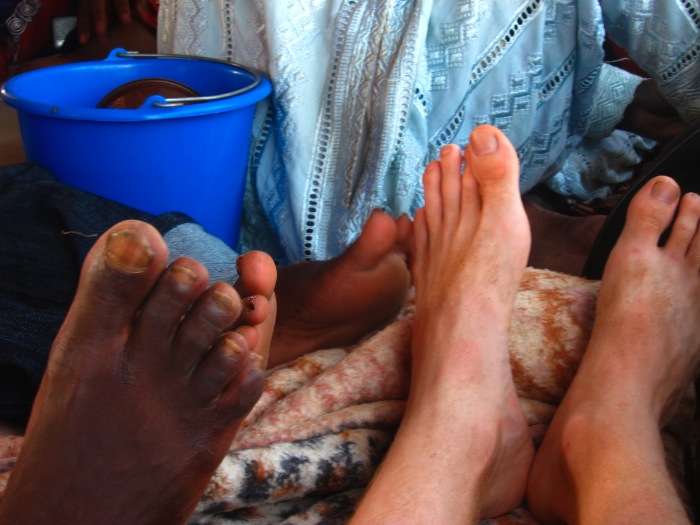 These early games of footsy were friendly enough. After dark, things got ugly.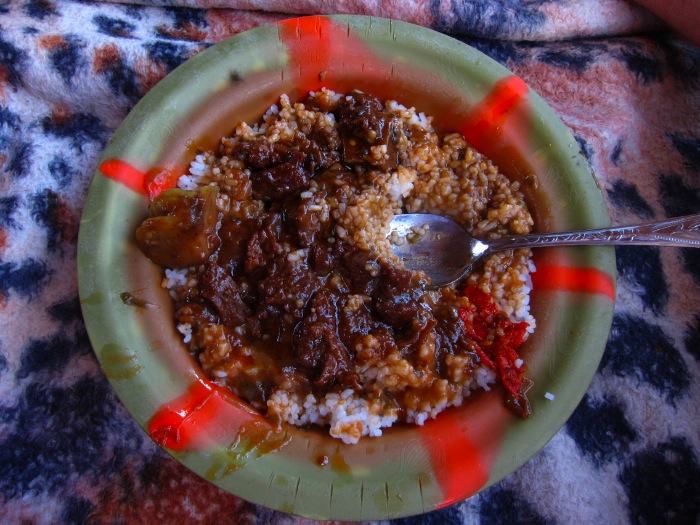 I quickly befriended a Fulani family and a Nigerian merchant who would later become an enemy. The Fulani family shared their meal of rice and sauce arachide (peanut based, delicious), served with a dollop of chili. We took turns fanning each other while we ate. New friends on the boat. The fourth time pulling away from the port and we left for good. With a breeze flowing through the upper deck of the BT N Segou, life was good. Fishermen were finishing up a days work and the sun was setting on the Niger River.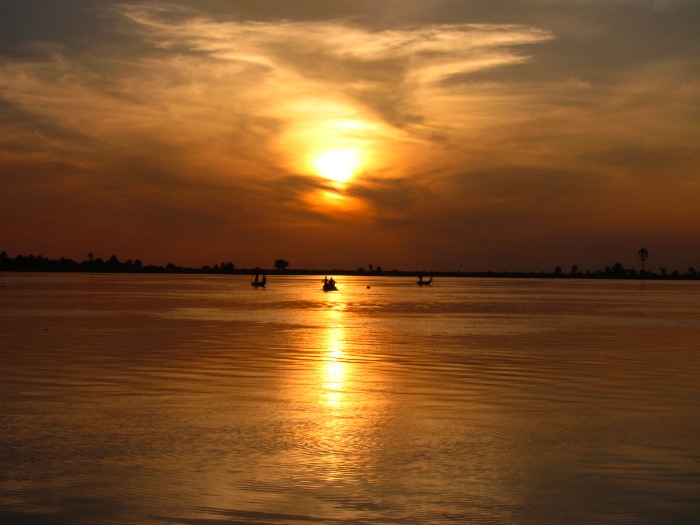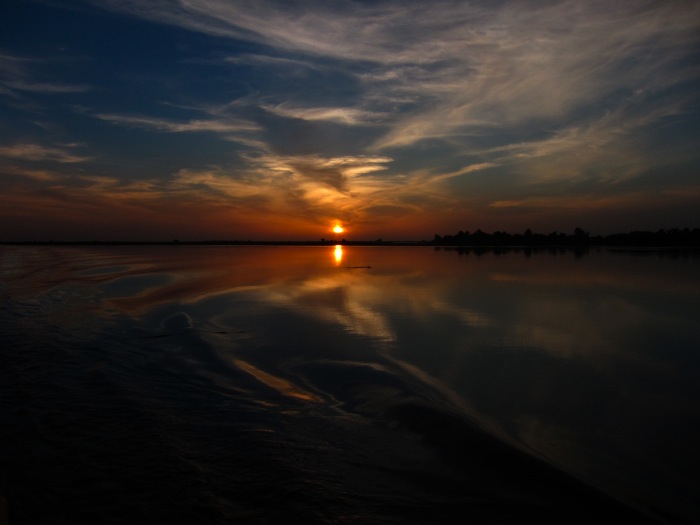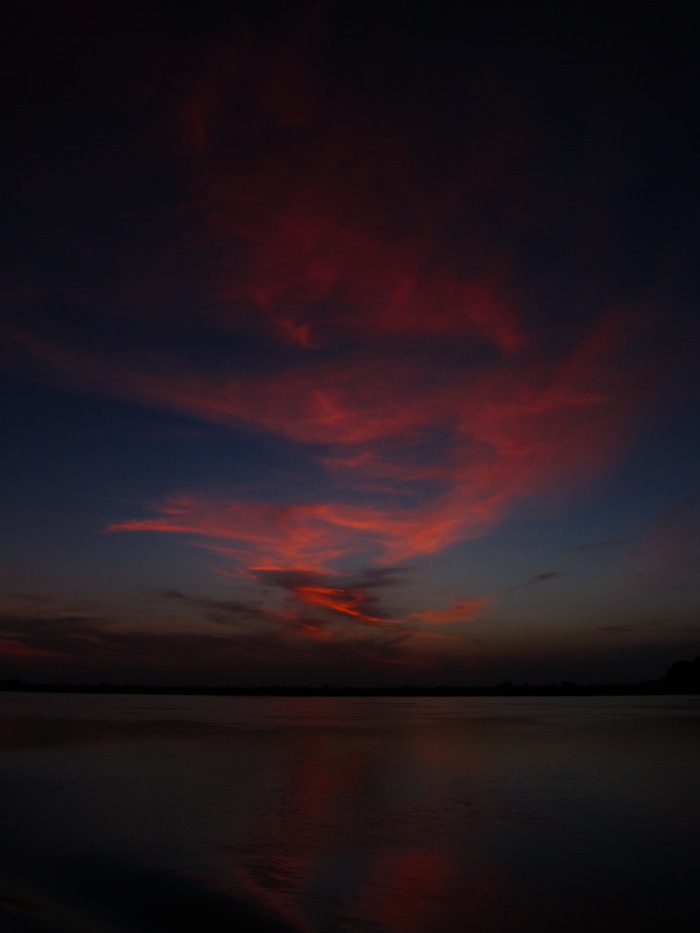 Early evening and the boat is lively. A woman in the back of the boat is churning out bowls of rice ladled with sauce and a few pieces of meat. A young boy is bringing me tea in fifteen minute intervals. I later learned these were being sent by the captain who was getting high with Hamadou. Go figure. Everyone's family name was revealed and the insults began. I met my first Coulibaly and I was merciless. Coulibalys' are notorious bean eaters. If you don't know what I'm talking about, go read this post on cousinage. My new Coulibaly friend told me that I drank donkey piss and we had a good laugh over this.
Come bedtime, things got complicated. The upper deck was crowded while everyone was sitting up. Now we were supposed to lay down? I was admittedly less aggressive than my neighbors in staking out sleeping space. As a result, I was more or less funneled into an area sized for a toddler. For hours I stared at the stars and listened to the engine's gentle hum, unable to sleep, but happy with the scene above.
Then urine started flying and I was soon passing the time with a group of friendly ladies, learning some more Bambara and talking about Malian music.
At some point, my brain ignored the nerve cells sending signals of discomfort and I fell asleep. I woke up maybe an hour later, I don't know, it was still dark. The woman opposite me had her foot fully inside one leg of my shorts. In fact, her big toe and the one next to it were inside of my boxers. Normally I would be thrilled having a woman resting her foot on my inner thigh, but her husband was right next to her and I was already on his shit list. Earlier in the night, in a meek and frustrated attempt at acquiring sleeping space, I had accidentally kicked him in the nuts. Just to get an idea of who I was dealing with, look at the video below, specifically the end of it.
I kicked Kevin Garnett in the balls.
I tried pulling my body in the opposite direction by grabbing the railing above. This caused Kevin Garnett's wife to stir. Her leg was now fully stretched out and coming in contact with everything it shouldn't. Shit. I did not want to wake her up so I returned to star gazing. But her toes kept twitching and the last thing I wanted in this situation was an erection. So I attempted to pull away again. This woke her up, violently in fact. She retracted her leg, kicked a box, and knocked over the stack of metal bowls on top of it. These fell on her husband and he was now awake as well. The three of us looked at each other. KG's wife was laughing, so I started laughing. He appeared to be furious. He glared at me, stood up, climbed down to the lower deck and peed off the side of the boat. When he returned I pretended to sleep and confrontation was avoided.
I did not actually sleep for the remaining six or so hours on the pinasse. Around 10AM we arrived in Niafunke, the village of Ali Farka Toure, where I would be spending a night with Hamadou's family.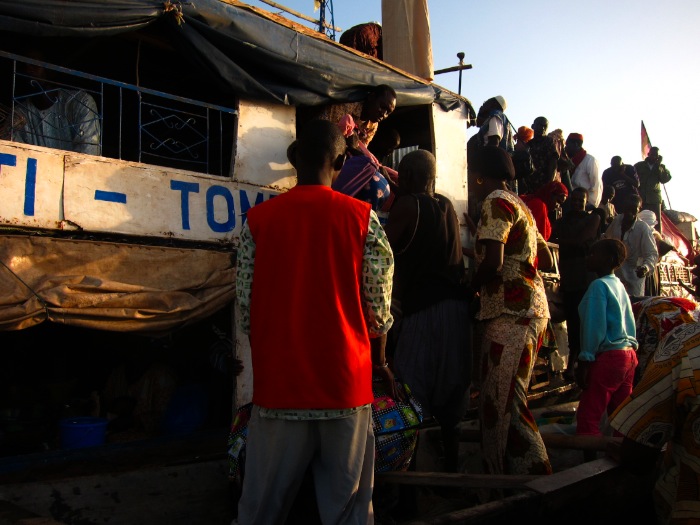 The journey took close to 20 hours. Disembarking in Niafunke, I avoided making eye contact with Kevin Garnett and his wife. I said goodbye to the Fulanis, my Coulibaly friend, the Nigerian trader, and the peeing ladies of the night. Weary legs, sore back, but I am happy to walk freely. The surrounding landscape, sandy with patches of green. Far from Bamako, far from home, it was time to tap into the mystical current of northern Mali.
Up next: The village of Niafunke and contracting amoebic dysentery
If you enjoyed this post, consider sharing it with the buttons below or subscribing to the blog by RSS or Email Thanks for reading 🙂