"So who is that guy?" I asked this of Harriet, who I had met through Rita, who I met through Couchsurfing. I was on the set of a movie, Harriet's senior thesis, at the National Film and TV Institute of Ghana (NAFTI).
"Oh he is the doctor."
"What's wrong with him?"
This question was possibly inappropriate. The doctor was hobbling around the set with an oversized gag syringe. He might have had some type of palsy. Or he could have been acting – we were on a movie set.
"Oh he is disfigured. You see the doctor was sacked from the village when he was a child, because of his condition. The village does not know that he has now become a doctor practicing Western medicine. It is he who returns to treat the village for meningitis. The chief now must accept him, just as he has accepted western medicine because it is the traditional medicine that has failed."
This narrative was refreshing, not because it concerned the acceptance of western medicine and the rejection of superstition, but because it did not concern adultery or feuding spouses or long musical interludes followed by near brawls.
If you have watched any Nigerian movies, you are familiar with plot lines that revolve around jealousy, manipulation and absurd yelling matches. I'm not going to lie, I enjoy much of what comes out of Nollywood. But it's a guilty pleasure and after I watched The Last of the Maidens, I was at a complete loss for what I had just experienced. Ghallywood is more or less the same, but with more witches. I discussed Ghana's film industry in a previous post that mainly concerned having sex with snakes.
None of this is to say that all Ghanaian and Nigerian movies are like this. It's also not to say that all villages are starting to accept western medicine and to reject superstition. And it's not to say that all Ghanaians or all Nigerians or all Africans live in villages. Or that all Africans believe in witches. Some do. I convinced Laura (she draws camels in the video at the bottom of this post) that I was a witch. I told her I was a crocodile in a human body and that I slept in the Niger River at night. The following day, she admitted that she came into the dormitory three separate times to see if I was in fact in my bed.
Africa is complex. Many people don't get that. They're going to get blindsided when Western media starts running stories that don't involve post-election chaos, mass rape, and civil war. This will happen, soon.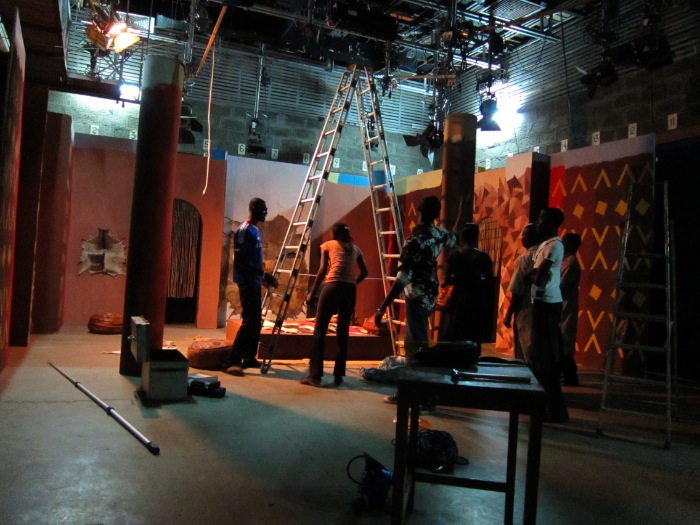 Preparing the set. Harriet's disfigured doctor hero story was set in a village out of Northern Ghana. It was my friend Rita who was in charge of set design. If you ask me, she did a fantastic job.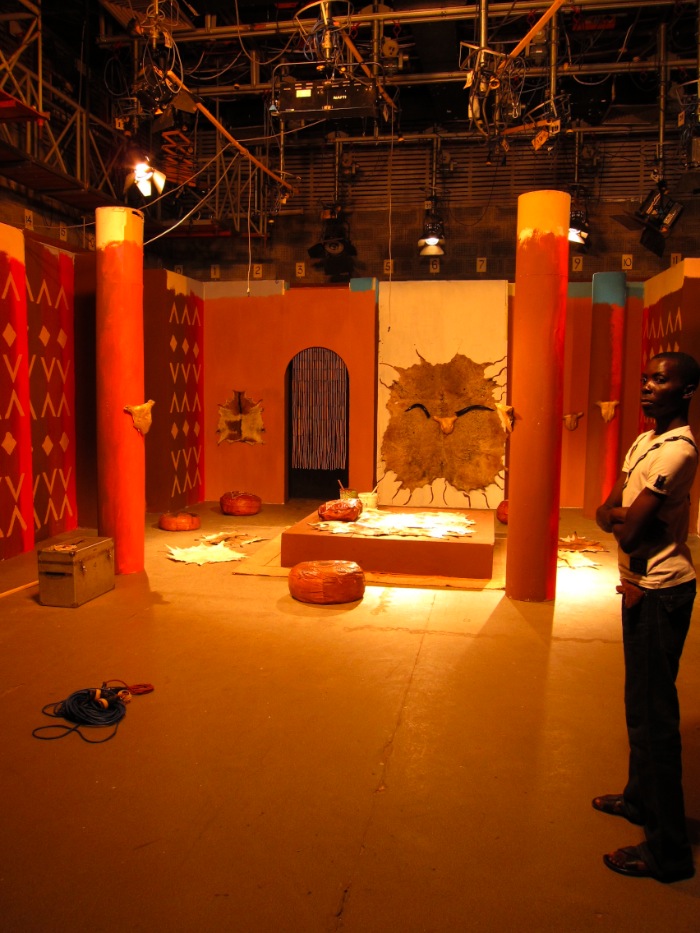 Right?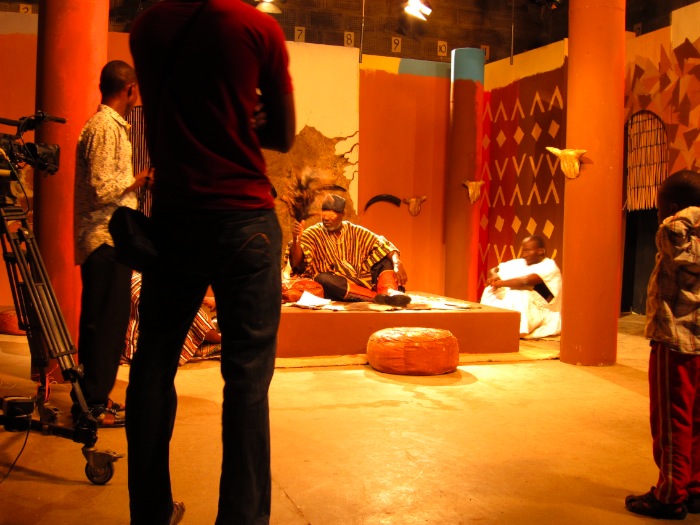 The beleaguered chief, suffering from meningitis.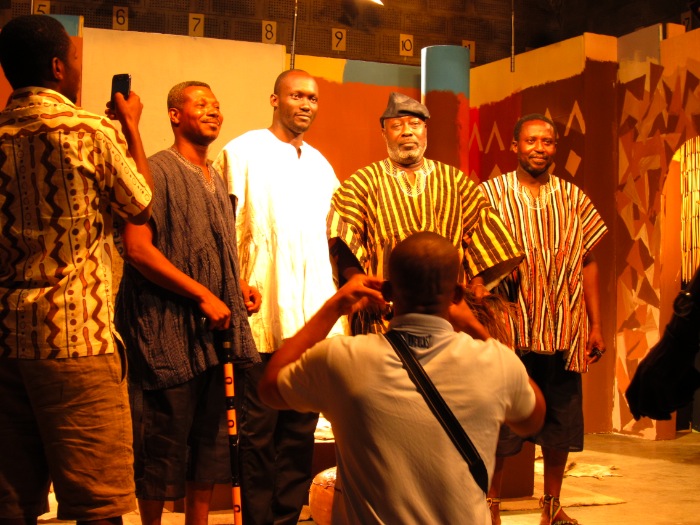 Turns out these actors are major players in Ghana. I do not recall their names, but I remember that Rita told me one of them killed a cab driver many years ago, and was recently pardoned. Apparently it was a very controversial case and many questions remain. She thought he was guilty. I'm pretty sure it was the guy on the right in the above photo. Not positive though.
I don't have a picture of the doctor. This is unfortunate, because I would have appreciated alternate opinions as to what was supposed to be wrong with him. Harriet said he was disfigured. Another film student told me he was demented. And then multiple people told me that he was "undergoing some suffering" and "disturbing the population."
"Undergoing some suffering" is a distinctly Ghanaian turn of phrase. It is one of my favorites, along with "somehow," as in
"Did you like the movie?"
"Somehow."
This means they didn't like the movie.
I remember asking a Ghanaian about the neighborhood of Pigfarm. Pigfarm is a funny name for a neighborhood. What's funnier is that it is a majority Muslim neighborhood.
"What do the Muslims think of the fact that they live in a place called Pigfarm."
"They are undergoing some suffering for this."
My all time favorite Ghanaian turn of phrase? "You are invited." The "to come and eat with me" part is implied. You will hear this expression in other Anglophone African countries as well. It is simple and beautiful.
That was a tangent.
I spent more than one afternoon at NAFTI. I experienced the inner workings of filmmaking in Ghana, but more importantly, I made some new friends. Who I now miss. Along with other friends in Accra, Takoradi, Cote D'Ivoire and Mali.
So I am now figuring out how to go back. But first, a road trip to Arizona, so that I can finally face my greatest fear: Javelinas. If you don't know what a javelina is, I will tell you all you need to know right here:
Take the intelligence of a dolphin, the speed of a horse, and the silliness and hostility of a wild boar. Combine them and you have a Javelina. They will taunt you. You will be inclined, because of the taunting, to follow them into the desert where they will of course eat your face off. This is what wikipedia and other internet sources don't tell you.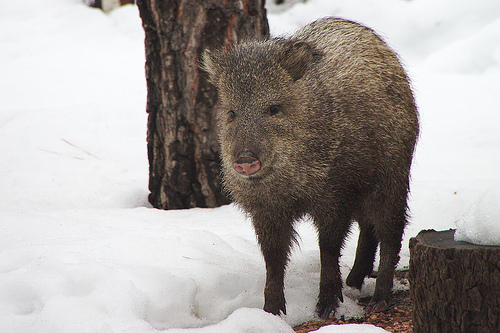 I'm guessing that this a newborn javelina. They get huge.
I didn't take that picture. This guy did: Cogdogblog
Up next: CAMEL COLLAGE. That's right, I received 50 camels. $100 was donated to Partners in Health. Mission accomplished. I love you all.
If you don't understand, go read this: How to Draw Camels.
Till next time…
If you enjoyed this post, consider sharing it with the buttons below or subscribing to the blog by RSS or Email Thanks for reading 🙂