Libya deserves all the attention it's getting. Gadhafi is a criminal and there are horrific things happening in that country right now. But news networks can afford a few words and pictures on Cote d'Ivoire.
For background on the Ivorian crisis, read this post. Gbagbo is still in power. The Libya media diversion has allowed him to unleash violence in Abidjan. Here's what's happening right now:
Over the past days 29,725 [Ivorians] have fled across the border to Liberia, joining the 40,000 Ivorian refugees already there. (UNHCR)
The crisis is degenerating into armed conflict, as commercial capital Abidjan and the volatile west of the country are witnessing gun battles, Reuters reported on Tuesday. (IBT)
8 newspapers have shut down because of police harassment. (Agence France Presse)
As relations between Gbagbo's camp and the UN peacekeeping mission deteriorate, attacks against UN staff by Gbagbo supporters have increased, mission chief YJ Choi told journalists in Senegal on Monday. (Mail and Guardian)
433,296 tons of cocoa are sitting in the port of Abidjan. The country's economy has come to a halt. (Mail and Guardian)
In the Adobo neighborhood of Abidjan: The U.N. said armed men blocked some 60 families without food or water from leaving a church Tuesday, as one man who escaped the violence-plagued neighborhood described "fleeing the smell of the dead."

The U.N.'s refugee agency expressed alarm about the dire conditions facing people trying to get out of the Abobo district of Abidjan after days of violence there.

"There are reports of many dead bodies, buses burned and shops looted, and of young militiamen attacking people inside their homes," the agency said in a statement.

One man, Jean Bleou, said Abobo was quickly becoming uninhabitable. Several dozen people have been killed over the past week in bloody clashes.

"I saw at least seven bodies on my way out," he said. "We were fleeing the smell of the dead."(CBS News)

In northern Côte d'Ivoire vaccines are going bad, taps are dry and the families of women in labour are ferrying buckets of water to hospital, three days after the government of Laurent Gbagbo ordered power cut in the region. (IRIN Africa)
How is this not getting coverage!?!?
You have to dig to find these stories. The last story, from CBS News, is not on the front page of their website. If you click on the World News tab, and scroll all the way down to the absolute very bottom, underneath the Africa heading, there is a link that reads "UN probing Ivory Coast helicopter report." One line of text, no pictures, no information alluding to the fact that Cote D'Ivoire may very well be on the brink of civil war. No information on a potential conflict that could destabilize the entire region.
If you follow me on twitter, you will have noticed that many of my recent tweets are tagged with #civ2010. This is the hashtag for the Ivorian election and the ongoing post-election crisis. Twitter is the best place to find information on Cote d'Ivoire right now. You can also stay updated by running a google news search.
Email TV and web sources, tweet them, comment on their facebook pages – let them know you want to know what is going on in Cote D'Ivoire.
There has been an ongoing twitter campaign to get Anderson Cooper's attention. If you are on twitter, tweet @andersoncooper and let him know you want a story on Cote d'Ivoire. You can also email his show here. He said he was going to "do something about Cote d'Ivoire on Monday," but his blog still does not feature any info. You will find a story on Charlie Sheen, though.
The situation in Cote d'Ivoire is not going away any time soon. A few news stories aren't going to stop the crisis, but increased media attention will make it harder for Gbagbo's security forces to blatantly attack portions of the population.
My friends, below, who I have not been able to get a hold of in three days. Please keep them in your thoughts.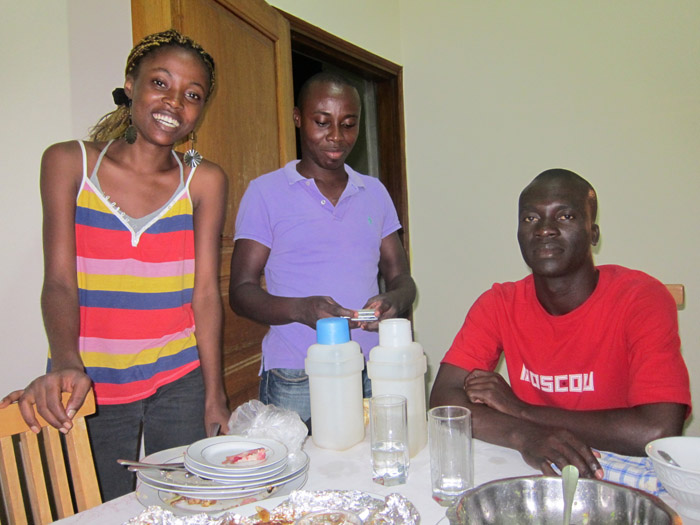 The other 21 million Ivorians, and everyone struggling for freedom somewhere, keep them in your thoughts too.
If you enjoyed this post, consider sharing it with the buttons below or subscribing to the blog by RSS or Email Thanks for reading 🙂