The last day I worked a conventional job was sometime in late June 2010. It is now March 2011. I don't have a lot of money. I traveled for six months last year and I recently bought a one way plane ticket back to West Africa. How is this possible?
1. I saved money for three years before I took my trip. After I got back I was coasting on that money for a while (it's gone now).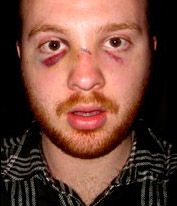 2. The Tax Man was kind to me. I got a hefty refund because I didn't work a lot last year and I also itemized a few things like a medical bill from that time last spring when a lynx attacked me and broke my nose. Ok, so it wasn't a lynx, it was a co-workers elbow during a game of beachball volleyball (not even a fight? I know, I know..).
3. I haven't paid rent since last June. I have done a lot of official and unofficial couchsurfing.
4. I don't have a car. I don't eat out often. I don't go to bars.
5. Clyde the Camel has commissioned me for a $3,000 portrait of himself. He doesn't have the money yet, but he has given me an IOU.
If Clyde hasn't paid me yet, how am I making money?
– howtodrawcamels.com is not exactly a cash cow, but I have made a few sales on there. Half of that money goes towards social enterprises in West Africa. The other half goes towards my travel expenses.
– I have been doing a lot of freelance writing, mostly of the travel variety. I have been writing West African country guides, and I've done some pieces for online travel magazines and blogs.
– I'm working on a few web-design projects for others as well as building some additional sites myself. Sick on the Road is a travel health blog that I am working on with a friend. We plan to profit from that site at some point in the future. Right now, it's still young in terms of content, but it will grow as time goes on.
– I've also made a few dollars here and there from affiliate sales. There are links on the right of this site under the header "things I use." If you happen to purchase anything through those links, I get a commission. It's a good deal – it's the same price for you whether you use the link or not, and they are all things I recommend (if you are interested in starting a website, learning a language, or working for yourself that is) and use myself.
Am I worried?
Despite the fact that I'm making little money, I'm not worried. Buying a plane ticket when you're broke is a great idea. No, really. When your only choice is to get your shit together, you will get your shit together. I don't plan on losing the above income sources, but even if I do, I will figure something out in Bamako. You can create your own self-fulfilling prophecy. Attitude is everything.
Am I being irresponsible and impulsive?
I am under the impression that self-realization is the greatest contribution you can make to society. Realizing what you are excited about and doing it. I'm going back to West Africa to explore music, showcase social enterprises, and to teach people how to draw camels. This is what I'm passionate about right now. For that reason, it's what I should be doing.
Before traveling, I was teaching middle school in Washington, DC. I miss my kids. A lot. But there was a reason I needed a break longer than summer vacation. Right now, I feel more creative and energized than I have in a long time.
When people hear that I don't have a "job" and that I'm living at my friend's dad's house (The Man Hostel. I live here with my friend Sam, his uncle, his dad, and his brother. We hunt javelinas together and drink rattlesnake blood.), they assume that I have fallen on hard times. But the truth is, I'm loving life and I'm excited about what's to come.
Disclaimer: I am not telling you to follow in my footsteps. And I'm certainly not judging you if you have a job. Do what makes you happy. There are a lot of possibilities.
Recommended reading: The Element
If you enjoyed this post, consider sharing it with the buttons below or subscribing to the blog by RSS or Email Thanks for reading 🙂