At the doctor's office yesterday, I walked into an animated discussion in the waiting room. "Can you believe how crazy it is everywhere?" "I know! The Middle East and this earthquake in Japan. It's hard to keep up." I listened for a while and then asked: "Have you guys heard any news about Cote d'Ivoire?" "What's that?" "Ivory Coast, they think there could be a civil war there." "Oh, no, I hadn't heard anything about that."
Can you blame them?
This post has four parts:
1. What's happening in Cote d'Ivoire right now?
2. Where is the media?
3. A call to action
4. Resources
What's Happening in Cote d'Ivoire Right Now?
Quick background from International Crisis Group:
The [october election] was part of a peace process that began after the September 2002 rebellion and was endorsed by several accords, the latest the 2007 Ouagadougou Political Agreement that all candidates, including Gbagbo, accepted and that set out compromises on organisation and security for the balloting. Ouattara won the run-off with a margin of more than 350,000 votes over Gbagbo.
The UN certified that result, but Gbagbo used the country's highest court to throw out votes arbitrarily so he could stage a constitutional coup. Since then, he has relied on violence and ultra-nationalist rhetoric to cling to power. Over 300 people have been killed, dozens raped and many more abducted and disappeared by security forces. ECOWAS and the African Union (AU) have recognised Ouattara as president-elect and asked Gbagbo to step down, but he is apparently prepared to resist to the end, even if it means throwing Côte d'Ivoire into anarchy, war and economic disaster with terrible consequences for the entire region.
Here are the most recent developments:
Gbagbo has once again cut power to the north. It was the same scenario as the last time [in February]; they come and turn it off when they wish," the CIE worker told IRIN. "There seems to be no problem with the grid." This is a humanitarian crime. (IRIN)
Muslims face growing attacks in Ivory Coast crisis. "Souleymane Sissouma became the third imam slain this month in an attack so brutal his family members went into hiding, too afraid even to attend his funeral.
Ouattara supporters also have been beaten to death with bricks, even doused with gasoline and burned alive. Cell phone videos of the horrors are traded on the street and broadcast on state television along with calls to arms.
Fueling the fire is a relentless campaign of what the U.N. has called "lies" and "propaganda" on Gbagbo-controlled state television. The Radio-Television Ivorienne (RTI) is referred to by some foreign journalists as TV Mille Collines, in reference to the radio station that encouraged the genocide in Rwanda in 1994.
In one report aired last week, the anchorman smiled as he described a dozen alleged rebels killed by pro-Gbagbo soldiers in central Abidjan as "culled like little birds." Graphic images of their bloodied bodies were interspersed with images of soldiers giving each other high five and cheering crowds.
"The future Gbagbo proposes for his country is war, anarchy and violence, with ethnic, religious and xenophobic dimensions," wrote Louise Arbour, president of the International Crisis Group, in an open letter this week. (SF Gate)
Nearly one million flee Abidjan amid fears of war, U.N. says. Up to one million people have fled populated suburbs in Abidjan alone, said Melissa Fleming, a spokeswoman for the U.N. High Commissioner for Refugees. "The massive displacement in Abidjan and elsewhere is being fueled by fears of all-out war," Fleming said.
The latest exodus follows reports that thousands of youth have answered calls to join forces loyal to the incumbent leader, Fleming said. There are also indications that mercenaries from neighboring Liberia are arriving in the country, according to the spokeswoman. (CNN)
Côte d'Ivoire: Crimes Against Humanity by Gbagbo Forces. This article also documents crimes committed by opposition supporters. (Human Rights Watch)
Cote d'Ivoire's Gbagbo Readying Rockets, Helicopter. (Afrique en Ligne)
In the west, the health and education sectors have been severely affected as close to 90 per cent of qualified medical staff and the majority of teaching staff are no longer reporting to work. A shortage of essential medicines, the breakdown of the cold storage chain and the absence of disease surveillance have raised the spectre of a serious health crisis for thousands living in the area. As a result of internal displacement, food security could be compromised for thousands of households, according to OCHA. (UN)
West Africa Lurches Toward War. As the world watches the tsunami in Japan and the uprising in Libya, another part of the world is on the brink of disaster. Is anyone paying attention? (Foreign Policy)
Where is the media?
Most of the above articles are not from major news outlets. The CNN article is not even a headline on the CNN World News page. Major news media personalities have been silent. With the exception of some European media, NPR in the US, and Al Jazeera, Cote d'Ivoire is truly becoming a forgotten humanitarian crisis.
I have been following #ivorycoast closely and it deserves far more coverage. Monday will try to do something – Anderson Cooper on twitter, February 25th.
That was the last time Anderson Cooper mentioned Cote d'Ivoire. A month ago.
Is the story not compelling enough? Has there not been enough victims? Does he lack graphic video footage? Here, Anderson, is a video of two supposed rebels being beaten and burnt alive as the police look on.
While it is irritating that Cooper projects an aura of all knowing compassion yet manages to thoroughly neglect a crisis that could destabilize all of West Africa, he is really no different from any other major news outlet when it comes to this story. His silence is indicative of the larger media phenomenon: sub-Saharan Africa is invisible.
Anderson Cooper works for CNN, and CNN, along with other large news organizations, reports on stories that they believe will engage their audience. Apparently Cote d'Ivoire is yet to become newsworthy.
Aaron Bady does a good job looking at the issue here:
It isn't that "we" don't want to understand; it's that we don't know how to see beyond the initial same-old-story-ness of this story, when we hear it. Which is why, I would suggest, we end up where we started: a sense that, because there is violence, we should pay attention to what is happening, followed by the discovery that there is no news there; just the same "turmoil in Africa" narratives we sort of quietly presume to be going on across the continent all the time, and nothing we can think anything new about.
But this post is not really about why the media is silent.
Call to Action
I was in Abidjan last fall, spending most of my time in the Yopougon neighborhood. My friends there are struggling. Faty and her family, who I lived with for a month, have essentially become imprisoned in their home. They are from the north and what's worse, they live with a Malian family. Northerners and foreigners have become the principle targets for Gbagbo. Recent mentions of ethnic cleansing and Rwanda are very disturbing to me.
Even if it doesn't amount to much, I need to do something. It involves your help.
Blog For Cote d'Ivoire
The travel blogging community recently did an excellent job of raising awareness for New Zealand. Their message: there was a devastating earthquake in New Zealand, but the country is open for business and needs your tourism. The campaign got a lot of people talking about New Zealand.
I propose something similar for Cote d'Ivoire. Regardless of whether you've been there or have been closely following the crisis, you can share information and encourage people to look into it and spread the word. Doesn't even have to be a whole post. Just something to get the word out. Feel free to use this button: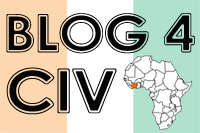 Right click and save as.
If you are on twitter, link to your page or post and use the hashtag #blog4civ and I will retweet. At the very least, more people will become aware of the crisis.
Social Media
Speaking of twitter, it has been invaluable in finding and sharing information. Search for hashtags #civ2010 and #IvoryCoast. At the bottom of this post, I include a list of people you should follow. Here, I want to repost something from earlier:
Tweet @andersoncooper. Ask him: where is the story on Cote D'ivoire? Maybe he doesn't know that 1 million people have fled Abidjan. Feel free to use my previous status to retweet. His facebook page, CNN's facebook page. Click here to email his show.
Nick Kristof brought up Cote d'Ivoire several weeks ago and said he is "looking into going there." Tell him he should. @nickkristof on twitter and facebook.com/kristof
You can also tweet: @cnn, @ac360, @maddow, @ariannahuff, @msnbc, @abc
Petition
Sign this petition to encourage members of congress to pass House Resolution 85.
That resolution calls for calls for "the United States to apply intense diplomatic pressure and provide humanitarian support in response to the political crisis in Côte d'Ivoire," and demands that Laurent Gbagbo step down and cede power to President Alassane Ouattara. It also calls for "continued United Nations Security Council action to ensure that the democratic process is upheld," along with human rights and humanitarian law. To that end, it also calls for the United States Government and other nations to assist in humanitarian aid and assistance to the growing number of refugees who seek to escape the increasingly dire situation on the ground in Côte d'Ivoire.
Find the petition here
The UN Security Council needs to do something. Encouraging signs from France, pushing this resolution. Now with precedent for intervention in Libya, there is no reason why the UN should not be more aggressive in Cote d'Ivoire.
Read this story from Corinne Dufka about the UN and international community.
Give
There are a number of NGOs in Cote d'Ivoire and many of them are struggling with funding.
– UNHCR – this goes directly to their Cote d'Ivoire page
– Croix Rouge / Red Cross (select Cote d'Ivoire from "Other Operations")
– Oxfam
– Médecins Sans Frontières / Doctors without borders
Talk to People
I have shared this on twitter, but have not posted it here. It is very troubling. I don't consider Fox News a real (as in accurate or reliable) news source, but it is still astonishing to me that they don't have an Africa section on their world news page:

The people I spoke with in the doctor's office yesterday did not know where Cote d'Ivoire was. Honestly, it's hard to fault them. Education system does a poor job. Media is just as bad.
Talk to people. When most people hear the story they may envision some kind of tribal bush warfare.
Let them know that Cote d'Ivoire was once an economic powerhouse. 40% of the world's cocoa is produced here and Abidjan has a skyline that looks like this. These facts are significant in the sense that they challenge common perceptions of Africa.
I'm not naive. I know that the fate of Cote d'Ivore rests in much larger machinery, namely the AU, ECOWAS, and the UN, or within the hands of Ivorians themselves. But allowing Cote d'Ivoire some space in our attention span does not take much effort, and with added eyes and hopefully, more news coverage, there is a chance that there will be less humanitarian crimes and of those that are committed, they will be widely seen and the people responsible will be held accountable.
Resources
On Twitter:
Hashtags: #civ2010 and #IvoryCoast
@fakegbagbo
@dickinsonbeth
@IvoryCoastDemoc
@KirAfrique
@Sanders225
@ourmaninafrica
@annagueye
@Marie0531
@FatiUNHCR
@JoelleET
@jeanettemallet
@Doylebytes
@diabymohamed
@ScorpiusMaximus
@irinnews
@Camso2010
@swampcottage
@civ2010
@AFRICA_SAHEL
@Refugees
@texasinafrica
@shelbygrossman
@marticotivoir
@SenamBeheton
@nightsnake1975
@N2_language
@sroukoudazoa
@bzkdjc
@mamadouk2007
@kanazan
@brucebanter
@faicommahatma
@zoudiet
This is also a good list to follow – It has many of the people above on it.
If I'm missing people, let me know.
News round-ups:
– All Africa's Cote d'Ivoire Blog including live twitter feed with #civ2010 and #IvoryCoast
– Excellent post and round-up from Linda Raftree here
– Alex Thurston with another Cote d'Ivoire round-up here
Latest from International Crisis Group: The security and humanitarian situation in Côte d'Ivoire is rapidly deteriorating. Civil war in the country has been reignited; we are no longer warning of the risk of war, but urging swift action to halt the fighting and prevent ethnic cleansing and other mass atrocity crimes. More here
Blogs
Crise en Cote d'Ivoire
Africa Rising
Thoughts and Travels in West Africa
Fake Gbagbo
Anna Gueye @ Global Voices
Hotel Ivory
If you want me to add something here, let me know at phil dot paoletta at gmail dot com.
Spread the word
If you enjoyed this post, consider sharing it with the buttons below or subscribing to the blog by RSS or Email Thanks for reading 🙂