Riding in a tro-tro is kind of like wearing a straight-jacket in a sweat lodge. As a twenty-five year-old, I regularly feel arthritic after a trip in one. Overflowing with perspiring bodies and sometimes animals – both live and dead – tro-tros are also home to otherworldly aromas. You may find that the person to your right is holding a giant bowl of tilapia. On your left, the one-year-old strapped to her mother's back is giving you a wet-willy. Meanwhile, there is a basket of live chickens at your feet and they are just as uncomfortable as you are.
I wrote that about tro-tros (minibuses in Ghana) last August. It is in Africa that I have experienced most of my adventures in public transportation (I have yet to find public transport that stretches physical limits more than the bush taxis of the Sahel), but I have also spent a good chunk of time on buses, boats, and vans in SE Asia and South America. My description above and the tips below are not unique to Africa. They apply to developing world public transportation in general. While a crowded minibus does not provide much in the way of comfort, the social and cultural experience is unmatched, and I maintain that public transportation provides one of the best ways to get to know a place. Here a few tips to manage the journey.
1. Greet the driver/captain/chef du voyage and give him some peanuts
First of all, it's just polite. Beyond that, there are practical reasons. In addition to holding his life in your hands, the driver may also be able to help you in a bind. On this bus trip between Takoradi and Abidjan, a trip that became complicated because I was not on the passenger registry and I was sitting in the stairwell, the driver had my back during a tricky episode at the Ivorian border. Peanuts? Yeah. Or anything really. Try to avoid alcohol.
2. Choose your seat wisely (if you have the option to do so)
In situations where you can choose your seat, figure out which direction you are traveling and avoid the side that will spend most of the time in the sun. Do not sit in the front (the "death seat"). Sit somewhere between the middle and the back. This way you are oblivious to suicide attempts by roadside livestock and poor decision making on the part of the driver. You will also (hopefully) benefit from some air flow and if you need to get off, it's not impossible.
3. Befriend your neighbors
This may happen whether you want it to or not. Greet the people sitting next to you. Smile and try to say at least a few things in the local language. There is a good chance you will be traveling with them for a while. Besides sharing food and laughter, you will undoubtedly learn a thing or two and you may find that they become good friends.
4. Buy food on the road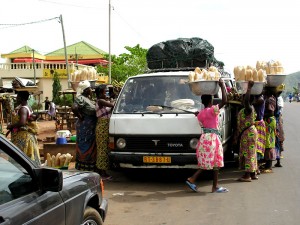 While Africa is the only place where women deftly carry cargo on their heads (check out Afia's 4 AM load in this movie), it is not the only place where you can buy food while in transit. Economies have formed around public transportation routes and unless you want to bring your favorite biscuits, there is no reason to stock up on food before your trip.
5. Eat like a bird
You can buy food on the road, but don't be an idiot. Stuffing your face on an extended journey is foolish. So is experimenting with unknown, possibly unidentifiable food items. Avoid caffeine, eat simple foods (bananas, bread, and peanuts are my staples), and don't eat too much.
6. Bring Imodium
Just in case. I am generally anti-Imodium. It holds offending bacteria in your gut and can actually prolong intestinal illness. I do, however, make an exception for serious overland journeys because I don't enjoy catastrophes that involve fecal matter and people I don't know.
7. Have patience
Come to terms with the fact that you may not arrive on time. That your van/bus/boat may break down. That there may be unexpected and unexplained delays, detours, and roadblocks. Be patient. Huffing and puffing will do nothing. Use the time to get to know your fellow passengers. Ask them to teach you a local joke, game, or dance, and continue your language education.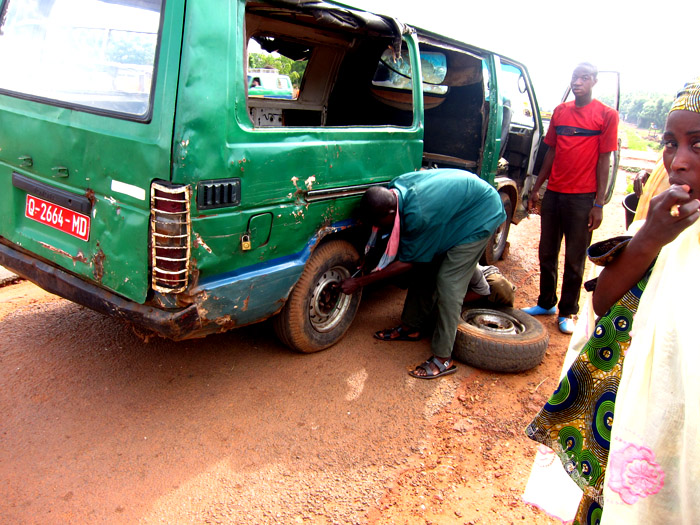 8. Give thanks
I have a ritual of touching my left index finger to the ground when I arrive somewhere. This suggests to bystanders that I may be unbalanced, but it also forces me to acknowledge the moment. Arriving safely, there is nothing more important. Be thankful.
Adventures in Public Transportation
For more insight on public transportation, check out some of these links:
Journey to Timbuktu Part 1: a Breakdown, an Overloaded Pinasse, Flying Urine, and a Late Night Foot Job – A ferry trip I took to northern Mali.
It's Not a Proper Bus Ride without a Chicken or Two – Jodi from Legal Nomads actually has a tag called adventures in public transportation. Here she documents a ride through northern Laos, complete with chickens and a vomiting child.
Holy Transvestites! An Indian Train Ride – Wes from Johnny Vagabond is one of the best storytellers around. Enjoy this entertaining tale of a train ride in India.
The Iron Ore Train. – Benny and Mitch from Amateurs in Africa document a journey that few other travelers will make, stowing away on an iron ore train through Western Sahara and Mauritania.
The Great Circular Indian Railway Challenge – Christine's husband, Drew, and friend Troy, circumnavigate India by train in 16 days. What? Yes. Also see the 140 second version of the trip.
Central America Chicken Buses – Jason and Aracely from 2 Backpackers offer a comprehensive look at buses in Central America. Complete with photos, video, and commentary.
Bolivian Bus Hell – An Illustrated Guide – Erin and Simon from Never Ending Voyage have created a hilarious illustrated guide documenting an overnight bus ride in Bolivia.

While we're on the subject of public transportation, I want to call attention to a project started by Michael from Go, See, Write. Not too long ago, Michael completed a round the world trip without planes. Perhaps that trip was not ambitious enough as he has now conceived the Ultimate Train Challenge: traveling by train from Lisbon to Saigon in 30 days. Michael invited me and a handful of other folks along for the ride, effectively making it a competition. While my participation is contingent on a few things, namely what happens in West Africa on this upcoming trip, I am excited about the possibility. The website for the trip is up and running at ultimatetrainchallenge.com. There is a forum where you can suggest side missions for us to go on, and it's looking like we will also be raising money for a charity that rehabilitates agent orange victims in Vietnam. Go Check it out and let me know what you think.
If you enjoyed this post, consider sharing it with the buttons below or subscribing to the blog by RSS or Email Thanks for reading 🙂