This post has 7 parts:
Senegal?
The Bus
The Passengers
Hot Season is Hot
The Bad
The Good
The Cutest Girl in the World
Senegal?
I arrived in Dakar last Monday. I stayed until Wednesday night. Depending on what happens in Mali, I may spend more time in Senegal on the return trip. My first impression was positive. In my almost 48 hours there I did a lot of walking, bullshitting and yassa eating. If you didn't know already, yassa is a delicious sauce made from lemon, chili and onion. It often serves as a marinade for chicken and other meat. The meat is then slow cooked and served with rice.
I got my feet wet with Wolof. African languages are incredible. They are simple and complex. They lend themselves to animated conversation (more on this here). My favorite word in Wolof? "Yes." In Wolof: waow (phonetic spelling). It more or less sounds like people are saying "wow" all the time.
Senegal, je vien.
The Bus
One reason to start a blog: you meet cool people who you might not have otherwise. Sunny got in touch with me after reading my site. Turns out she would be in Dakar in April. She planned on heading to Mali sometime in May and after emailing back and forth we decided to take the journey together. Prior to my arrival, she had researched a few bus options.
Buses to Bamako depart daily. They are in the $50-60 price range and the journey lasts 24 hours. Give or take 16 hours.
You see, the bus was scheduled to leave at 8PM Wednesday night. It left at 9PM. We arrived in Bamako at 1PM on Friday.
Before I discuss the psychological implications of spending two consecutive nights on a bus in one of the hottest regions on the planet during the hottest time of the year, it would be useful to get to know the bus and its passengers.
If you take the bus to Dakar you may find yourself in a sleek Mercedes coach, or in a resurrected bone shaker. It's a crap shoot. We found ourselves on the latter.
The rows were compressed and the aisle had been eliminated in favor of fold out seats. Fold out seats are problematic when people need to get off the bus. Unfortunately, getting off the bus would become a frequent occurrence in Mali, where customs agents took issue with a fat man in a pink shirt who was using our bus to transport an untold amount of merchandise that he planned on selling in Bamako or elsewhere.
Another problem with the bus: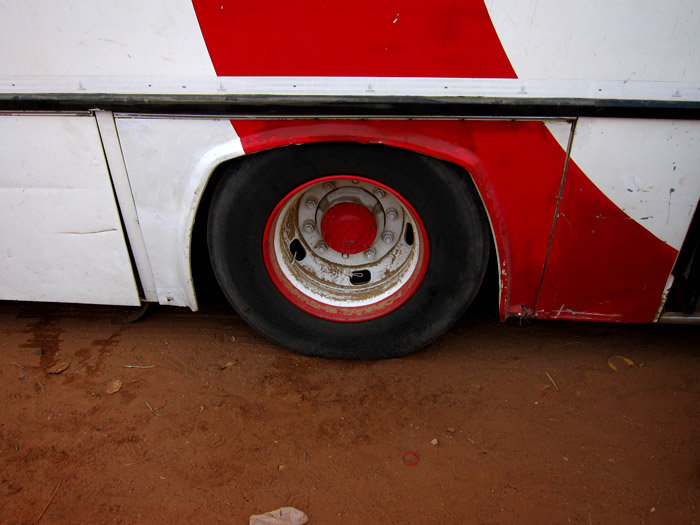 This rear wheel well was not in good shape when we started the trip. It deteriorated drastically during the voyage. We can count ourselves fortunate that a breakdown was not thrown into the mix.
The Passengers
Senegalese and Malians, a Guinean, a few Ivorians and two toubabs: me and Sunny. There were mothers with 3-month-old babies. There were whole families. There were loners. There were those traveling in search of work (one guy was planning on taking buses straight through to Cotonou. This seemed insane to begin with, but once the bus ride stretched to 40 hours, we thought he would surely reconsider. He didn't. When we arrived in Bamako he got on another bus. All this to go to Cotonou, where he has no family or friends. He is hoping to find work there, but doesn't have anything lined up. Bonne chance.)
Everyone was friendly and the atmosphere was social throughout. There was heavy political conversation, mostly concerning the post-election crisis in Cote d'Ivoire, and there was plenty of joking. Passengers took turns watching babies, food was shared and everyone looked out for each other.
Hot Season is Hot
March, April and May are the hottest months in West Africa. In 2005 I was in Ghana during these months and I knew then that the hot season is no joke. But the hot season in eastern Senegal and northwestern Mali is on a different level. Here is an excerpt from the Wikipedia entry on Kayes, the most populous town in northwestern Mali:
Kayes is nicknamed the "pressure cooker of Africa" due to its extreme heat; the town is surrounded by iron-rich mountains which contribute to the temperature. Kayes is often described as the hottest continuously-inhabited town in Africa. The average daily high temperature in the city is 35 °C (95 °F), with temperatures usually peaking in April and May at an average of 46 °C (115 °F).
During the middle hours of the day there is no relief. The breeze that passes through the bus is laced with 100+ degree air and it more or less feels as if someone is letting loose with a flame thrower on the interior of the vehicle. Dirt and sand take up residence everywhere. Creases of skin, nostrils, behind the ears. When the bus comes to a stop, it turns into a blast furnace.
The Bad
The heat is irritating when you are traveling at 70 km/hr. It is excruciating when you are motionless. Spells of nausea come and go, along with extreme thirst and fantasies of chilled beverages. We were stopped for 4 hours at the Senegal/Mali border. It is undoubtedly one of the hotter border crossings in Africa (and the world).
The previous night (the first night on the bus), someone attempted to rob me in a village in eastern Senegal. It was close to 1AM. The bus stopped and most of the men got out to pee on a half completed building and to drink tea. I was stretching my legs when a passenger got into an argument with one of the villagers. The passenger said the villager had taken his money. The villager denied it. They argued, but the passenger was outnumbered and eventually dropped it. I did not know who to believe. As I was walking back to the bus, a villager tried to snatch everything out of my chest pocket. I yelled, he ran off. Nothing was taken. At this point the driver understood nothing good would come out of a longer stay here. He began to pull away and we climbed back on as the bus rolled along.
The second night was more difficult than the first. Sacks of rice strangled my legs and the cool night of western Senegal was replaced by the furnace of the Sahel. We were delayed at every checkpoint. Customs agents repeatedly tried to exact a duty upon the fat man in the pink shirt. He had shit all over the bus, on top of it, underneath it. In Kayes, he loaded on even more cargo.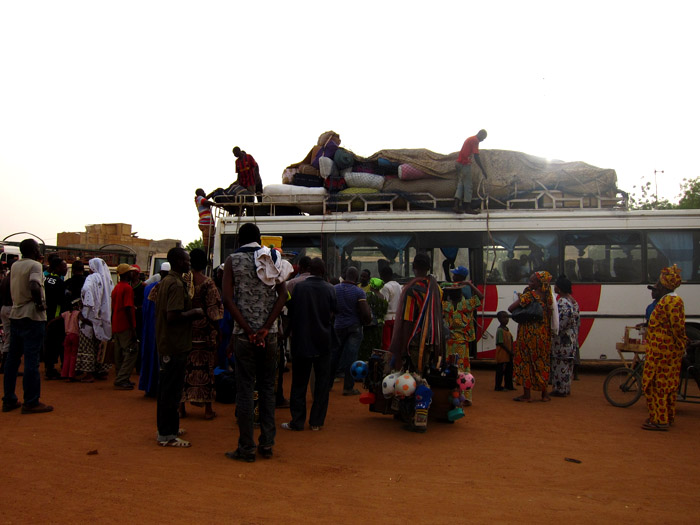 Side story: some passengers got off in Kayes. This took a while as some of the luggage was on the roof. One of the porters carelessly knocked over a bucket of sugar cubes.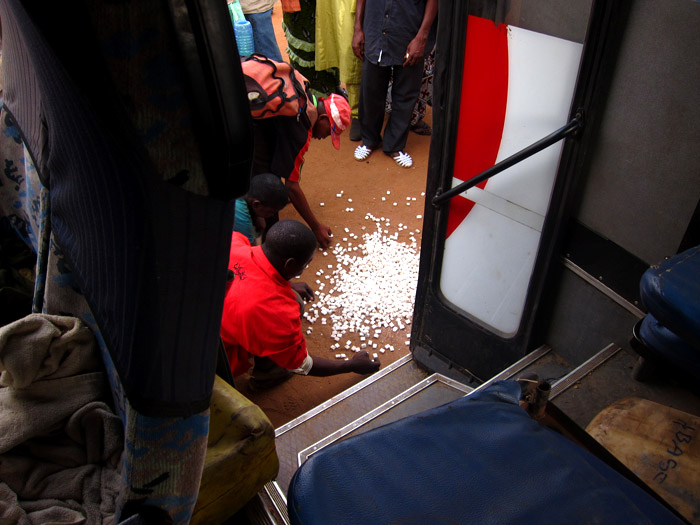 They salvaged what they could.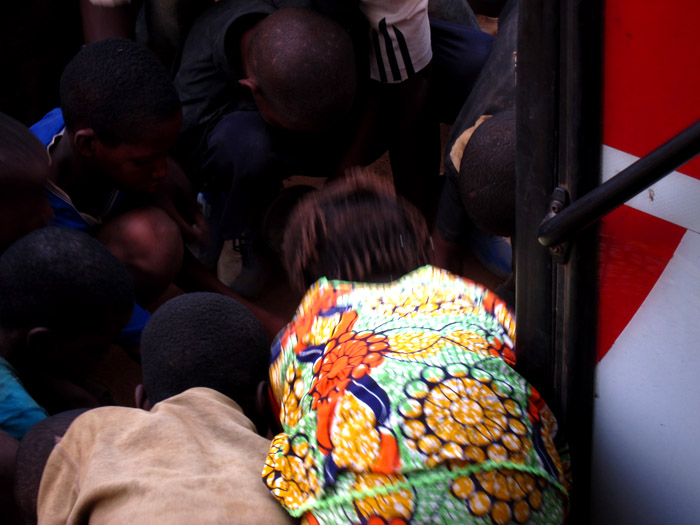 And then let the kids grab the rest.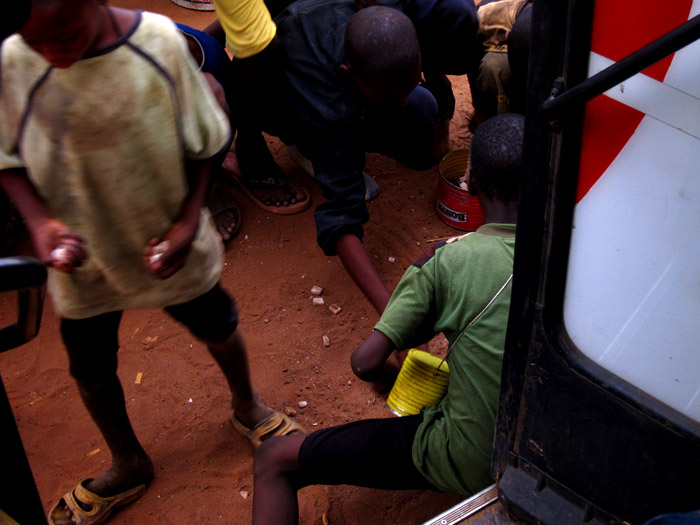 These children can be seen throughout Senegal and Mali (and elsewhere?). They carry tin pails and sing Islamic songs. They are sent out by the local Imam. Sometimes they are sent by their family. The money supposedly goes to their Koranic education, but I doubt that is always the case. It is admittedly something I know little about, however.
Fatigued passengers watched cargo go off and on while these children raced around us chewing dirt covered sugar cubes.
The Good
The satisfaction of finding a cold drink in the Sahel during hot season cannot be overstated. At a checkpoint, a man sits in a chair next to a dust covered freezer. There is no evidence of electricity anywhere, but the freezer is on and it is filled with ice and water and fanta and coke. I would put the first sip on par with sexual release.
The most redeeming quality of the hot season is the widespread availability of mangoes, the most delicious of all fruits (don't try to argue this one with me). At a different checkpoint, I enjoy a mango that singlehandedly restores my life force. In some parts of Africa, mangoes are a steady luxury. Here, they are a 3-month burst of flavor.
Beyond food and drink, I learned some more Bambara and enjoyed the company of the other passengers. I also got to know Sunny, who despite not ever taking a trip of this kind, did not complain or break down.
And I came across transcendent music. At one of the longer night time checkpoints, a few roadside chophouses did business selling nescafe, tea and baguettes loaded with hard boiled eggs, chili and onion. I did not have an appetite, but I stopped to enjoy the music that was playing from a weathered radio. It was Amadou Sangare playing ngoni and sharing a Bambara story (l'Histoire de Moussa Tchefari Pere de Sabally). Bintou has told me she is going to explain the meaning of the story, but even without an understanding, this can be appreciated.
The forceful gnoni playing compliments Amadou's dramatic voice. The night air held the song well and with its sharp reverb, it prevailed over quiet conversation and a distant radio playing Wassoulou music.
Here is a clip I took with a field recorder. I added a few milliseconds of delay. Around 42 seconds in, I get a better angle on the sound. If you have a moment, close your eyes and listen to this, preferably with headphones.
Amadoubusstop by lionsinthetiles
The Cutest Girl in the World
Finally, I would like to introduce you to Mariam. In addition to being the cutest girl in the world, she was also incredibly well behaved for a 40 hour bus trip.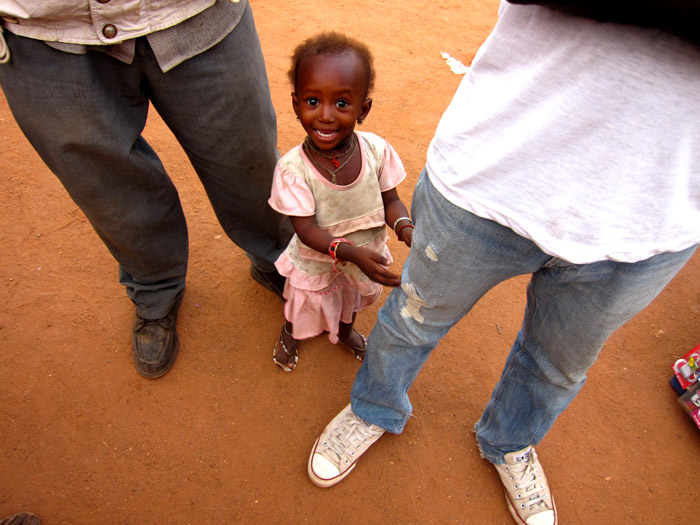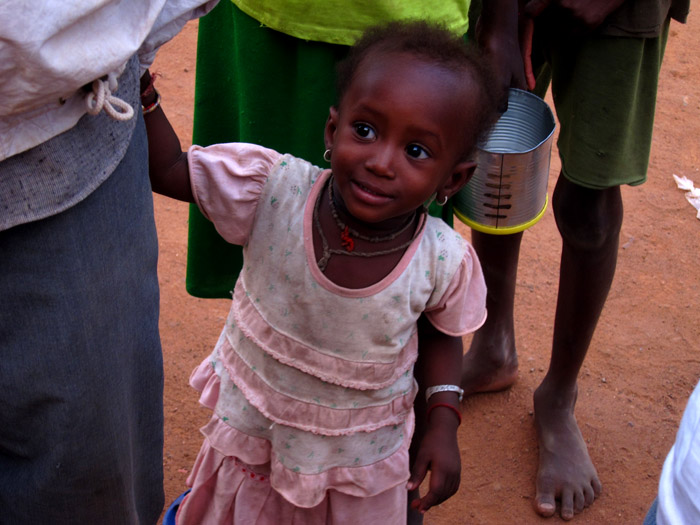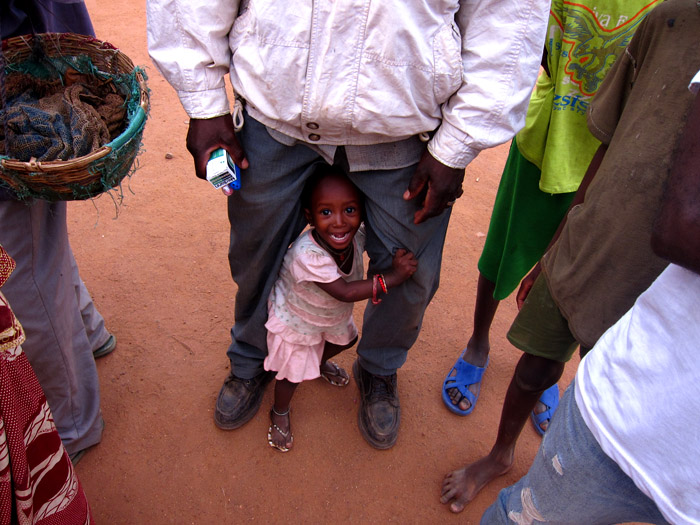 If you enjoyed this post, consider sharing it with the buttons below or subscribing to the blog by RSS or Email Thanks for reading 🙂