This post is not a rejection of aid or charity or volunteering. It's a rejection of an attitude about Africa.
Last summer, at a chop house in Takoradi, Ghana, an American girl struck up a conversation with me. She was a 3rd year university student volunteering in Ghana for 6 weeks. When I told her I was traveling, she was surprised and seemingly upset that I was not volunteering.
This is a problem. No one should be dismayed that I'm traveling in Ghana. It shouldn't be controversial that I'm not volunteering.
We brand Africa as the continent of the helpless, a designation augmented by deficient media coverage and the publicity efforts of so many well-meaning non-profits.
Here's the thing. Africa is moving on without us. We need to re-think how we're involved. Right now, we're quick to donate money to charities, but we're less eager to invest in businesses. Our flawed perception of Africa has done such a good job stripping Africans of agency that we find it hard to believe that Africans can start and run their own enterprises.
People in Africa want to make money as much as anybody else. They want to share ideas because African ideas are as relevant as any other. This market hasn't even been scraped. Western financiers should come over here and see for themselves what's going on.
That comes from this piece on African start-ups in TechCrunch Europe, but these stories are appearing everywhere.
Two days ago, Erik Hersman, the guy who co-founded (with the brilliant Juliana Rotich) Ushahidi, wrote about the damage caused by ICT4D terminology. ICT4D is an acronym for Information and Communications Technology for Development. For example, using mobile phones and SMS messaging to expand health education.
No one would argue that expanding health education is a bad thing. The problem is not with the service itself:
…the African technology startup scene is young, but it's ready to be treated as a real industry with real investors looking to make real returns. When the people who are doing business and making money in African tech get a sniff of an "ICT4D" project, they immediately dismiss it – labeling it as a special needs project where the regular rules don't apply.
A startup company who is trying to create value and make money, but doing so with what outsiders view as poor or disadvantaged communities, is often pigeonholed internationally as ICT4D. For instance, is Esoko the money-making agricultural product from Ghana, which is now in a dozen countries, an ICT4D company? How about if a company started off by being used in Africa, but then their product went global – such as with Ushahidi?
Second, the funds and work put into this space by the NGOs are creating a false floor in the economy. They're undermining the community of tech entrepreneurs who could be building the same products and services and charging for it, just like we'd expect any company in the West to do if there was a valuable service worth paying for. If it's a service that should be supplied by the government, then they're short-circuiting those responsibilities and subsidizing actions that subvert the public offices away from their duty.
I suggest reading all of it here.
Look, there are a lot of great non-profits. Some of my work on howtodrawcamels.com is devoted to shining a light on them (in Mali, at least). In many places, non-profits do critical work. And there are plenty of volunteering opportunities that effect change without undermining local communities and local labor.
But this idea that Africans are helpless, that the only way for the west to connect with Africa is in the context of aid and development – this idea is misguided and destructive. With or without a change in our attitude, Africa is moving forward. Pay attention or find yourself blindsided later on.
Personal
Posting has been light over the past couple of weeks. It will pick up a bit once I am back in Ghana, a couple weeks from now. I have been buried in writing assignments and I've been putting work into a few other sites. Look out for a new post on How to Draw Camels profiling Project Muso.
Also, I've got 2 new things on the horizon. One is a site/project that will launch sometime after my trip has started. I'm gonna keep the lid on it for now, but I will say that it's going to have a lot of media. The other thing is the restaurant I am collaborating on with two Ivorian friends in Abidjan. Planning for it has so far involved a lot of phone chats with Faty. But we're making progress. Looking forward to being there in December.
This week in particular has been difficult; I've been trying to keep up with work while also recovering from the haunted reggae show we threw on the porch of my former DC residence. We put on a similar party last year for the opening weekend of the world cup. See pic: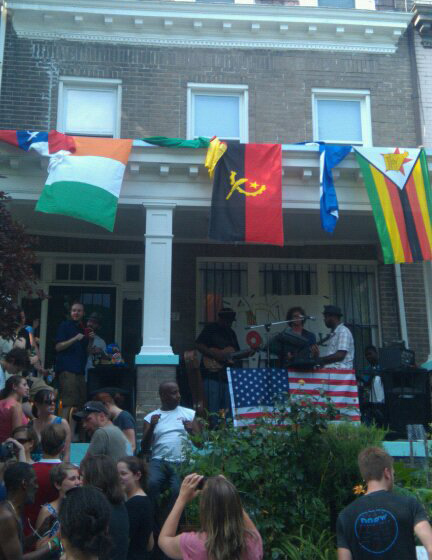 From this year: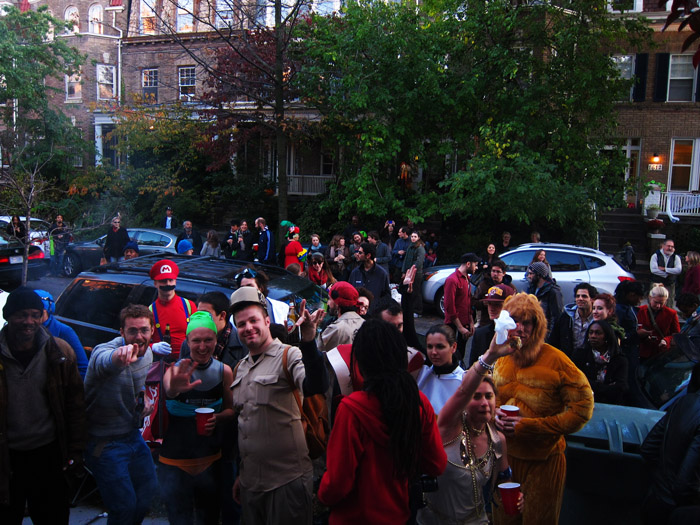 The growing crowd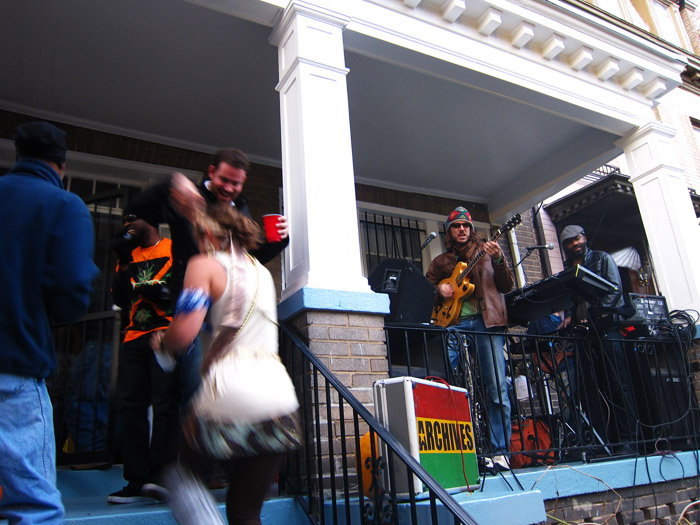 Archives, the best reggae band in DC, setting up shop on our porch.
As I've said before, Hobart Street is a special place. Add a few gallons of mulled cider spiked with brandy, bourbon and rum, a grill, roots reggae, rocksteady and dancehall, and a whole bunch of friends, neighbors and complete strangers, and you have a true party. It was a cold day, but we warmed that street up real quick. With much encouragement, we now have plans to make this a twice-a-year event.
If you enjoyed this post, consider sharing it with the buttons below or subscribing to the blog by RSS or Email Thanks for reading 🙂