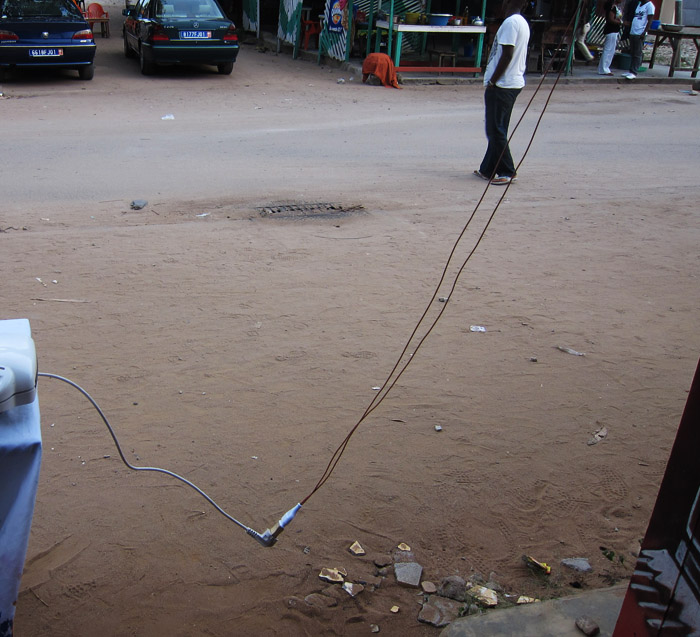 An "illegal distribution of power" in Yopougon, Abidjan.
Quick update: I was supposed to fly to Mali on Monday. The flight was canceled due to a cloud of martian-like dust in Bamako. It would have been the second time I flew into Bamako during a coup, or in this case, a counter-coup attempt. My flight is now canceled indefinitely. Air Mali said to call back on Friday for an update.
For info on recent events in Bamako, I would suggest following Bruce Whitehouse's blog, which is as close as you will get to a reliable and nuanced singular news source.
I don't have much to say about the apparently unsuccessful counter-coup attempt. Several dozen people died during the fighting. Two students also died within the past two days after police intervened at a protest. Fighting in the north of Mali has been called a low-intensity conflict. There have not been many deaths by "war standards." There also have not been many coup-related deaths in Bamako. Perhaps that's why each one is so hard to take. It's not hard to imagine the families, now without a son or daughter, husband or wife. That's to say nothing of the hundreds of thousands of people that have fled their homes in the north. And for what? Has anyone (so far) benefited from the coup or the rebellion besides the people leading them?
As for what the counter-coup attempt means for Mali's transition to civilian government, it's hard to say just yet. For one, it's not clear how exactly it started or whether it is actually over. Sanogo alleges foreign mercenary involvement, a dangerous claim which, true or not, could give rise to xenophobic sentiment. I wouldn't be surprised to see more arrests and more public contempt for ECOWAS.
On January 16th, I left Timbuktu for Bamako. I was at the Festival au Désert. A day later, MNLA took Menaka and things have gone downhill since. What will Mali look like in January 2013? What will it look like next month? Difficult questions.
For now, I am in Abidjan. We have been working on taking our business to the next level, despite suffering a serious setback last week. CIE (La Compagnie Ivoirienne d'Electricité), Cote d'Ivoire's electricity company, cut off power to our maisonette/store house two days after we finally got our freezer up and running. A week later, we still don't have power.
We were pulling power from Faty's (one of my partners) dad's house. Technically, this is illegal, but we figured 1) since Faty owned both properties, there wouldn't be a problem and 2) almost every business in this part of toits rouges pulls power from someone's house. Number 2 is due to the fact that you need to install a meter to receive power and you can't install a meter unless you have a fixed address. Many of the small businesses here are housed in wooden shacks. They are not officially registered with the government and they don't have an actual address, but they are taxed locally by the neighborhood mayor of Yopougon (each day, a guy comes around and collects a 100 CFA tax (about 20 cents, so $6 for the month) and they have a certain legitimacy.
Many of these businesses have made arrangements with specific households to install an additional meter at their address. They will then run a line of power through the trees to their store/salon/whatever. This is what we need to do. We held off because Faty (or her family) owns both properties. The problem is that Faty's dad was also sending power to a hair salon. This in itself is not normally an issue. There are many businesses on the street that pull power without a meter. In this case, however, someone told CIE that Faty's dad was turning a profit by sharing power with the salon. This is not true. If anything, the small amount the salon was paying for power did not even cover their usage.
Not interested in any of our explanations, CIE cut off power to Faty's dad's house, which cut off power to the salon and our maisonette with its newly functioning freezer filled with things like fish and cow tongue. It also apparently cut off power to the garbadrome (garba is an Ivorian dish of attieke, fried fish, a bit of oil, salt and chili. It costs 40-50 cents and fills you up.) which was taking power from the salon without us knowing. The garbadrome is now pulling power from a barbershop, the salon is trying their luck without power and we are doing the same.
Power restoration has been delayed by the unreachable CIE employee that has been assigned to our case, yesterday's work holiday and monday's "day of meetings" at CIE. In the meantime, we have been improvising with food production while at the same time fielding more orders than we've ever had. We now have several businesses that are calling us to place orders each morning and we are on the verge of hiring two new employees. Two companies called us in the last week because a neighboring office recommended us. And, for the first time, we actually had to turn down a food order because it was placed too late and we had sold out of all our plates.
Each day has been stress and sweat-filled as we try to manage the growth. Despite this, and the persistent power outage, there is the exciting feeling that this thing might work after all.
That said, we have a lot of work to do. We need to consolidate our clients further and we need all of our clients calling to place orders in the morning. It's not attractive if we have to do the calling, because we are using phone credit in the process. It's easier to find cheap phone plans here than it is to find a company that does affordable international calls, but still, it is an expense that we have to deal with and an unexpected one at that. I'm optimistic that this is just a growing pain, however, and we will soon have everyone placing orders by phone or via the net (soon to come!).
More updates to come. In a future post, I will be sharing the recipe for one of our plates with photos. And while I will soon be returning to the states for a month or two, I have a lot more things to write on the restaurant/catering biz, Mali, and beyond.
Speaking of Mali, let's keep her in our thoughts.
Thanks to Rebtel for supporting this site and making this post possible.
If you enjoyed this post, consider sharing it with the buttons below or subscribing to the blog by RSS or Email Thanks for reading 🙂