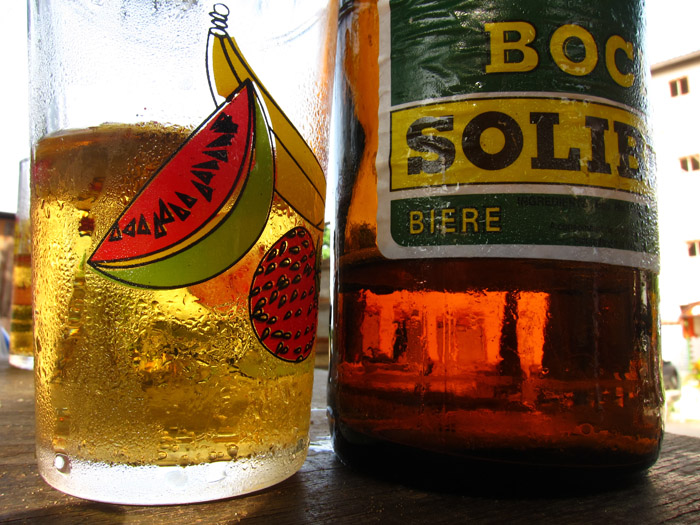 It's going to be a couple months before I drink a Drogba – the local name of the near-liter-sized Bock Ivorian beer. I can salivate over the photo in the mean time.
I leave tonight for Lisbon. A lot of people — Malian friends in particular — have asked me if I am fleeing. No. If an evacuation was on the agenda, it would have occurred earlier. Perhaps during the days of surround sound gunfire. Perhaps when ECOWAS leveled their sanctions (that were apparently never enforced?). Bamako feels safe, even if the ground beneath it may not be as solid as it appears.
I can't say that I am optimistic for the immediate future. It's being reported today that Mali's Interim President has rejected the idea put forth by the junta of a national convention to decide how the transition will proceed. Mali can't afford another impasse.
The north remains a mess, but we're going to start seeing problems in Bamako if the political situation is not resolved. Aid money, which in part pays for salaries of civil service workers, has been cut, the hospitality and tourism industry has been completely devastated, and many NGOs, who provide employment in addition to running programs, have closed up shop. This has all happened as a result of the coup.
I won't be away from Mali or West Africa for very long, but it's hard to imagine what the country will look like when I return. The sequence of events since January 17th is already unbelievable in itself.
For the immediate future, I will be in Lisbon for a week and a half before returning to the states to see family and friends. I have never been to Lisbon before, but I've heard good things and it worked out well as a stop-over thanks to a cheap flight from TAP Portugal. From what I understand, it is on its way to becoming a third world country, so hopefully the adjustment won't be too difficult.
Help me
Been to Lisbon before? Recommend something to me. People to meet, restaurants to eat in, drinks to drink. I don't speak Portuguese and it's been a couple of years since I've been this clueless about a destination. I am looking forward to being bewildered, but I also wouldn't mind some pointers. Please leave your thoughts, if you have them, in the comments. Or email me at phil dot paoletta at gmail dot com. Or tweet at me at @philinthe_. Thanks in advance. Many more W. Africa posts to come. Love you all.
If you enjoyed this post, consider sharing it with the buttons below or subscribing to the blog by RSS or Email Thanks for reading 🙂