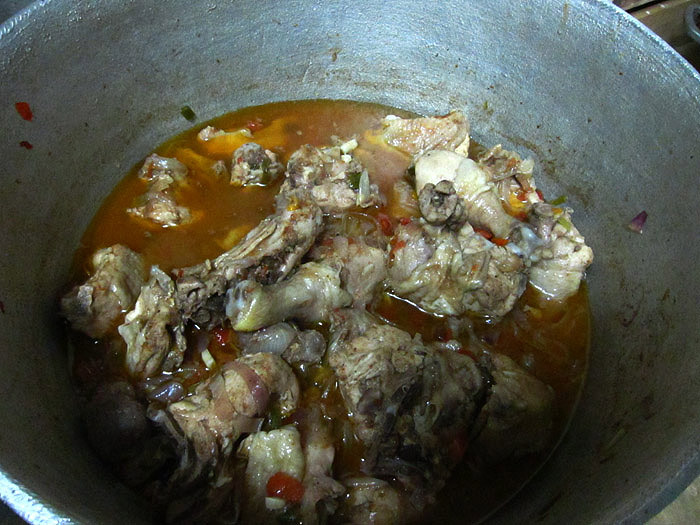 If you come to our restaurant in the Allocodrome of the Toits Rouges quarter in the Yopougon neighborhood of Abidjan, Cote d'Ivoire, you can order this dish. Best wait a couple of weeks, though, as kedjenou is an evening dish and right now we are strictly a lunch operation.
Kedjenou is typically a dish shared between a few people. It is best at night when you have gathered with friends at a maquis. After a few beers, place your kedjenou (or poulet/poisson braisé) order, drink more, and in 45mins-1 hour, you have a feast.
This recipe is adapted from my brain on koutoukou, a kind of local gin in Cote d'Ivoire that is sold for 100 CFA a shot (20 cents). While I was drunk during preparation, this is a dish that is relatively straightforward.
Ingredients
1 Chicken
4 or 5 good sized tomatoes or 8 smaller Ivorian sized tomatoes, finely diced
2 good sized onions or 6 smaller Ivorian sized onions, not so finely diced
3 hot peppers, scotch bonnet peppers will work, not so finely diced, use more or less depending on how much heat you want
4 or 5 cloves of garlic finely diced
A healthy dash of minced ginger, maybe a tablespoon or a bit more
2 maggi cubes or other bouillon cube that has MSG in it (optional, but most Ivorians I know would consider this critical)
Salt and pepper to taste
Those numbers are rough estimates. You should have more tomatoes than onions and you can be flexible with the rest. Also, feel free to sub out bouillon cubes for other spices or more salt and pepper. We threw in some cumin and nutmeg for the hell of it. The key to kedjenou, though, is how you cook it.
Procedure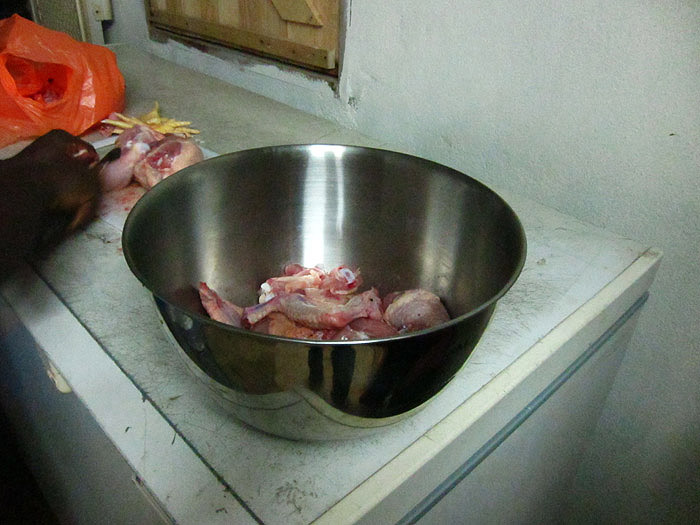 1. Chop up everything.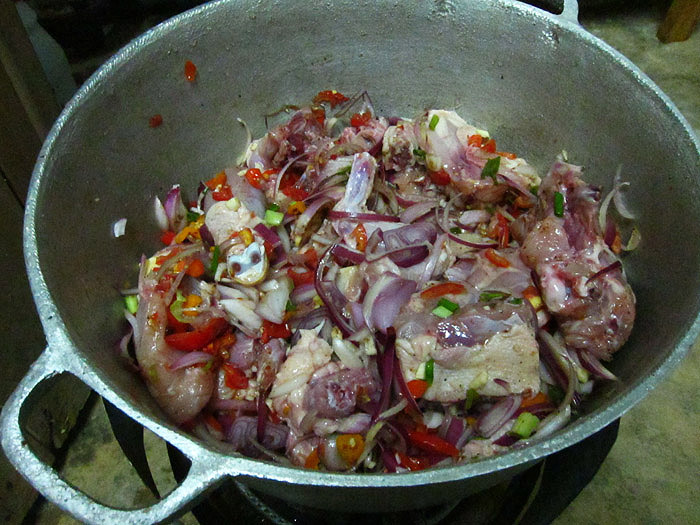 2. Put it in a large pot and mix it up.
3. Start a small fire or turn your stove on to low heat.
4. Put the pot on the fire with a lid.
5. Simmer for 1 hour or more, stirring occasionally.
6. Take it off the fire and let it sit for 10 minutes or so.
7. Serve with rice, cous cous or attieke.
8. Enjoy with friends and cold beer
The beauty of this dish is that you just put everything together in a pot and slow cook it. You do not need to add oil or water or broth (unless perhaps you have really shitty tomatoes that are too dry). In the words of Ron Popeil, set it and forget it. The result is moist and tender chicken in a flavorful, spicy stew.
More updates coming from restaurant/catering world, a few posts on Mali, some stuff about Lisbon (where I am writing this from) and future plans, including return to West Africa and a couple of new projects, one of which I couldn't get off the ground because of slow internet.
If you enjoyed this post, consider sharing it with the buttons below or subscribing to the blog by RSS or Email Thanks for reading 🙂