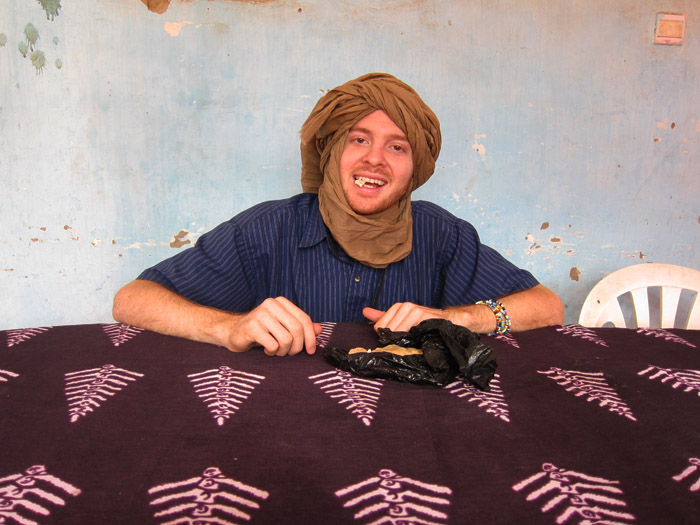 In Timbuktu with a piece of camel cheese in my mouth
"Home" is difficult for me to define. For the moment, I consider "home" to be places where people know my name. Thinking about that today, I realized that not only do I have more than one home, I have more than one name:
Mohamed
Near my apartment in the Badalabougou neighborhood of Bamako, there is a busy intersection that sits below Bamako's 2nd bridge. One day, a phone credit vendor, who also works as a security guard while he studies architecture at the University of Bamako, called me "Mohamed." I shrugged and went along with it. Before long, everyone at this intersection – taxi drivers, phone credit vendors, women selling brochettes – was calling me Mohamed. A few weeks ago, in a completely different part of Badalabougou, a different phone credit vendor walked up to me and said, "your name is Mohamed, right?"
Kofi
I am a Friday born child. In Ghana, this gives me the first name of Kofi.
Philu
Pronounced philoooou, I was given this name by my friend Odile who goes by several different names herself (Dilo, Didy, Jacqueline). She is a nurse in training, but she is also an entrepreneur, having set up a small shwarma stand outside of her house. I stayed with her when CIE cut off the power to Faty's house for over a week. She calls me philoou so she can say, in a sing-song voice, "Philooouu, le tonton de Louuulouuuuu" (Philu, the uncle of Loulou). Loulou is a civet cat that lived in Dilo's house until it ran away.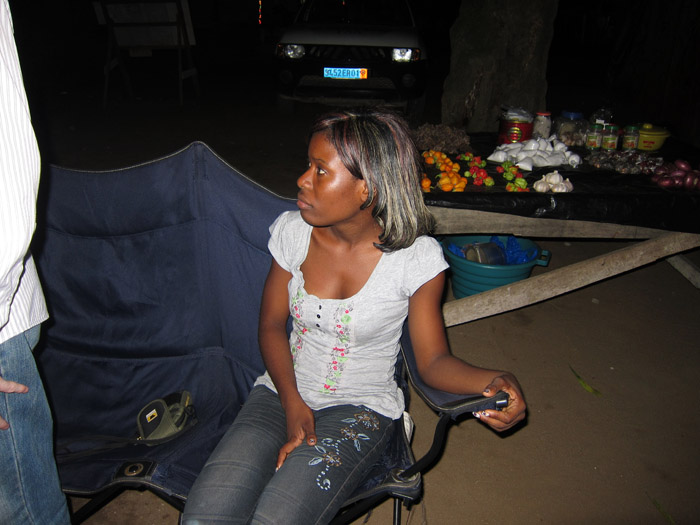 Dilo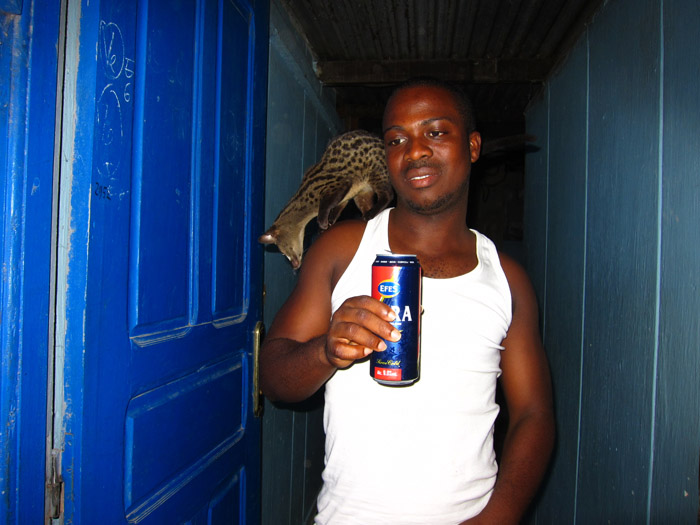 Dilo's brother Fabrice with Loulou and a large can of Efes Extra
Amadou Sagara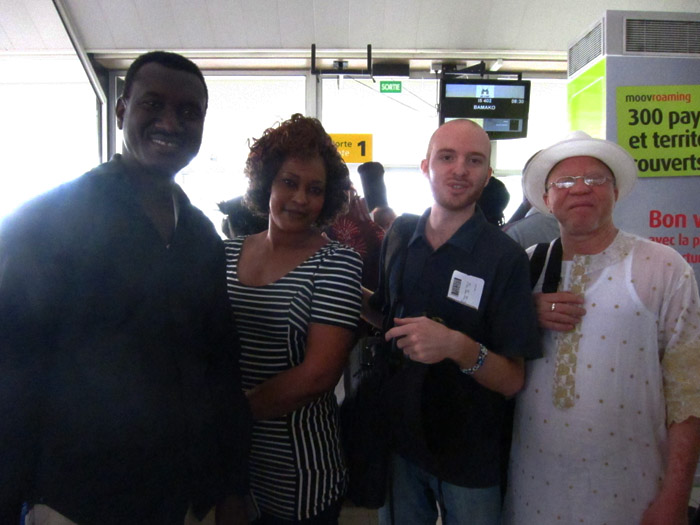 left to right: Bassekou Kouyate, Amy Sacko, me, Salif Keita (see Bassekou and his lovely wife in action here and Salif, in one of the best concerts I saw this year here).
Amadou Sagara is my Malian name. Sagara is Dogon. It is the last name of my girlfriend's family. Family names are important as they are used as a means to hurl insults (read about cousinage here). I sometimes use this name when I introduce myself to Malians as it gets a laugh and it sets the stage for a joking cousins battle. In the case of the photo above, Bassekou got the ball rolling: "Oh, you're Dogon? So you're flying back to Mali to plant your onions?" Unfortunately, Dogon don't have a lot of weapons in their cousinage arsenal, so I've started telling people that I am their father. This seems to go over well.
Felipe/Philippe
Turns out, a lot of people struggle to pronounce "Phil."
Tonton Phil
Uncle Phil. The hierachy of age is in full effect in Cote d'Ivoire. Younger kids call me Uncle Phil and I have to say, this title of respect is a lot better than "blanc" or "toubab" (white man) potshots. In the late afternoon, I often find myself meeting with David, my business partner, under the mango tree in front of Dilo's house. Kids pass by, having just finished school for the day, and one by one they approach: "bonsoir tonton David, bonsoir tonton Phil." I can live with this.
Stick around. Make friends. Build relationships. Collect some new names for yourself. Yes, I think this is the way to do it.
Next post will be on Lisbon. Got my tix back to West Africa. Washington, DC to Bamako via Addis Ababa July 17.
If you enjoyed this post, consider sharing it with the buttons below or subscribing to the blog by RSS or Email Thanks for reading 🙂