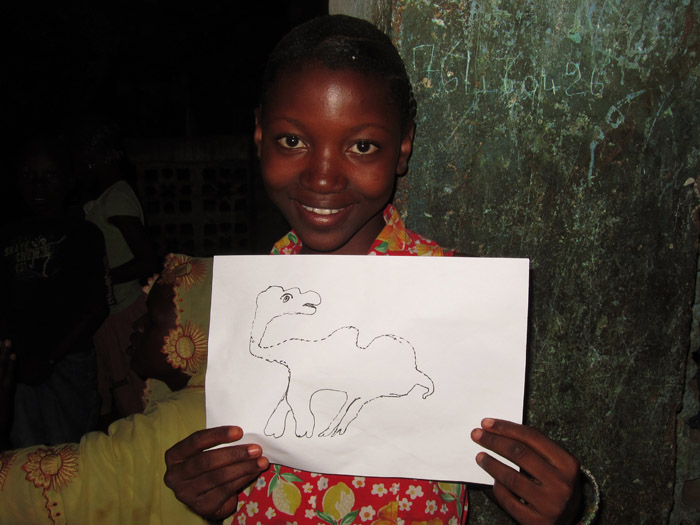 Over this past weekend, in a stretch of 24 hours, I saw 3 concerts — Amanar, Haira Arby and Baba Salah — and a theater and dance performance put on by former street kids. I spent time in 10 different Bamako neighborhoods. And I drew camels with 100 different people.
I conceived this project as part of a fundraising effort. I created an IndieGoGo page and said that if I could raise $1,000 for Relief International, an organization that is currently providing targeted aid to several Malian refugee camps in Niger, I would teach 100 different people how to draw camels in 24 hours in Bamako. The final amount raised was $1,162.
In some ways, the video below is just as important as the fundraiser itself. There are many people around the world who have recently been introduced to Mali for the first time. They have come to know the country as poor, land-locked and crisis-ridden. The north is filled with terrorists and hardline Islamists and the south is a picture of state dysfunction — this is the story.
Here is what is missing from that story (note: it doesn't have anything to do with camel drawing):
I recommend watching the video in HD. If you are reading this in a RSS reader, the link for the video on youtube is here
This project was one of the more worthwhile things I've ever done in my life. Camel drawing provides an excuse to interact with people, to approach strangers, to sit down and laugh with them. It is a silly thing, but sometimes we need silly things. On Sunday, I was just as sore from laughing as I was from dancing. But I knew beforehand that this project was going to be fun. What I didn't know was that it would also be a means to explore Mali's ethnic and cultural diversity.
Thank you to everyone that supported the fundraiser. And a special thanks to Brendan who took many of the pictures and clips in the video (the blurry ones are all me).
Feel free to share the video. Whether you care about camels or not, I hope this video makes you fall in love with Malians.
If you enjoyed this post, consider sharing it with the buttons below or subscribing to the blog by RSS or Email Thanks for reading 🙂