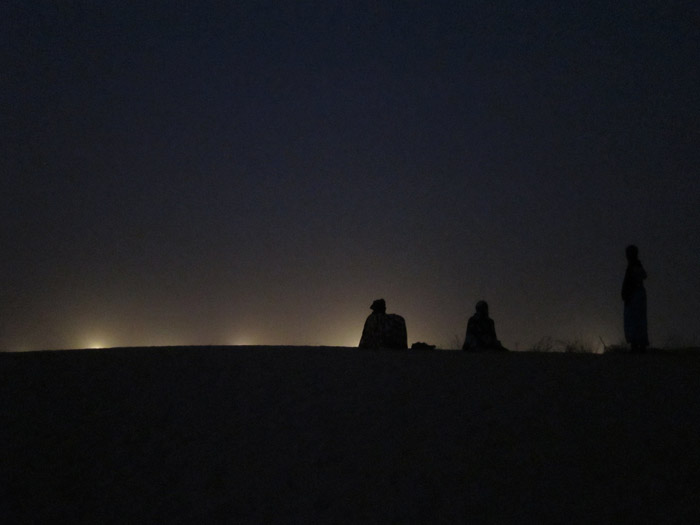 Outside of Timbuktu, January 2012
I am back in Bamako now. Another 36 hour ride with Sama Transport in the books. Previous trips from Abidjan to Bamako (in 2012, at least) foreshadowed traumatic events in Mali. I arrived in Bamako a few hours before the coup last March. Several weeks later, I had a flight canceled because a red haze had swallowed Bamako. The flight was rescheduled and then canceled once again – counter-coup attempt. But there was nothing to foreshadow this time. The war started before I left.
In Bamako, life goes on as normal (more or less).
This is normal: I was in a SOTRAMA (Mali's take on the minibus, a green shell ringed with wooden benches, infinite division of space, unlimited passengers) the other day and I watched a guy scoop up a baby from the arms of a mother who was burdened with several bags and a large plastic bowl overflowing with toothbrushes and tubes of toothpaste.
After she climbed into the SOTRAMA and arranged her merchandise, she did not ask for her baby back. Her baby remained in the arms of a stranger, who was now smiling and laughing with the woman's daughter on his lap.
Two other women – strangers to each other – began a conversation that ended with reciprocal benedictions when they parted ways.
Everyone sucked their teeth in unison when a policeman stopped the SOTRAMA and asked to see IDs. But everyone quickly laughed when the prentike mocked the policeman and then dodged the outstretched hand intending to give him a playful slap on the head.
This scene of social harmony belies what's happening elsewhere in the country. Cell networks have been cut by jihadists in Gao and Timbuktu, and those towns – and many others – may soon be facing severe food shortages. Timbuktu has reportedly been without electricity or water for 3 days (as of yesterday). Reprisals on the side of the Malian military have been reported in Sevare. And despite the precision of French bombing and the robust force that has been promised by other African countries, the jihadists are not planning on laying down their arms anytime soon. *Update* Many reports today indicating that Timbuktu and Gao could be in the hands of Malian/French/Chadian forces in the very near future.
While Mali settles into its temporary place on the airwaves, here are a few recommendations:
1. Be on the lookout for people who don't know shit about Mali, but are using the current situation to reinforce their worldview. I actually think much of the reporting from Mali has been quite good. Editorials, on the other hand, have been mostly awful. If you want to call the intervention a war on Islam or a French neocolonial adventure, make sure that you are, you know, informed about what is really happening in Mali.
2. Speaking of being informed: Read Bruce Whitehouse's blog here.
3. Pause. Watch Na Hawa Doumbia sing to these young boys under a tree in Bougouni back in the day:
Now listen to her daughter:
4. Read this from Hannah Armstrong. Trying to wrap your head around Islam in Mali? Hannah can help you figure it out with this strong piece.
5. Read this primer on the jihadists in Algeria and north Mali from Andrew Lebovich. Also, read the rest of his blog and follow him on twitter.
6. More great people to follow on twitter can be found in these lists compiled by Tommy Miles (1 and 2) and Stephanie Lamy (1 and 2). Oh yeah, follow them, too.
7. Francophone? See this list from Sonia Rolley. And yes, you should follow her, too.
8. Quality reporting from Peter Tinti can be found on his blog, where he also posts recommendations for further reading.
9. Pause for this Dri track.
Watch Iba One set a land speed record for bamanankan
10. Need some pictures? This photo essay from the Atlantic should do it. Some photos feature the work of Joe Penney who has also been offering informed reports on twitter.
11. Want some familiarity with north Mali? Check this multimedia site from Arnaud Contreras (twitter). Listen (and buy-the money supports northern artists) to the music on Sahel Sounds and read Chris Kirkley's (twitter) beautiful narratives. Read some Andy Morgan (I've always felt Andy was a bit too supportive of MNLA during the heady days of the rebellion, but he is a brilliant writer and he has extensive experience in north Mali).
12. The music festivals of Segou and Essakane (more recently, Timbuktu) have been canceled this year. Let's reflect on that:
Salif Keita performance at Segou in 2012 (tres chaud)
Amanar at Festival in the Desert 2010
Noura Mint Seymali at 2012 Festival in the Desert
Feel free to leave your own recommendations in the comments below.
Let's all hope Mali gets back to being Maliba ASAP.
If you enjoyed this post, consider sharing it with the buttons below or subscribing to the blog by RSS or Email Thanks for reading 🙂