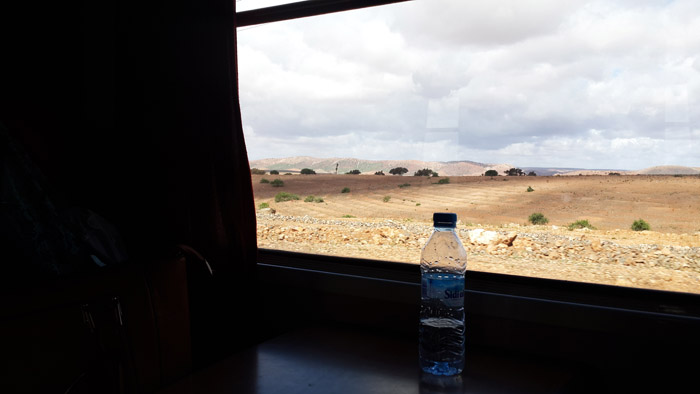 After we got married, Bintou and I had a one night honeymoon in Segou. We had a fantastic meal at Hotel Djoliba and then slept in a simple room by the river.
As blissful as that short trip was, we also planned on traveling outside the country at a later date. Due to current circumstances, several friends referred to this trip as a babymoon (that will be the last time I use this term in this post, and on this blog for the rest of time). However you want to call it, we just wanted to travel before baby arrives.
Morocco is a short and and relatively cheap flight from Mali, and neither Malians nor Americans need a visa to travel there. I traveled to Morocco in 2010, but Bintou had never been. This would be her first trip outside of West Africa.
After purchasing airfare, I immediately booked accommodation that was in another universe from anything I stayed in while traveling solo in 2010. This was going to be a trip of self-indulgence. In Morocco, a trip like that does not have to bring about financial ruin. It is a very affordable country to visit.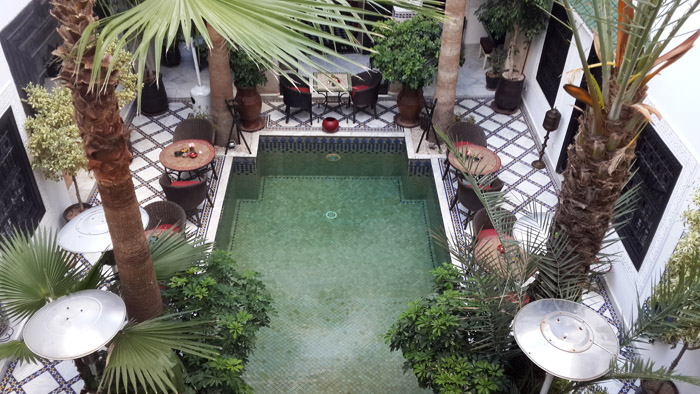 This is the interior of Riad Monceau, where we spoiled ourselves for three days in Marrakech.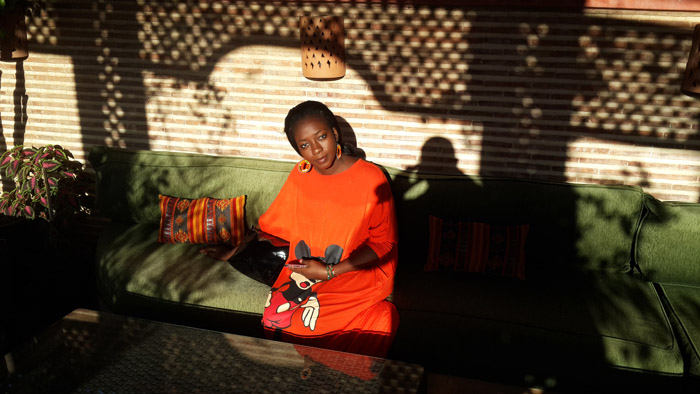 Bintou enjoying our sanctuary in her Mickey Mouse t-shirt dress.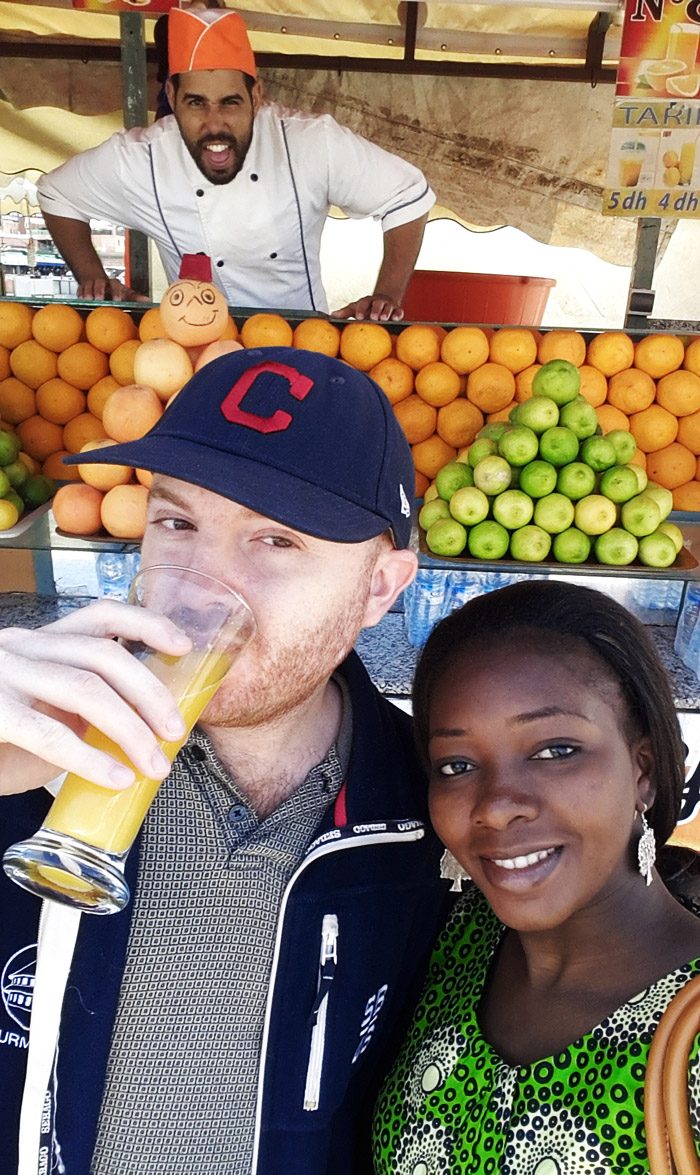 Incredible photo bomb by this juice vendor. Morocco is really the land of plenty. Fresh squeezed orange juice costs around 40 cents a glass.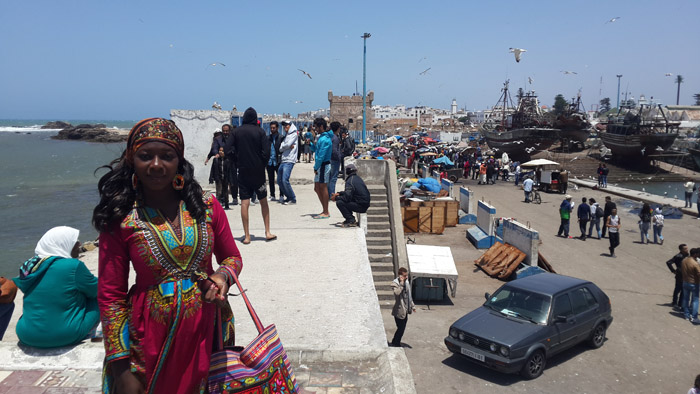 In Marrakech, we ate delicious meals every 15 minutes (Bintou actually became disgusted by cumin during this time), wandered the streets in between, got lost, and bullshitted with I don't know how many merchants. We retired often to the inner tranquility of our riad.
Then it was off to Essaouira. I traveled to Essaouira during my solo trip in 2010. I discovered then that large numbers of seagulls give me severe anxiety. Now it was Bintou's turn in the Essaouira harbor.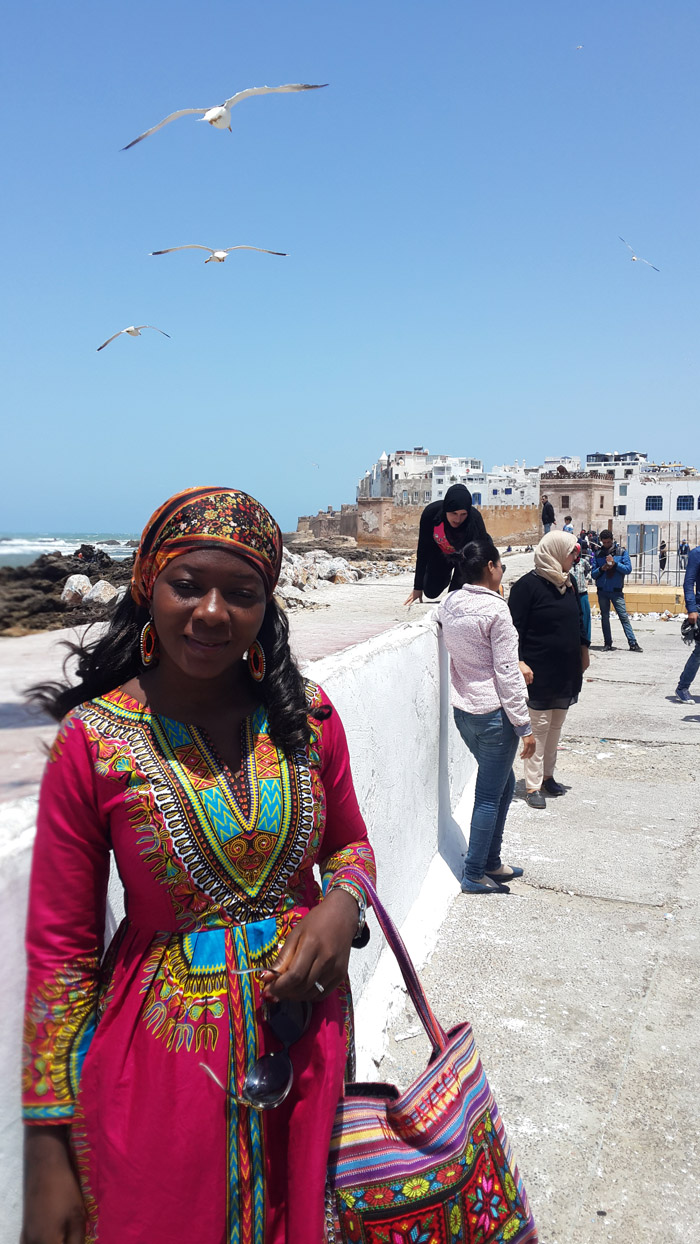 As far as I'm concerned, seagulls have worse spatial awareness than pigeons, and they are far more arrogant. Bintou was unfazed, however.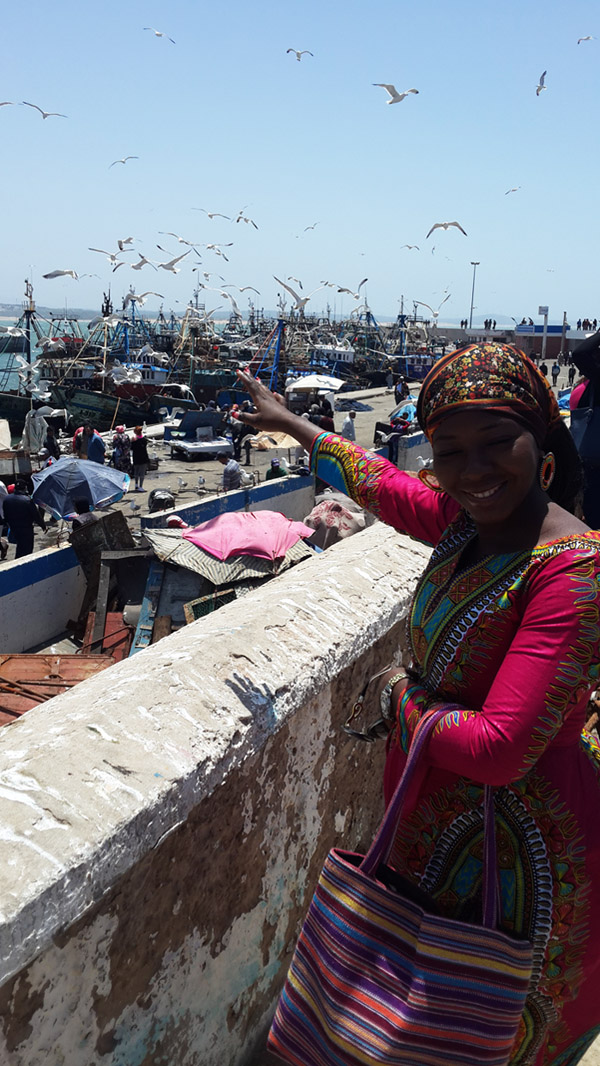 It's a good thing neither of us is diabetic, because each day we consumed at a minimum:
-at least 3-4 sugary mint teas
-3-4 fresh squeezed grapefruit/orange juice
-Moroccan crepes with nutella or confiture
-Countless miniature almond pastries
-and pure sugar cane juice just for good measure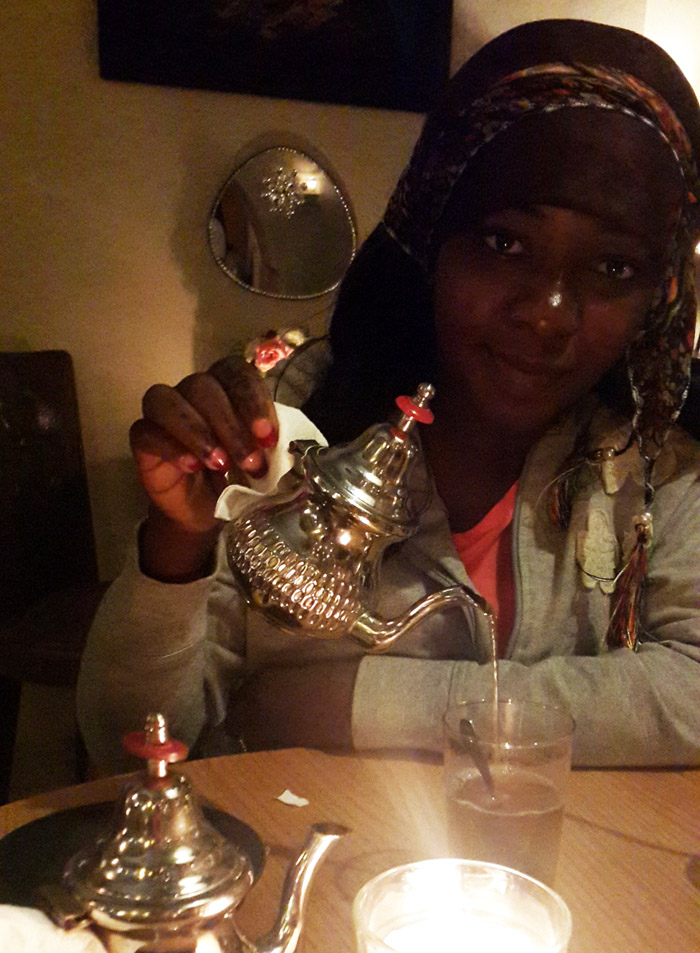 Tea all day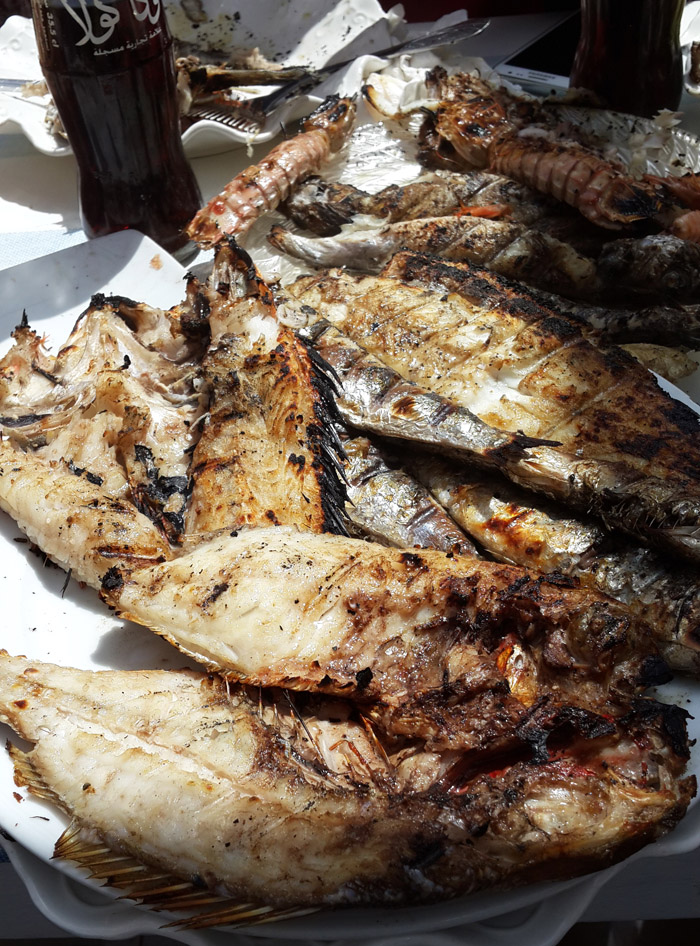 If you ever find yourself in Essaouira, do yourself a favor and go to stall #11 (only one I can vouch for) in the harbor and get a massive plate of grilled fish, shrimp and calamari for about $8.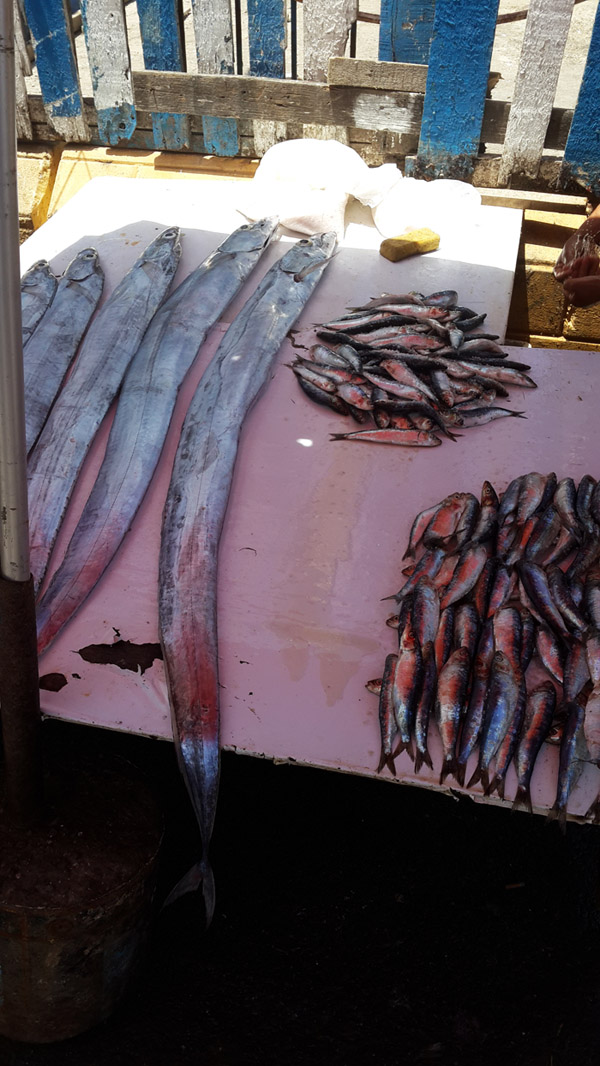 That is a long fish.
We found ourselves in Essaouira for the annual Gnaoua music festival. This was an accident that really worked in our favor. It is an international festival – they even had Songhoy Blues, a Malian band we have seen on several occasions in Bamako – but the centerpiece is the locally produced Gnaoua music, which is all frenetic percussion and this bassy lute that I love (called a gumbri, it reminds me of a bass ngoni in Mali). Aside from Essaouira's round the clock gusting winds (Bintou was not a huge fan), we had a great time in this fortified city on the Atlantic.
We are back in Bamako now, grinding out the end of the hot season, waiting for the rains. Bintou has a due date of October 23rd. So far, so good.
Bored and have $10 to spare? Send a postcard from Timbuktu to anywhere in the world. You send a piece of thick paper stock half way around the world, make a friend's day when it eventually arrives, and support former tourist guides in Timbuktu at the same time. Good deal, right?
If you enjoyed this post, consider sharing it with the buttons below or subscribing to the blog by RSS or Email Thanks for reading 🙂