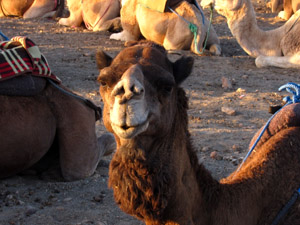 My name is Phil Paoletta. Formerly a middle school teacher in Washington, DC, I am now a camel drawing consultant based in West Africa. Let me be more clear, I am not a consultant that has a camel drawing hobby. I am a consultant who advises people on their camel drawing, so that they can draw their camels more effectively.
I originally traveled to West Africa (specifically Ghana, where I studied abroad as a sophomore in college) because I liked highlife music. Once I got there, I found other things — groundnut stew, Twi, mapouka (the dance and the alcohol), orange-headed lizards — that I also liked. In 2010, I quit my job to return to Ghana and to visit other countries in the region.
I now find myself based in Bamako, running a hotel and restaurant, riding Chinese scooters around the region and collaborating with former tourist guides in Timbuktu. I'm also the co-owner of some sheep.
Other things, in no particular order: I make music, like this, and art, like this. I like travel, and I like to take my time when I travel. In 2015, I got married and in 2016, I became a father.
This website is a space for me to report on my wanderings and to share videos, photos, and music I'm working on as well as listening to. The writing is a mix of commentary, narrative and some general nonsense. If you dig the site, subscribe by RSS or email. You can contact me through twitter at philinthe_, on facebook here, or on the contact page of this site.
Finally, you can also catch me at WestAfricaTravelGuide.com, where I hopefully dispense reliable information regarding travel to this part of the world.