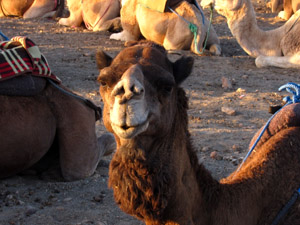 My name is Phil Paoletta. Formerly a middle school teacher in Washington, DC, I am now a camel drawing consultant based in West Africa. Let me be more clear, I am not a consultant that has a camel drawing hobby. I am a consultant who advises people on their camel drawing, so that they can draw their camels more effectively.
I originally traveled to West Africa (specifically Ghana, where I studied abroad as a sophomore in college) because I liked highlife music. Once I got there, I found other things — groundnut stew, Twi, mapouka (the dance and the alcohol), orange-headed lizards — that I also liked. In 2010, I quit my job to return to Ghana and to visit other countries in the region.
I now find myself based in Bamako, making money with web work, freelance writing and a burgeoning restaurant/catering business I am running with two Ivorian friends in Abidjan (the restaurant no longer exists. A long story for another day. But feel free to read about what it was). I'm also the co-owner of some sheep, and I sometimes manage a hotel in Bamako.
Other things, in no particular order: I make music, like this, and art, like this. I like travel, and I like to take my time when I travel. One of my best friends is a camel named Clyde who lives in Arizona. In 2015, I got married.

Update:
I realize I haven't updated this section in over a year, so here are a few things that happened in 2016. The restaurant/catering business collapsed in Abidjan, and I had a falling out with my principal partner there. I am now based full time in Bamako running a hotel/restaurant/bar (feel free to contact me directly to know which one it is). I started a new business with a former tourist guide friend based in Timbuktu: Postcards from Timbuktu. I also became a father. It was quite a year.
This website is a space for me to report on my wanderings and to share videos, photos, and music I'm working on as well as listening to. The writing is a mix of commentary, narrative and some general nonsense. If you dig the site, subscribe by RSS or email. Comments and emails are always appreciated. You can also contact me through twitter at philinthe_ and on facebook here.