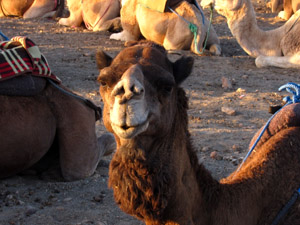 My name is Phil Paoletta. Formerly a middle school teacher in Washington, DC, I am now a camel drawing consultant based in West Africa.
I originally traveled to West Africa (specifically, Ghana, where I studied abroad as a sophomore in college) because I liked highlife music. Once I got there, I found other things — groundnut stew, Twi, mapouka (the dance and the alcohol), orange-headed lizards — that I also liked. In 2010, I quit my job to return to Ghana and to visit other countries in the region.
I now find myself based in the region (most often in Abidjan and Bamako), making money with web work, freelance writing and a burgeoning restaurant/catering business I am running with two Ivorian friends in Abidjan. I'm also the co-owner of some sheep, and I sometimes manage a hotel in Bamako.
Other things: I make music, like this, and art, like this. One of my best friends is a camel named Clyde who lives in Arizona. In 2015, I got married. I like travel, but specifically slow travel. I prefer sitting in a bar to visiting a museum (apparently this guy Paulo Coelho reads my blog).
This website is a space for me to report on my wanderings and to share videos, photos, and music I'm working on as well as listening to. The writing is a mix of commentary, narrative and some nonsense. If you dig the site, subscribe by RSS or email. Comments and emails are always appreciated. You can also contact me through twitter at philinthe_ and on facebook here.